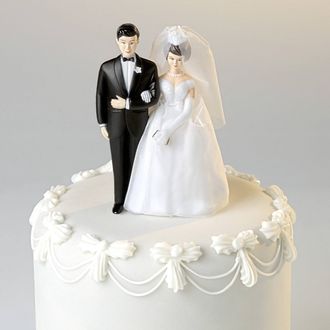 Many pearls have been clutched and hands have been wrung about so-called "hookup culture," and here's a new piece to the puzzle: Researchers at the University of Virginia found that 32 percent of marriages they studied began with a hookup, and that these marriages tend to be lower-quality relationships than ones that began more "traditionally."
"Hookup," of course, is a vague, all-encompassing term that can mean many things to many people, but in this questionnaire, the researchers did not provide a definition. So if the couple thought they'd hooked up, then for this report's purposes, they had.
That finding comes from the National Marriage Report, released this week by University ofVirginia researchers. Between 2007 and 2008, psychology professors Galena K. Rhoades and Scott M. Stanley recruited more than 1,000 non-married Americans who were in relationships in order to examine the pre-wedding factors that correlate with happier marriages. Rhoades and Stanley followed those couples for five years, and during that time, 418 of those people got married.
Researchers found that couples whose origin story involved a hookup have lower-quality relationships than those whose relationships didn't begin this way. One explanation for this could be that these are couples "who were primarily drawn together because of sexual attraction before they could assess one another on important aspects of compatibility," the researchers write. "The context of hooking up may mean getting together under hazy circumstances, after something that 'just happened' one night, and then sliding into a longer relationship."
That concept — that unhappier couples tend to "slide" into the next relationship stage rather than deciding deliberately — is a running theme in the study. What's important for relationships in general, the authors very kindly explain toward the end of their paper, is to "adopt a deciding mindset going forward." In other words, take each new relationship step in a conscious manner; you'll be happier for it.