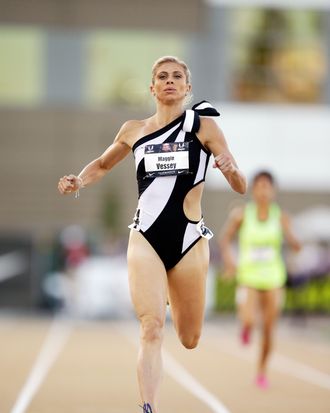 Photo: Ezra Shaw/Getty Images
Though she has twice represented the U.S. at the World Championships, middle-distance runner Maggie Vessey hasn't yet made it to the Olympics, nor become a household name. But the 32-year-old 800-meter champ from Soquel, California, has a very real shot at becoming a fashion-world favorite. During her most recent season (track, not fashion industry), she ditched the standard singlet-and-brief combo for a host of standout looks that sample from the runway in unprecedented ways. In an interview with Runner's World last month, Vessey explained that, after losing a sponsorship with New Balance earlier this year, she began collaborating with L.A. designer Merlin Castell to create chicer gear. "I do want to draw attention to the sport and maybe give people who aren't necessarily interested in track and field a reason to be interested," Vessey told Runner's World. "But it is a very authentic expression of who I am, and I now have this opportunity to be able to put that out there, be bold, and take a risk."
Compared to sponsored pro runners and team athletes, unsponsored runners enjoy a good amount of fashion leeway. Even so, the last track-and-field star to make a style statement that resonated in the culture at large was Florence Griffith Joyner in the '80s. Flo-Jo's  L.A.-chic acrylic nails and asymmetrical/one-legged running ensembles helped define workout and nightclub trends for years after she earned the title of "Fastest Woman of All Time" in 1988. Could Maggie Vessey be next, fashion-wise? It's possible — the influence of athleticwear on designer collections only continues to rise, and who knows, maybe Rick Owens is looking for a few new "nodels" to populate his runways.
But it's going to be a challenge for Vessey to grab the spotlight. Even the best-dressed female athletes receive far less coverage — for both their career and their style — than male ones. True, former New York Ranger Sean Avery interned at Vogue during the off season, but New York Knicks' Amar'e Stoudemire or Nick Young of the L.A. Lakers are considered such celebrities that their off-court looks make news in a way that female athletes' rarely do. Venus and Serena Williams have occasionally been spotted at fashion-week front rows and enjoy a friendship with Anna Wintour (though not on the order of Wintour's with Roger Federer), and Maria Sharapova is buddies with Jason Wu, but it is Avery who is enlisted to write multiple fashion columns.
Still, we're rooting for Vessey. We've got our big foam fingers out. At the very least, we'd love to see her outfit the handful of NCAA track-and-field champs who attend FIT. In the meantime, here's a look at some of her unorthodox — and winning — competition gear.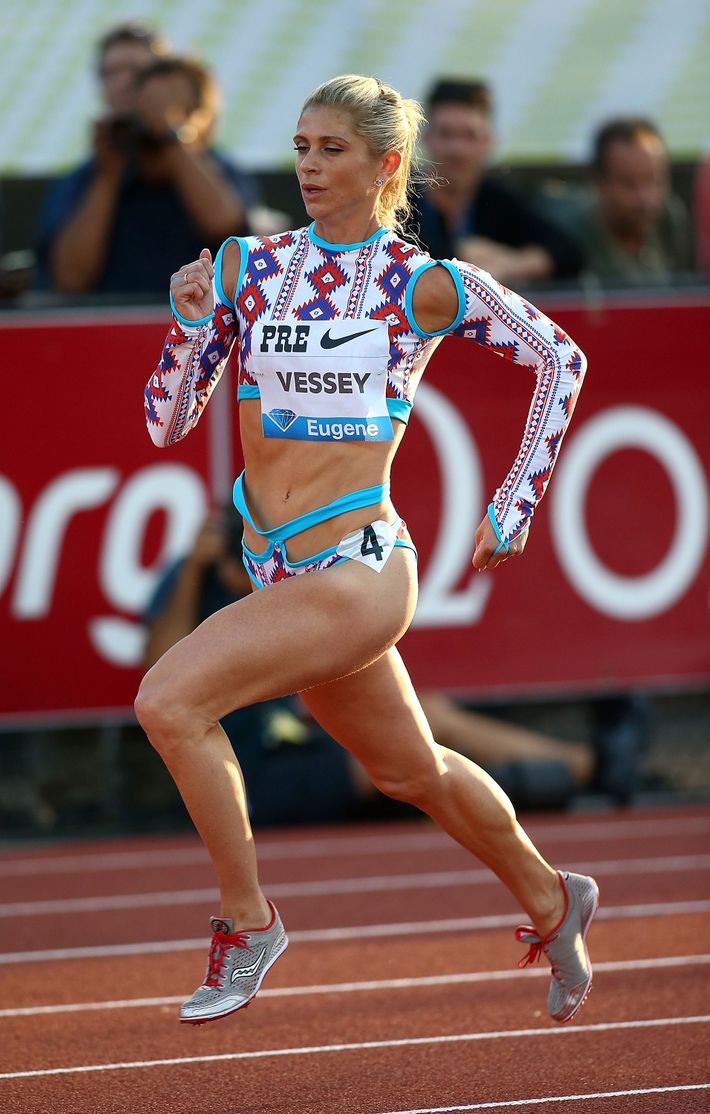 In May, Vessey competed at the Prefontaine Classic in Eugene, Oregon, and her colorful, cutout patterned outfit and Chanel logo earrings got nearly as much coverage as the fact that she placed second. Outside, Flotrack, CBS.com, and Runner's World all covered this major news, the latter noting rather prissily that Vessey's look was "something you'd see in Olympic figure skating or on Dancing With the Stars."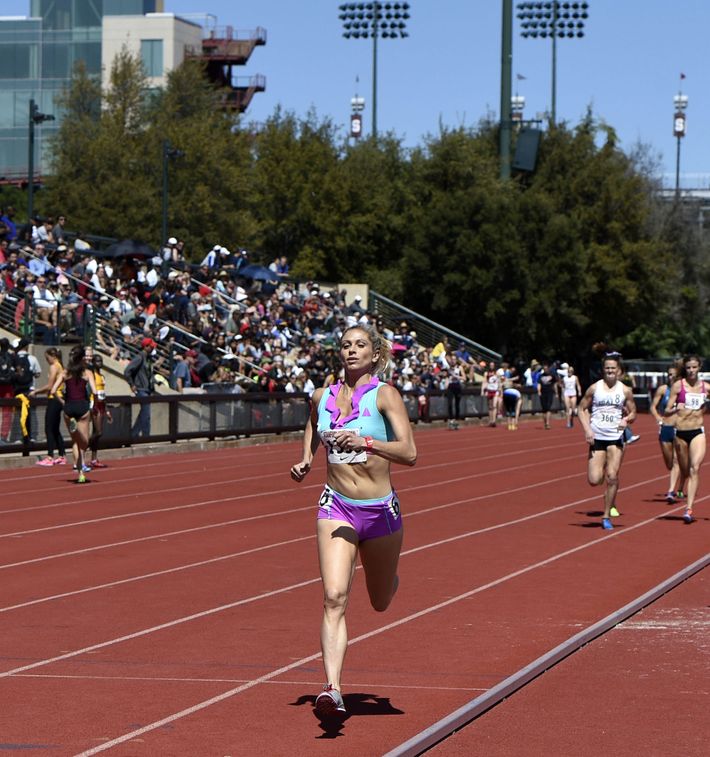 But it was in early April at the Stanford Invite that Vessey started to bust out of the box with a somewhat dressy, appropriately springy two-piece in aqua and radiant orchid. Though it's probably the most pearl-clutchy of all her on-track looks, the top was reportedly inspired by her favorite Alice + Olivia blouse. When Flotrack asked her about the look immediately after the race, she modestly demurred, "I just started making my own outfits! It's just a little project that's going on right now …"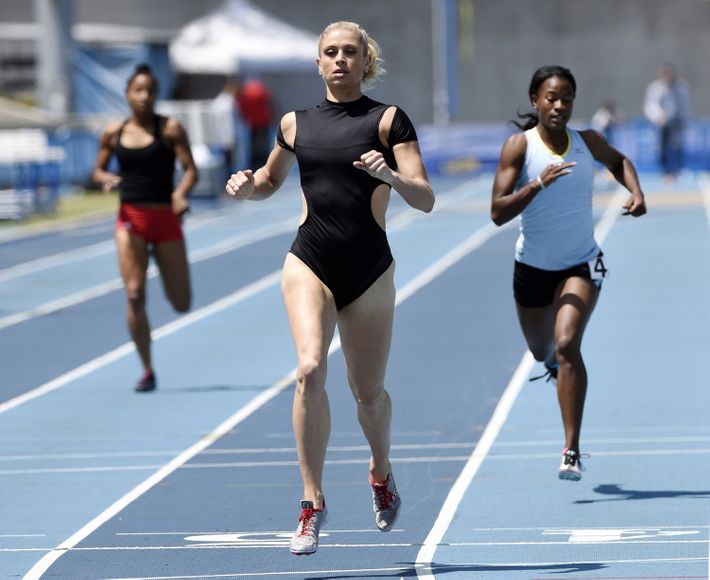 In Los Angeles, at May's USATF's High Performance Distance competition, Vessey wore a chic "onesie."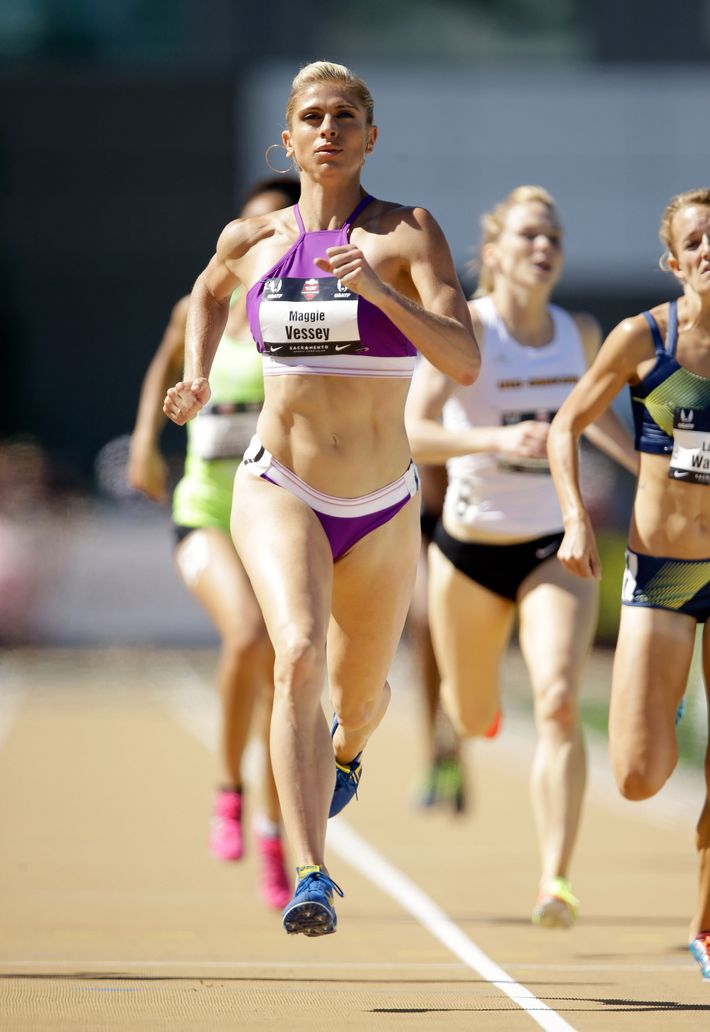 The look Vessey wore at June's USATF Outdoor Championships in Sacramento was more traditional only in that it followed the brief-and-top recipe — its plum color and detailing were anything but. The Jockey-style waistband calls to mind Jeremy Scott's Moschino via Nasir Mazhar via Hilfiger, a look she amplifies by wearing giant hoop earrings throughout the whole race. Could Vessey also be an Aaliyah revivalist? So on trend, off or on the track.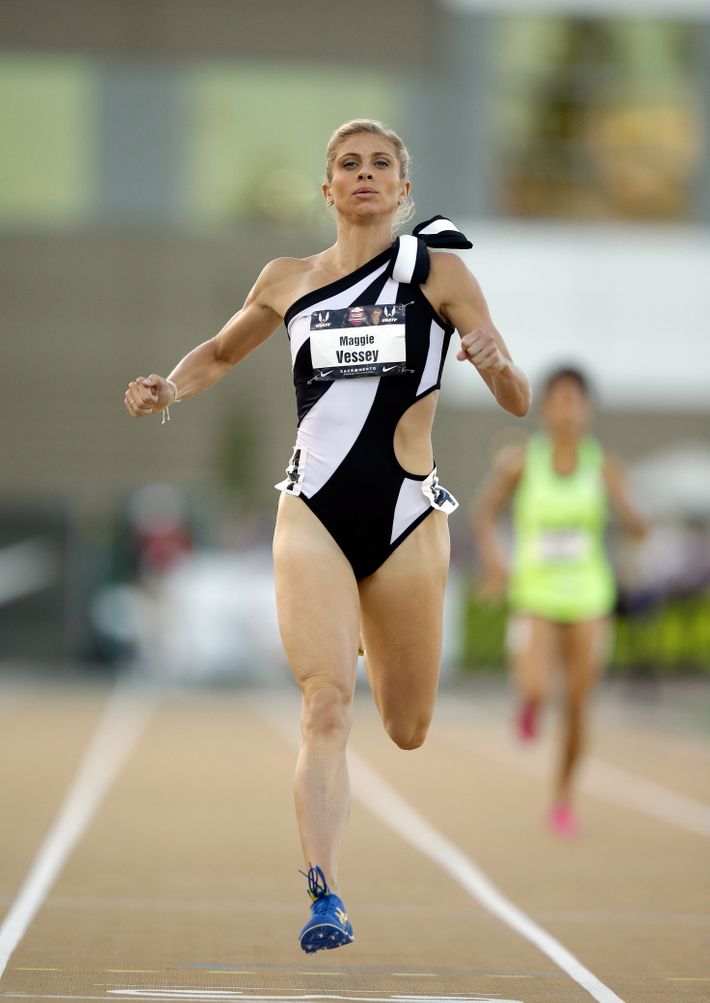 Vessey's choice for the 800-meter semifinals at Sacramento was even more statement-making: As she moved up in the standings, she dressed for the occasion in a graphic black-and-white one-piece with a peephole cutout and a princess bow that paid homage to eveningwear. "I knew [the semi-finals] were going to be at night," she told Runner's World, "and so I wanted to honor the occasion."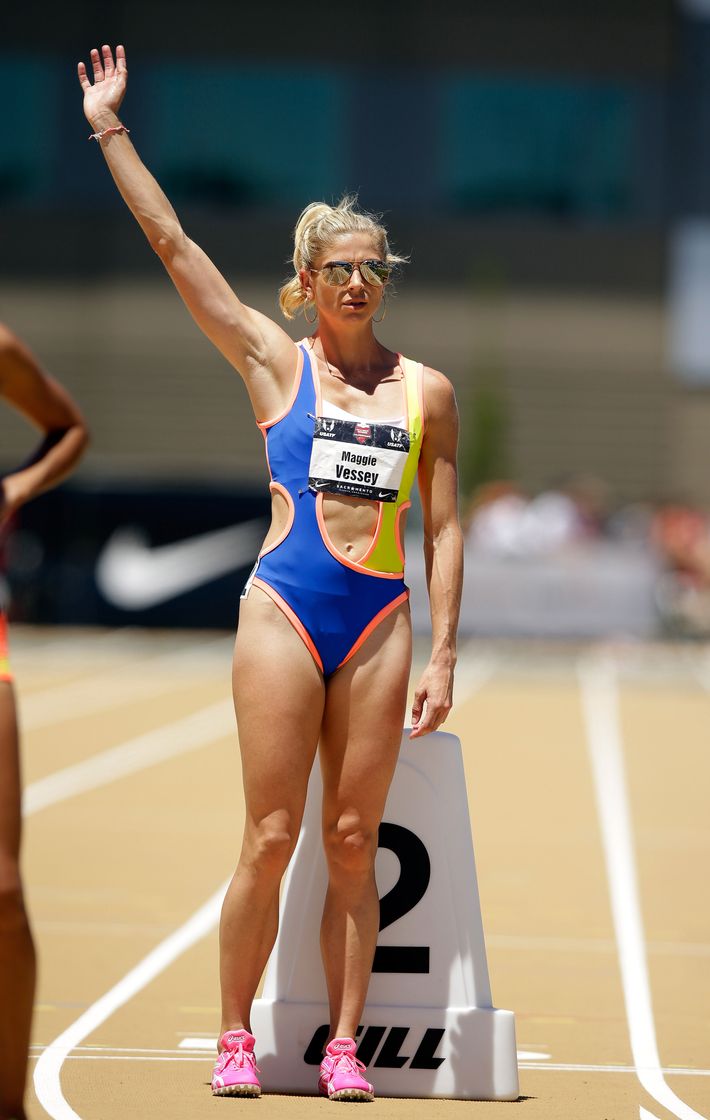 Again at the USATF Outdoor Championships, and again with the cutouts (c'mon, Merlin, how about a little variety?), Vessey's final-day piece was cast in sporty neon, which she accessorized with so-L.A. aviator sunglasses and contrasting pink track shoes. This is a look that could easily make the transition from track to street with the addition of a wrap skirt and a pair of Prada Tevas. Maggie: After the race, meet you in the club?