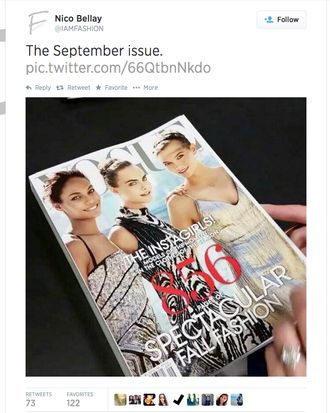 Photo: Nico Bellay/Twitter
For everyone who constantly complains about the dearth of models on magazine covers — and, apparently, you guys make up more than half of the people who still write snail-mail missives  to said magazines — Vogue may have just thrown you a bone. Nico Bellay, a.k.a. I Am Fashion, tweeted an image that purports to be the September cover of the magazine, featuring supermodel trio Joan Smalls, Cara Delevingne, and Karlie Kloss. (A cover line refers to them as "The Instagirls." At least they didn't include a hashtag.) We've reached out to a Vogue spokesperson for a comment and will update this when we hear back.
If the cover is, indeed, bona fide, it is part of a growing trend of models returning to magazine covers — think of Kate Upton's Vogue debut last year, Upton and Smalls landing Elle covers, and a whole host of recent examples, including Linda Evangelista on Harper's Bazaar and Daria Werbowy on WSJ. But the standout example has to be Vogue Japan's September cover, which features a dream team of '80s and '90s supers. More like this, please.