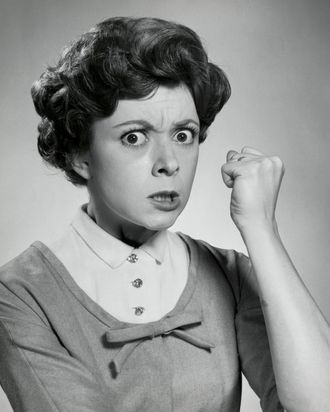 Photo: SuperStock/Getty Images
Vice's Mike Pearl has written a fantastic analysis of romance-novel semantics, regarding the word (and act of) fisting. As it happens, authors of romance novels don't know that fisting is a particular and specific action. But they do know it's a sexy thing, so they try as hard as they can to play a romance-novel Mad Libs with the verb. 
Exactly how fisting is sexy, they haven't the faintest. And they haven't the faintest about their beautiful, precious ignorance.
For example (and truly these examples are the most exemplary examples of anything one could ask for), a man in The Notorious Scoundrel "fisted the cup." Innocent enough. For a more lurid and still incorrect use of the word, a fellow in Under Fire found that while he was "leaning against the wall, fisting his cock, he'd been overcome by the strangest prickle." An understandable moment to get a strange prickle. Frighteningly, in The Farthest Seeking, while the protagonist was "shoving at her spectacles with the backs of her hands, she fisted her eyes." But the best use of the verb comes from Break of Dawn: Vampire Babylon by Chris Marie Green, who writes: 
Dawn's heart was fisting …
This is a beautiful passage, but only if dawn is a period of time not a person. It's just rosy-fingered dawn, bursting into the night, fisting until day arrives.