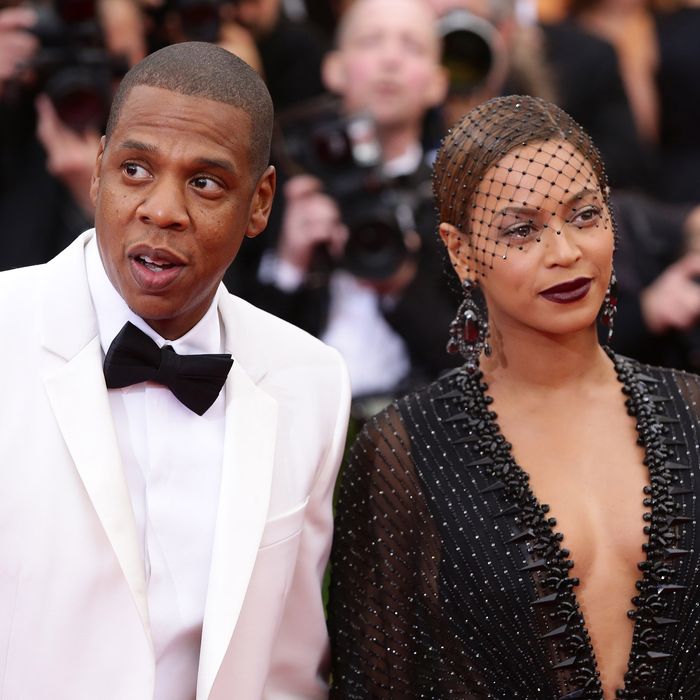 Photo: Neilson Barnard/Getty Images
Beyoncé and Jay Z divorce rumors have been swirling for months, which I've dealt with by plugging my ears and waiting for everything to blow over.  Culturally, emotionally, and professionally, if they do get divorced, it will be a pretty big deal. And, because I'm too invested in pop culture, it's a future that I'm just not ready to grapple with. In the beginning, the reports (and their "sources") were sketchy enough to brush off. But they've steadily progressed from blind-item websites to the usually celebrity-friendly pages of Us Weekly, which ran an "exclusive" report yesterday that the singer is consulting Gwyneth Paltrow as a conscious-uncoupling coach in preparation for the big split. Is it time to start believing the rumors? Here's a brief history of the gossip's progression through media over the last four months.
May: On the heels of the Met Gala elevator incident, Life and Style released the cover story "Beyoncé and Jay Z's Divorce Cover Up" — predicting one of the "biggest and ugliest divorces in celebrity history." Life and Style is about as reliable a source as the friend who has a friend who knows a bar-back who worked at the Standard the night Solange fought with Jay Z.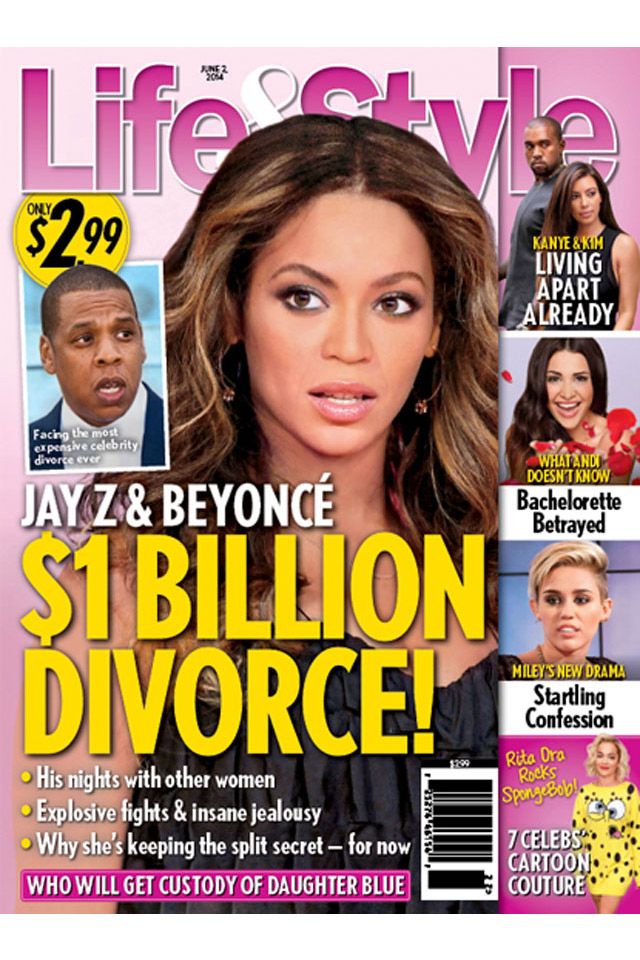 June: In Touch followed up with a report that sales for the On the Run tour were suffering because of all the cheating rumors. Then TMZ posted video footage of Beyoncé changing the lyrics in "Resentment" during a performance. TMZ, and others, intimated that she was calling out Jay Z for cheating. We all thought that was weird and tried to analyze what it meant, and people on Twitter started freaking out. But denial was still possible and preferred.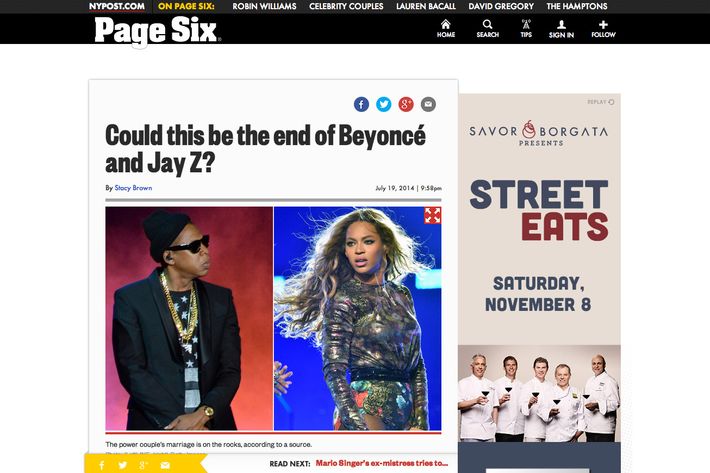 July: This is the month when "What's happening with Beyoncé?" became a popular party conversation topic. I stopped going to parties. A blind item from gossip site Blind Gossip seemed to predict that Beyoncé and Jay Z plan to divorce within six months. It's the same gossip site that  predicted TomKat's demise and we all know how that worked out. Then "Page Six" decided to publish several hit pieces in one weekend — The Daily Beast acknowledged these, but also wondered if the story had legs or was just part of a conspiracy to ruin Beyoncé and Jay Z. Even Hollywood Life's headlines around the subject remained hesitant, favoring formulations like "Could this be the end?" and "amid split rumors" instead of actual declarations. Us Weekly started aggregating the same news but emphasized that it was a "rumor."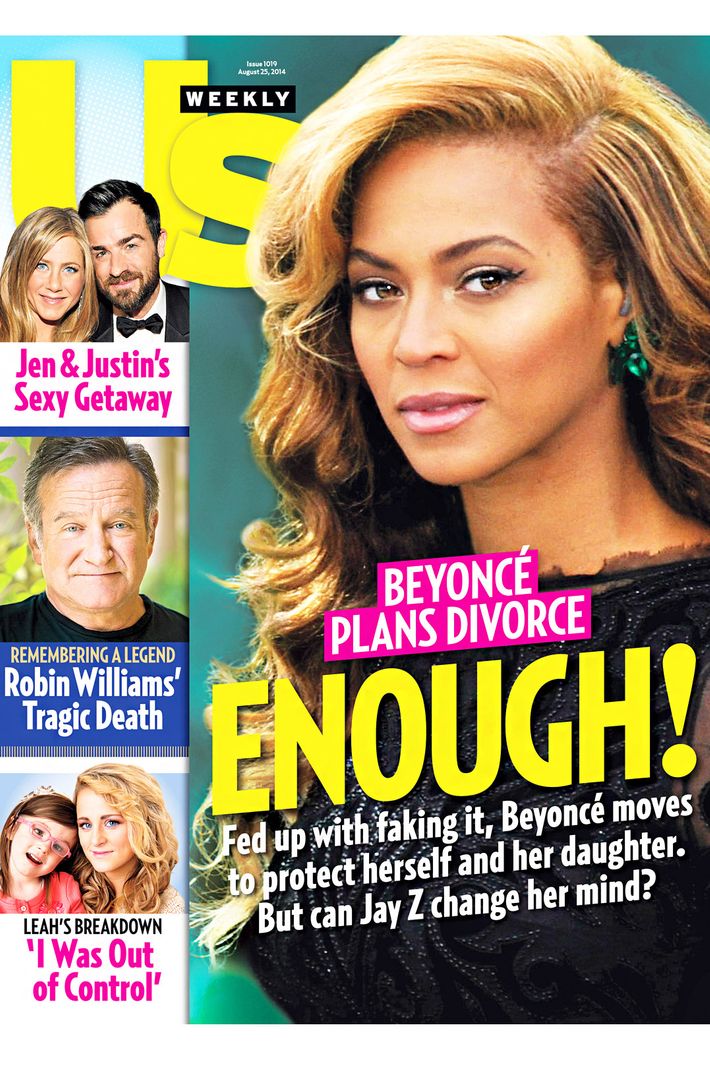 August: "Page Six" continued to lead the charge, reporting that Beyoncé was spotted bachelorette-pad hunting in Chelsea. Us Weekly also published that story, with the language shifting from "amidst rumors" to declarative headlines and their own "exclusive" reporting. Scary! We're getting scared. Two weeks later, Us put Beyoncé on the cover with the statement "She is Done." Oh no.

Take a deep breath though! People remains mostly positive.