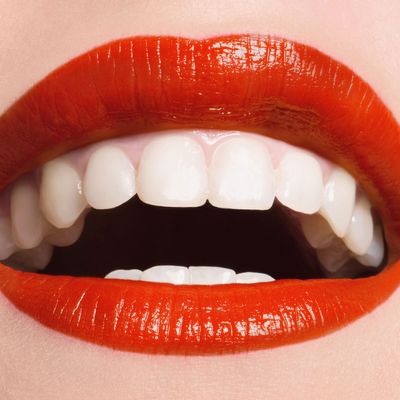 Photo: Sie Productions/Corbis
Lavaan Dental Spa is not a dental practice. There aren't any issues of Better Homes and Gardens, and the air doesn't smell like minty fluoride. The cavernous "exam" rooms contain reclining chairs commonly found in first-class airlines and a premium-cable channel selection to make a bro weep.

The comfortably quiet spa lacks the cringe-inducing sound of tooth drilling (not that you would be able to hear it, anyway, as each person visiting gets a set of very effective noise-cancelling headphones). Tooth drilling, crows, root canals, and other painful services are not on the menu, although Jeffrey Rappaport, a co-founder of Lavaan, is a dentist by education and could technically perform any of these procedures. While examining my teeth, he told me he may have spotted a cavity. My dentist, the one without European soccer channels, confirmed he was right weeks later.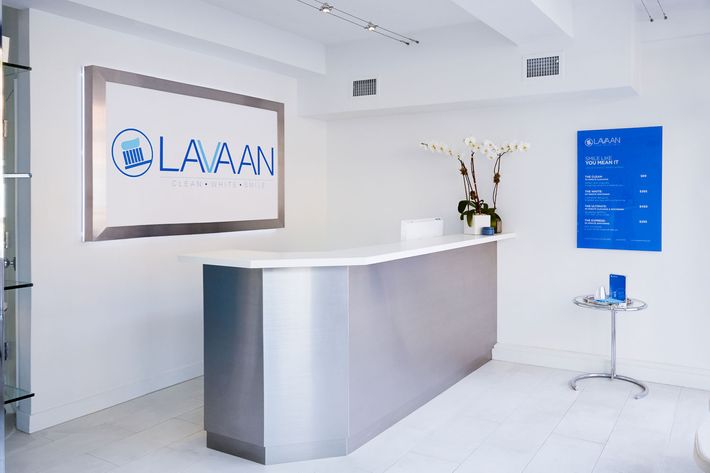 Dr. Rappaport begins the whitening appointment by looking at my teeth and using a paint-chip-like indicator to see where they fall on the white spectrum. My teeth, which looked so comfortably average outside of the spa, now seem almost puce when compared with how much better they could look. Although teeth can be brightened somewhere between five and eight levels, Dr. Rappaport avoids going too white. You won't leave with teeth that would glow at an EDM concert.
Although having your teeth bared in a perma-grin is not entirely comfortable, Lavaan makes it as comfortable as it could be, given the cushiony chair and extra-large flat-screen TV. Whitening occurs in three 15-minute sets, with a Philips ZOOM light positioned directly over my teeth, which are coated in a whitening gel. 
Dr. Rappaport says his patients frequently fall asleep during the process, and I'm not surprised. An hour later, my teeth are noticeably, Hollywood-starlet-level white. I'm sent away with an instruction to avoid eating anything dark-colored, which is harder to do than I expect, given the healthiness of all foods that don't have color in them. In case you are wondering, pad Thai is not beneficial for newly whitened teeth. As I wasn't even that concerned with the whiteness of my teeth in the first place, I'm amazed by how much I love my new snow-white teeth. It's upped my lipstick game, allowing me to test out an entire category of pinky-reds and corals that usually make teeth look less than Disney Princess–level white. You can find out more about Lavaan here.