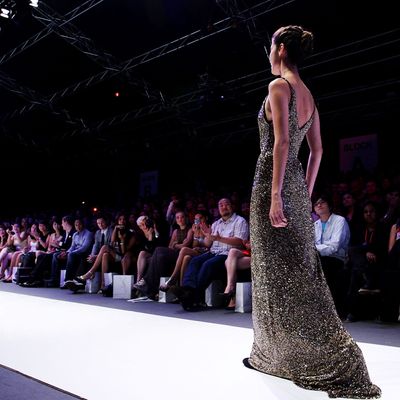 Photo: Lisa Maree Williams/Getty Images
Are there even enough young designers in existence to reap all the awards now showered upon them? As Vanessa Friedman writes in today's New York Times, a brand-new Swarovski Collective Prize for Innovation has been created to support and nurture young designers, joining an already-crowded field of the LVMH Prize, ANDAM, the International Woolmark Awards, Hyères Prize, CFDA/Swarovski Award, the Ecco Domani competition, the Dorchester Collection Fashion Prize, and all manner of Vogue-sponsored competitions. It's a thriving cottage industry of design-based tournaments that don't take place on the Lifetime or E! networks.
Swarovski's award is particularly plum: The company will honor one member of its existing 15-designer collective with a €25,000 prize. The debut lineup includes some familiar names, especially for those who follow the ever-expanding world of fashion competitions: Prabal Gurung, Rodarte, Creatures of the Wind, Wes Gordon, Nonoo, Marques'Almeida, Huishan Zhang, Peter Pilotto, Ashley Williams, Mary Katrantzou, Iris van Herpen, Damir Doma, Jay Ahr, Masha Ma, and Christian Wijnants.
All worthy entrants who will benefit from the honor, to be sure, but you know what would be really pie-in-the-sky amazing? An award for mid-career designers.
With the glut of accolades for the newbies, there's been a necessary redefinition of the term "new designer"; while all of the above contestants are relatively young, Rodarte has been in business for almost a decade, while Ma and Williams graduated from fashion school not long ago. Does it really make sense to group such disparate companies together?
The appeal of emerging talent — especially for sponsors like LVMH that may be looking to add to their stable — is understandable. And it feeds designers' corresponding wish to hang onto "newbie" status for as long as possible, like someone celebrating their 29th birthday over and over again. But the pack of labels who fall well between Iris van Herpen and Oscar de la Renta is considerable. What about the support journeyman brands — like Adam Lippes or threeASFOR, to name two in New York — need to become the de la Rentas of tomorrow?