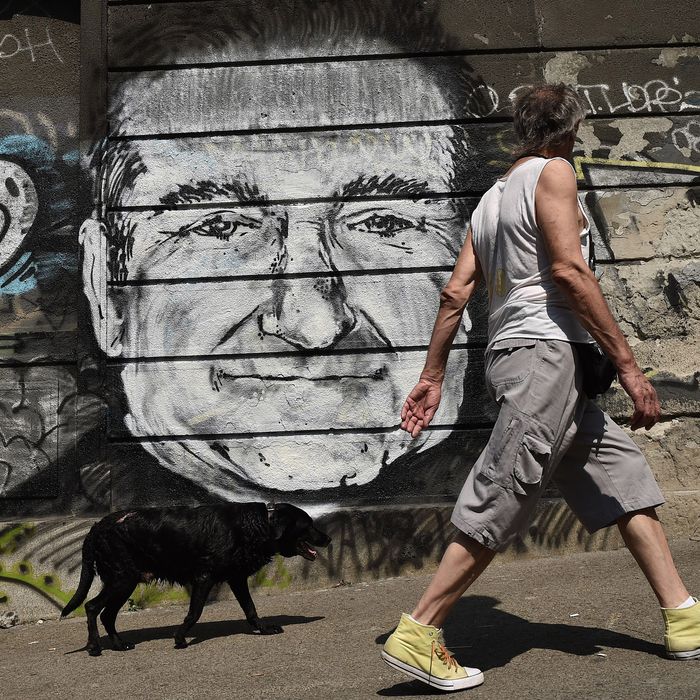 A mural depicting Robin Williams in Belgrade.
Photo: Andrej Isakovic/AFP/Getty Images
The first few days after the death of the comedian and actor Robin Williams, Michelle Tompkins, 39, an Upper West Side communications consultant, cried herself to sleep. "I awoke incredibly puffy and sad," she says. "I started crying almost immediately when I found out." Even now, she says, "I'm still incredibly sad. You can probably hear the choke in my voice." (Indeed, over the phone, I can.) "But I've decided I'm going to mourn for one week and then celebrate him without sadness, as I'm sure he would not have wanted that."
Then there's "Troy," with whom I share mutual friends. He's a young gay theater professional of color who says that, growing up, Whitney Houston was his personal idol. "I never met Whitney, but I consider her to be my very best friend."
After Whitney died, he cried daily for three and a half weeks. "I probably isolated the first few days following her death, and my family was very, very worried about me," he says. "My chest felt very heavy when I woke up, as though someone had laid a suitcase on it."
Still hurting out there, too, is Christine Lundrgren, 43, of Cape Coral, Florida. When Glee's Cory Monteith died last summer of an apparent drug overdose, this self-described "older Gleek" fell totally apart. Even now, a year later, "I've gone through the stages of grief, but I'm still not over the fact that he's gone," says Lundgren. "I still see him onscreen or hear him sing, and I sob. I can't watch 'The Quarterback' episode without crying from beginning to end."
As a recovering addict and a gay diva-worshipper, I get how some people might be heartsick and perhaps briefly devastated to hear of the untimely deaths of troubled celebrities. Personally, I always deeply hoped that Houston would find some version of her Higher Power and make a sober, sane comeback à la Mary J. Blige. When I learned she died, I found myself repeatedly watching the video of her sending the national anthem into the stratosphere at the 1991 Super Bowl, feeling as though God had both blessed, and then cursed, my foul-mouthed, tortured angel.
But, well, I got over it. And I can't say that, sad though I was, I felt personally gutted the way I did when my grandmothers died. But, say experts, that's the way a small percentage of people react when celebrities they love die.
"They've been a part of our lives. We see them on TV, they're in our living rooms, we feel we know them, and we incorporate them almost as though they're part of our families, though most of us recognize that they're not," says Alan Hilfer, chief of psychology at Maimonides Medical Center in New York, noting that it is perfectly normal to be saddened by the passing of a celeb we love and admire. But then, says Hilfer, "there are some people whose reactions to celebrity deaths are so obsessional and extreme that it can literally make them sick." He cites a female patient in her twenties who was so devastated after Michael Jackson died that she started vomiting and stopped eating. "She was a very lonely girl, and he had filled a void in her life," he says.
Sometimes, says Hilfer, such people suffer from underlying conditions, such as depression, bipolar disorder, or personality disorder. "In general," he says, "they're more fragile than most people and I worry that, in the case of suicide, they will see what the celebrity did and decide that, if the celebrity did that with all they had, then it's a valid alternative for them as well."
It didn't quite go that far for Carol Weis after the death of Michael Jackson. The middle-age Springfield, Massaschusetts, writer-editor, an openly recovering alcoholic and addict, told me that the Gloved One died "a week after a dear friend's son committed suicide. I wrapped that grief around the death of Michael, obsessively watching news of his death to the point that my daughter started worrying about me. I didn't want to see or hear anything else but commentary on MJ. It was my way of grieving my friend's son's death."
According to Hilfer, obsessive grieving over a celebrity often ties into grieving, processed or not, for someone we are actually close to. That was the case with Kelsea Naggatz, 23, a Brooklyn actor, who had a meltdown when Philip Seymour Hoffman died in February. "I'm the kind of person who thinks it's pretty unhealthy to be celebrity-obsessed," she says. "I get downright angry at the attention celebrities get over the lives of average people."
But at the beginning of February, Naggatz's grandfather died. "Even though I was upset about losing my grandpa, I couldn't bring myself to cry about it," she says. When she opened her phone and read that Hoffman had died, "I just dropped my phone in my lap and started sobbing," she recalls. "I couldn't accept it." Yes, she says, it was partly because Hoffman's acting blew her away ("He was my main inspiration as an actor"), but she realizes now that Hoffman's death triggered her need to cry for her grandfather.
"If people have had a family death, they feel a more intense reaction at the death of a celebrity," says Dr. Hilfer. As for his patient who fell apart after MJ's death, he said that the event was the tipping point she needed to finally go on antidepressants and to find a broader social circle of support in her life.  
One of the problems with grief over celeb deaths, according to Richard Harris, a psychology professor at Kansas State who studies civilian-celebrity relationships, is that "unlike real-life mourning, there is no social support for such grieving. People laugh at you for being emotional about the death of someone you didn't even know," he says. "Needless to say, this reaction doesn't help you work it through."
Meanwhile, Michelle Tompkins, the communications consultant, is trying to do just that, consoling herself by remembering her favorite Robin Williams jokes. "Even while tears were streaming down my face," she says, "I'd read one of his jokes and laugh in the middle of a sob."