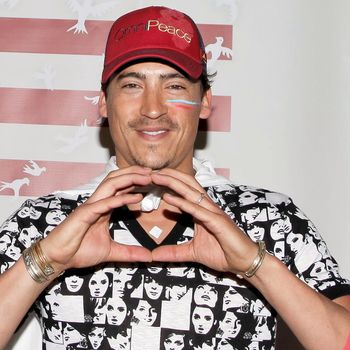 Photo: Tibrina Hobson/Getty Images
Andrew Keegan, he of dreamy eyelashes and a dark ocean of beautiful hair, has founded his own religion. Keegan, who earned a lifetime membership into the babely-crush hall of fame after 1999's 10 Things I Hate About You, promises it's not a cult, but everyone can make up their own minds about that, which is not really something they let you do in a cult.
Here are some facts: It's called Full Circle, and it's about timing. "Whatever, the past, some other time. It's a circle; in the center is now. That's what it's about."
He explained to Vice he was inspired by an exploding street lamp and a "heart-shaped rose quartz crystal" that "jumped off the altar and skipped on camera." It sounds spooky, but you know, who wouldn't want to worship alongside those lashes?