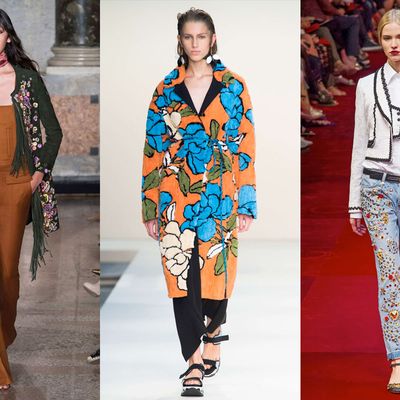 Milan Fashion Week came to a close yesterday. Over the past week, we attended shows in palazzos, train stations, and ornate private residences — and also took on endless accessories appointments. From collections with a jet-set '70s feel to really fancy loungewear, below, the ten things I liked from the weekend.
1. Dance was a big theme in the Bottega Veneta show. Knit bodysuits and sweats felt luxurious, and models came down the runway with loose buns pinned back with jeweled barrettes.
2. Aside from the stellar casting at Emilio Pucci (Naomi, Mariacarla, Isabelli, Kendall), Peter Dundas's collection was some of the best tailoring we've seen this week. The long, lean flared pants and supple suedes evoked a jet-set trip in the '70s.
3. Marco de Vincenzo's opening fringed looks were especially impressive.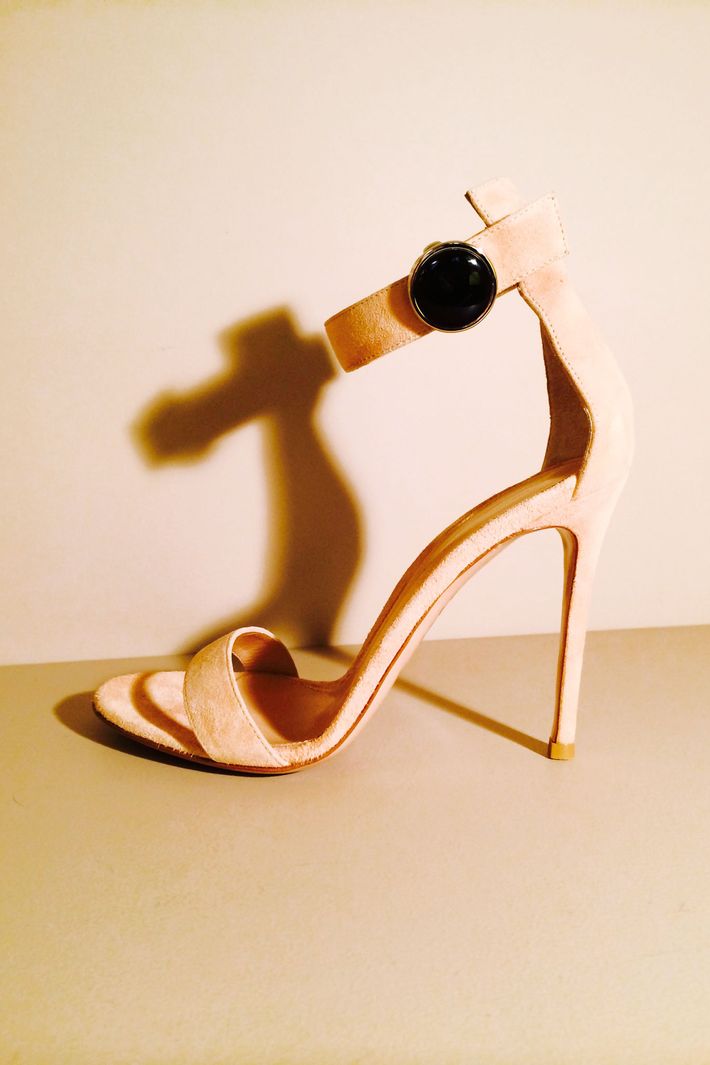 4. Friday was packed with shoe appointments. One of my favorite designers, Gianvito Rossi, offered sexy suede heels with an ankle bracelet designed with a modern locket closure.
5. At Marni there was a plissé micro-pleated coat of oversize florals worn over simple black trousers and a sport-sandal-sneaker hybrid. It was another collection that featured slicked, sculpted hair, which we're digging.
6. At Salvatore Ferragamo, the infamous rainbow wedge that debuted in 1938 was updated to a more everyday iteration in lacquered black.
7. Denim played a big role at Gucci, Bottega Veneta, and Dolce & Gabbana, where embellished jewels decorated the legs of light-blue denim (an homage to Anna Wintour's first cover for Vogue, perhaps?).
8. Rodolfo Paglialunga's debut for Jil Sander was slightly tricky with leather socks and layered skirts, but when Julia Nobis (who has been wearing some of the strongest looks this season) walked out in a white silk-satin blouse tucked into a black skirt, it looked totally polished.
9. When Roberto Cavalli goes soft and hippie, it often works better than his rock-star moments. His white gowns verged on ethereal.
10. MSGM used an aviary motif throughout its show, including strappy shoes with colorful plumage trimming the toes.
See the full Bottega Veneta collection here.
See the full MSGM collection here.
See the full Roberto Cavalli collection here. 
See the full Jil Sander collection here.
See the full Salvatore Ferragamo collection here.
See the full Marni collection here.
See the full Marco de Vincenzo collection here.
See the full Emilio Pucci collection here.