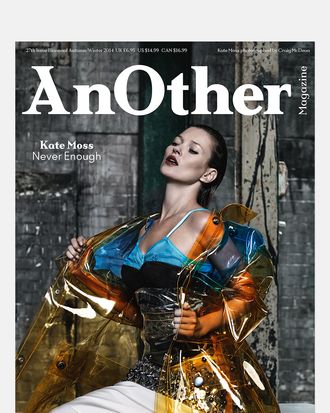 Photo: Kate Moss shot and styled by Craig McDean and Olivier Rizzo for AnOther Magazine Autumn / Winter 2014. On sale September 4th
Knowing that the world's hunger for information about Kate Moss can never be sated, AnOther magazine has helpfully produced a mega–Kate Moss issue for superfans.
It goes on sale on Thursday to mark the ten-year anniversary of her first shoot for the magazine and features Kate on four separate covers (shot by Craig McDean, Willy Vanderperre, Collier Schorr, and Alasdair McLellan) — the most she's ever done for a single issue of a magazine.
As well as many, many pictures of Kate looking sleepy-sexy in Maison Martin Margiela, Giorgio Armani, and Bottega Veneta, the issue also includes a thoroughly researched inventory of her essential stats. There are pages of useful, if not slightly creepy, trivia that you'll soon be dropping into conversation nonchalantly — details of her tattoos, plus a few lists of facts that will never come in handy, like all the names of the previous occupants of her house (hello, Ann Divett of 1795).
Here are ten things we learned:
1. Kate played tambourine (in a sultry manner, no doubt) on two Oasis songs: "Fade Away" (1994) and "Don't Go Away" (1998).
2. In 1992, she starred in the TV movie Inferno!, directed by Ellen von Unwerth.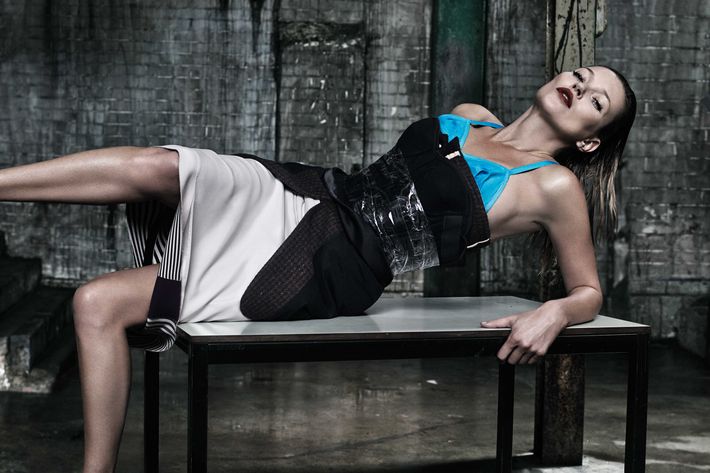 3. She shares her birthday (January 16) with many other charismatic celebrity Capricorns, including the late Susan Sontag and Aaliyah.
4. The most-visited Kate Moss fan site is KateMossOnline.net.
5. According to AnOther, she's started seven major trends, including gladiator sandals, grey skinny jeans, ballet flats, and vintage. (Vintage? Really?)
6. She opened John Galliano's first ever show in Paris in 1989, at age 15.
7. Her first music-video appearance was in Love Don't Bother Me by Stage Dolls in 1991.
8. Her 2007 bangs were inspired by Michelle Pfeiffer in Scarface.
9. She's been the subject of artworks by Banksy, Damien Hirst, Lucian Freud, and Tracey Emin, among many others.
10. She has a small heart tattoo on her right palm.
And sometimes, very late at night, when she's on her second pack of cigarettes, she spends hours Googling facts about you.