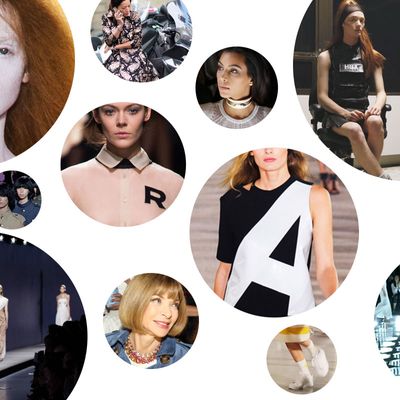 Photo: Getty Images, Imaxtree, YoungJun Koo
Paris Fashion Week has only been going on for three days, but already we've had shows from heavy hitters like Balenciaga and Lanvin, and today holds Dior, Isabel Marant, and Yohji Yamamoto. In the meantime, we've seen enough to fill several memoirs. A dozen of the highlights so far:
1. You know it's Paris Fashion Week when you go from telling your friend that if Kanye really is at the Dries Van Noten show, you will "literally die" and that he needs to "get a stretcher pronto," to seeing Kanye slink into Rick Owens and thinking absentmindedly, Oh yeah, there's Kan. I have given him a nickname because I have spent the past 72 hours seeing Kim, Kanye, Kris, North, and the gang more than my family or close friends. After Kanye sat at Dries making conversation with noted eccentric and veil-sporter Diane Pernet (what was THAT chat about?), the timeline has gone something like this: Kim and Kanye hit up Virgil Abloh's Off White presentation. North makes her Fashion Week debut with them at Balenciaga, wearing a Yeezus tour onesie and a leather skirt. They hop over to A.W.A.K.E.'s party. Then, after a brief scuffle outside the venue, they take over Balmain, where Kendall is modeling and Kris snaps selfies in the front row. Kanye gets some bachelor time alone at Rick Owens, and they reconnect, sporting matching décolletage, at Lanvin. To give you a sense of their openness to invitations right now, if you held a barbecue during Paris Fashion Week, Kim and Kanye would probably show up with a bowl of coleslaw. Sorry: koleslaw.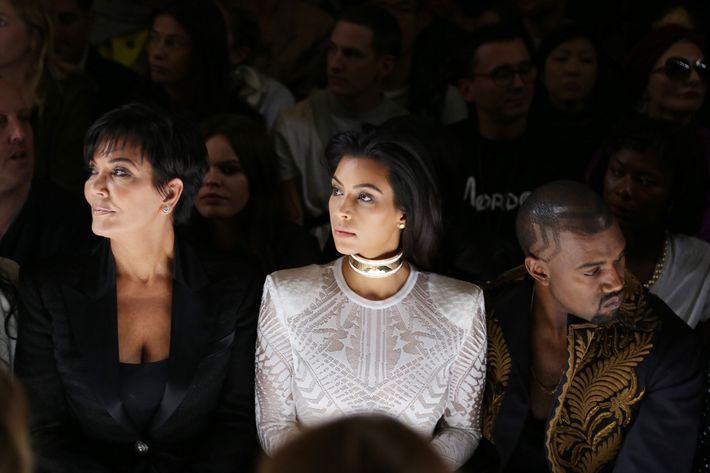 2. There are drones at Fashion Week. Well, there was one mysterious drone doing loop-de-loops over the Seine at Anthony Vaccarello's presentation, held at the Cité de la Mode on the banks of the river. Then, there was a man holding a drone-esque video recorder during the show, who contorted himself in such a way as to follow the models' every step. As he sidestepped along the runway, it occurred to me that maybe this is a French labor solution — creating jobs as human drones.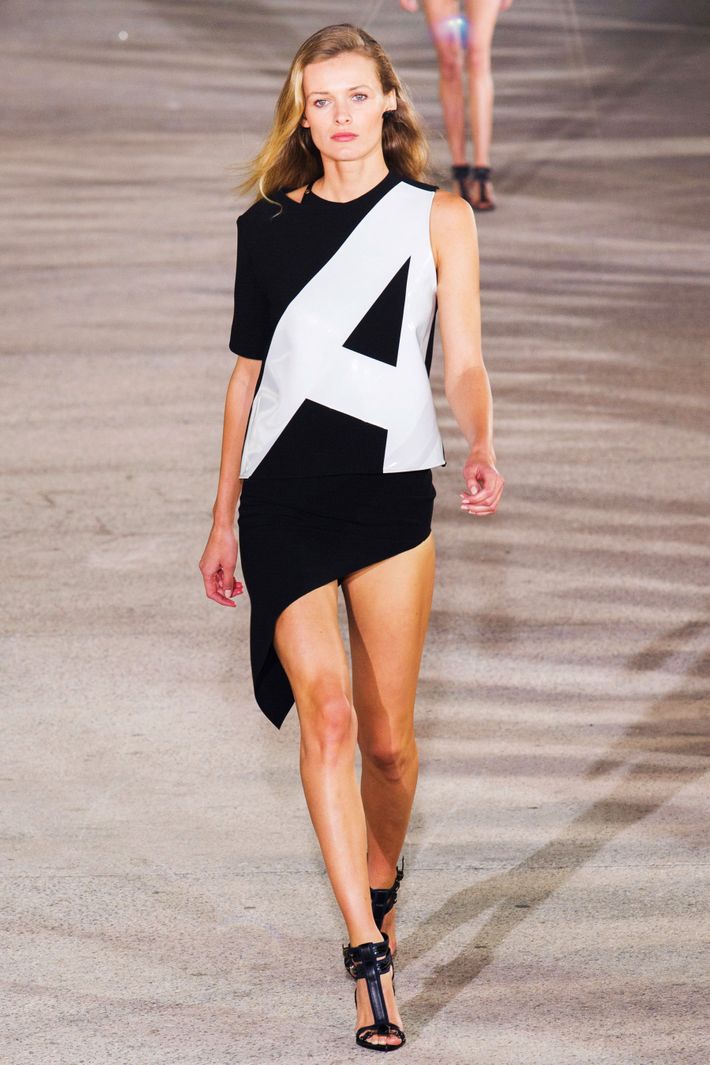 3. Tweet's "Oops (Oh My)" was an incongruous closer to the sweet-and-pretty Nina Ricci show. Considering it also played at Lacoste and Charlotte Ronson in New York, maybe the one-hit R&B wonder is ripe for a revival. I implored Paper's Mickey Boardman to helm her comeback. "I can't do it alone," he said.
4. Monograms have gotten much cooler, from the embroidered R's on Rochas's dresses to the oversize A taking up an entire minidress at Anthony Vaccarello.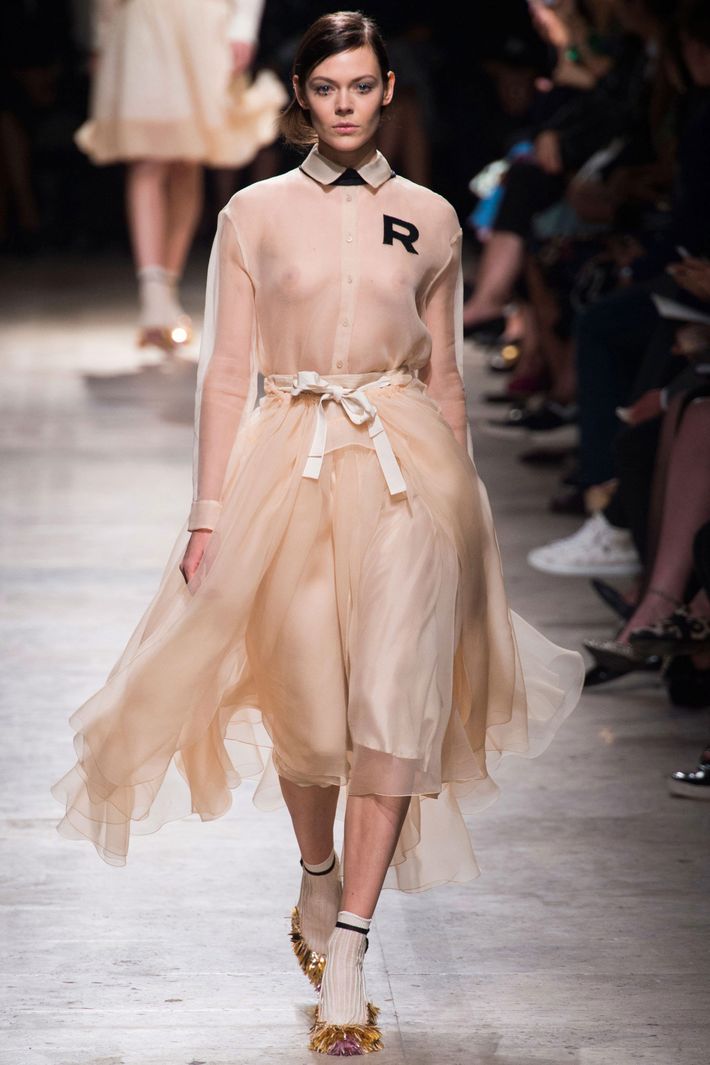 5. The most breathtaking show effect so far is a tie between dry ice rising up from the floor at Balenciaga and the dancing animated shadows following the models as they walked the runway at Vionnet.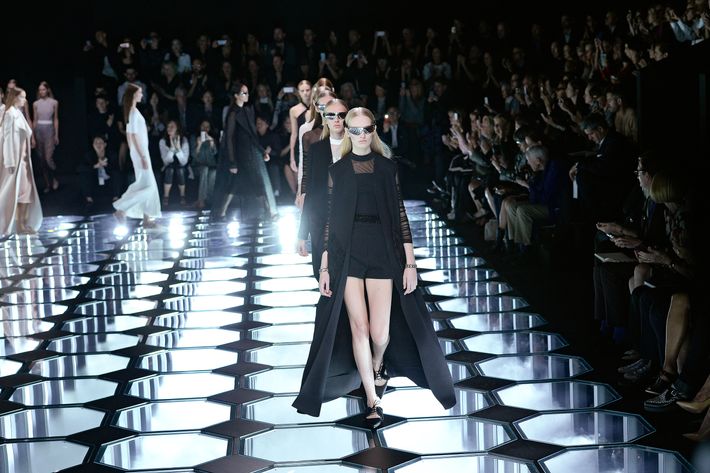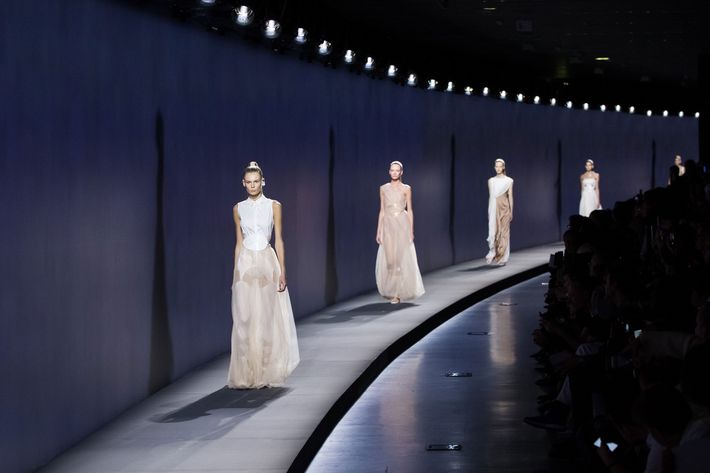 6. It must be really fun to work at Jacquemus. Designer Simon Porte got a big hand from his whooping, screaming team at his adorable Marseillaise romp, and then pranced down the runway with his giggling models.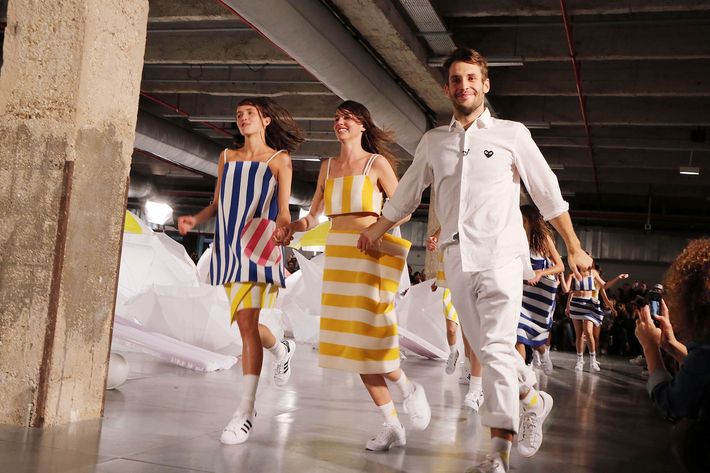 7. Designer Shine Theory is fully in action this week. Joseph Altuzarra sat at his BFF Alex Wang's Balenciaga show, and Shayne Oliver of Hood by Air came to pay his respects to Rick Owens, who's an obvious influence on his work.
8. Anna Wintour isn't using a flip phone anymore. At PFW shows, she's been typing away on a non-T9 device that I haven't yet been able to positively identify. Don't worry, I'll stay on this breaking story.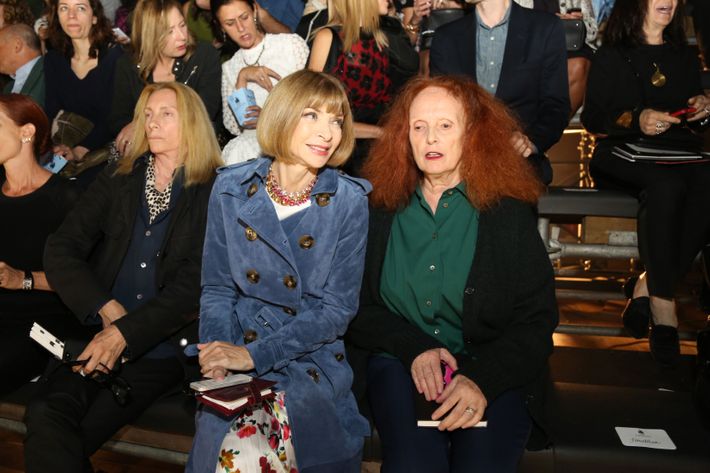 9. Office towers could be the new hot show venues. Hood by Air's Superego presentation took place in the towering Tour de Montparnasse, with models rolling around on office chairs. Also, when I was confused about which side of the tower was the entrance, I followed the sweetest band of French kids all clad in their HBA finest, correctly figuring they would lead me to the holy grail. The HBA crew definitely has a strong Continental contingent.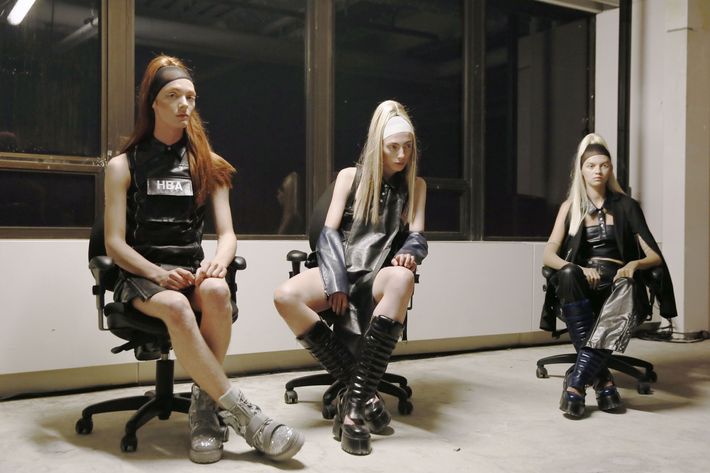 10. Balmain, held at the stunning Grand Hotel, might be the most fabulous backstage scene I've ever visited. Kim, Kanye, and Kendall were there, of course, but also a dressed-down Rosie Huntington-Whiteley and Joan Smalls, still stunning as always. And designer Olivier Rousteing, clad in a super-low-cut tank top, was at the center of the action, breathlessly telling me all about his Insta-censorship inspiration.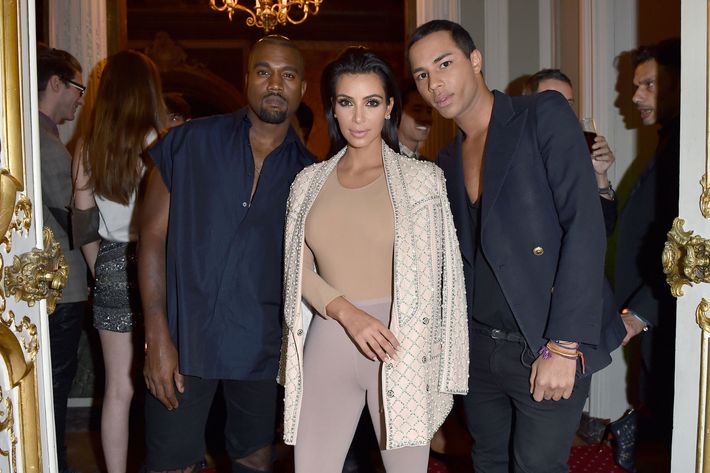 11. Motorcycle helmets seem to be the statement accessory in Paris — I've seen Olivier Zahm and tons of other French editors, fresh off their Vespas, toting them into shows. And seeing how bad the traffic in Paris is makes me want to get wheels of my own.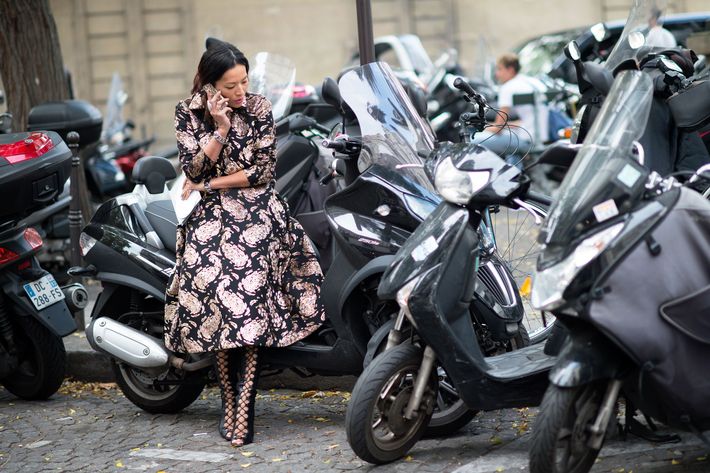 12. Rick Owens painted some of his models white, living-statue-style. Leave it to him to keep PFW interesting.