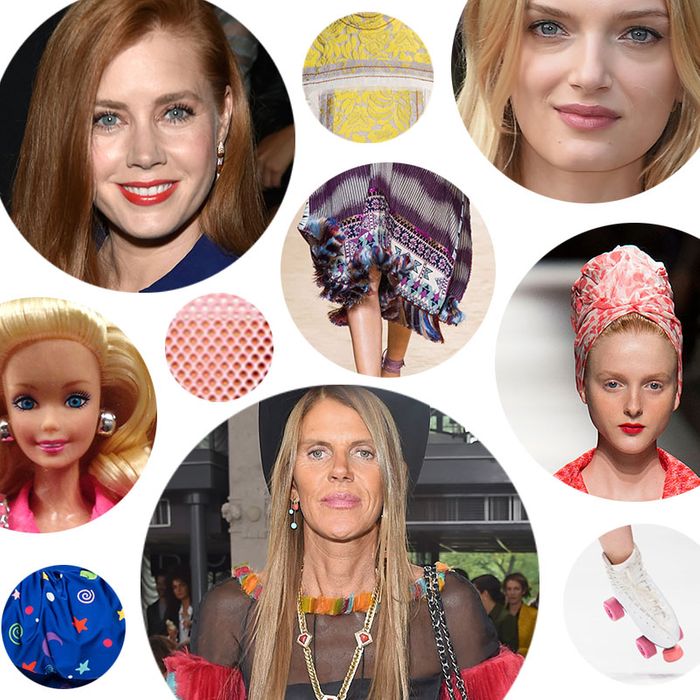 Thursday and Friday of Milan Fashion Week feature some of the biggest-banging talents of the city. From Thursday morning at Max Mara all the way through Friday night at Versace, it's a vortex of luxury, shoes, salami, Aperol, and gossip. Read on for highlights from shows like Prada, Versace, Missoni, Fendi, Etro, and more.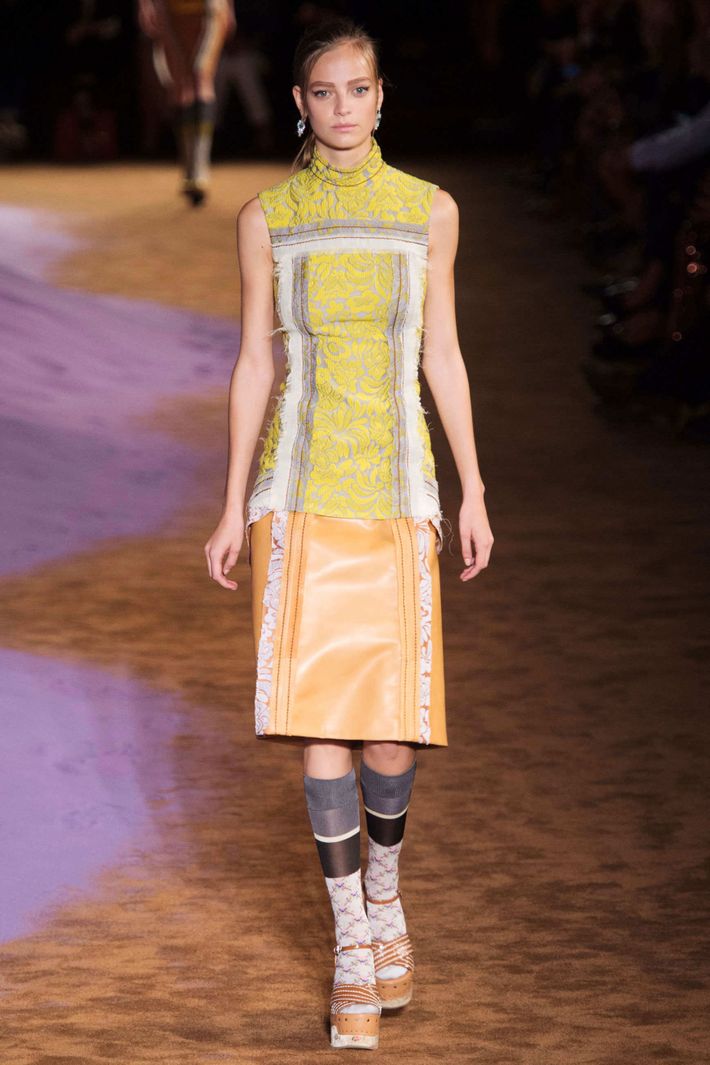 Between the loud rock music, lavender dunes, platform shoes, and Gemma Ward, there was a lot to take in at Prada. And as with most Prada shows, I'm still thinking about it days later. Some of the dresses reminded me of the underside of upholstered furniture, when you realize that something rich and beautiful is held together with stitches, muslin, and nails — but that only makes you love it more.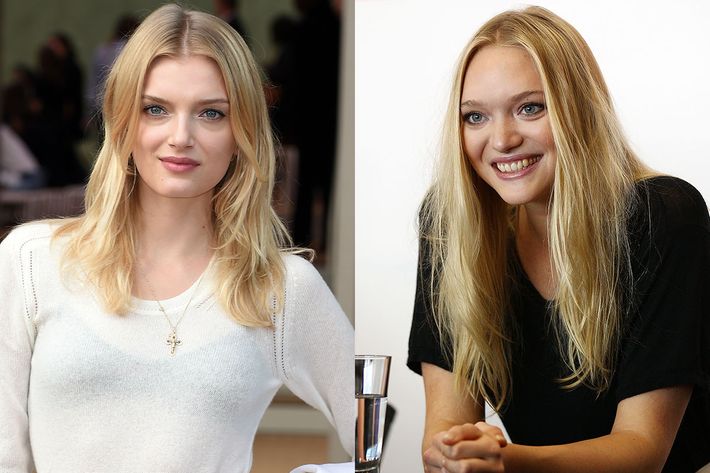 Everyone seemed happy to see Ward return to modeling on the Prada runway after a six-year absence. Post-show, we saw her and Lily Donaldson catching up over big bowls of pasta. Very nice.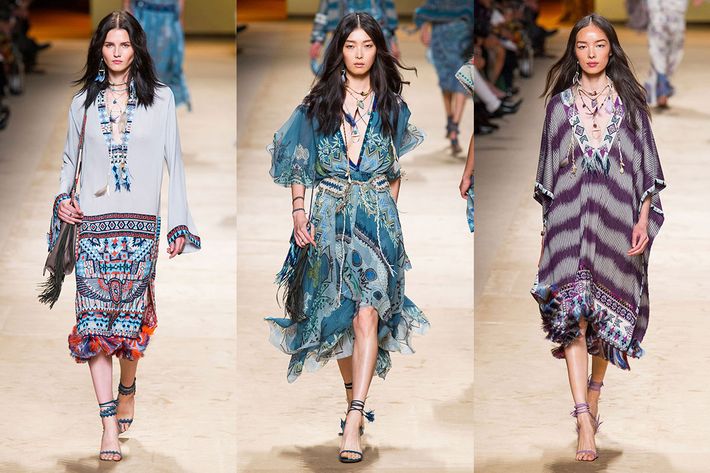 Etro will always be one of my favorite shows, simply because the designers feed their audience salami and fresh juices. They also provide each seat with a rectangular pillow made of salvage Etro fabrics (handy for when I needed a nap in the car later). Then the show starts, and nothing is annoyingly complicated. No one needs Shazam to figure out the music ("Riders on the Storm" by the Doors), and you can already imagine the irony-free parade of Pocahontas caftans on a yacht.

Friday, a.k.a., "shoe day," felt like it had about 100 shoe presentations. It's heaven, basically, because who doesn't love looking at shoes? Sergio Rossi showed his new collection in an apartment I wanted to live in with grey walls and rare modern furniture. This season's theme, Matisse, translated into primary colors, dynamic lines, and graphic shapes. Expect these to be all over Art Basel Miami.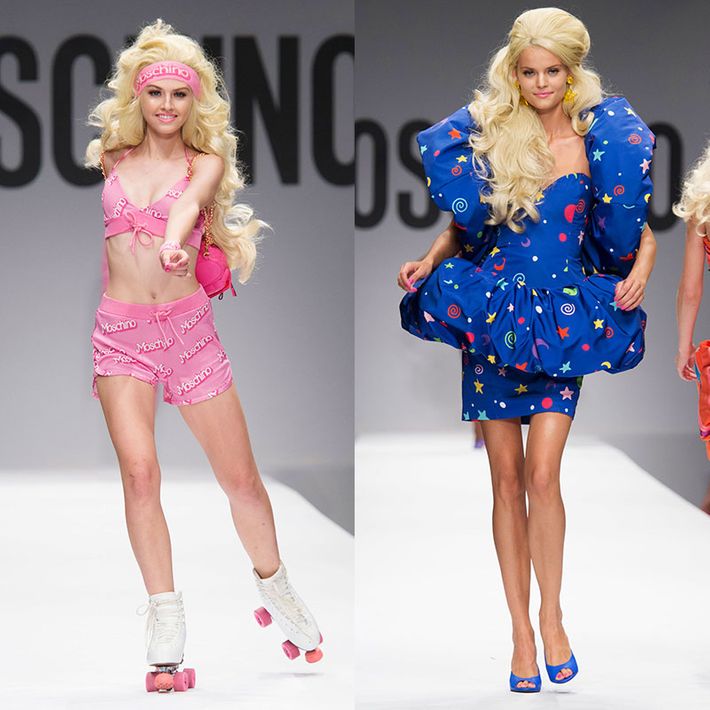 I have to admit, I nearly gave up on trying to get into the Moschino show when the mob outside became so intense, it nearly crushed people at the front of the line. I persevered, and as soon as Aqua's classic "Barbie Girl" came on, the audience recovered from the ordeal of the arrival. I'll have this song stuck in my head for the next week, so let me inflict that on you:
Moschino also wins the award for this season's most coveted front-row swag: an actual Barbie. I overheard several editors say they were taking them for "their kids."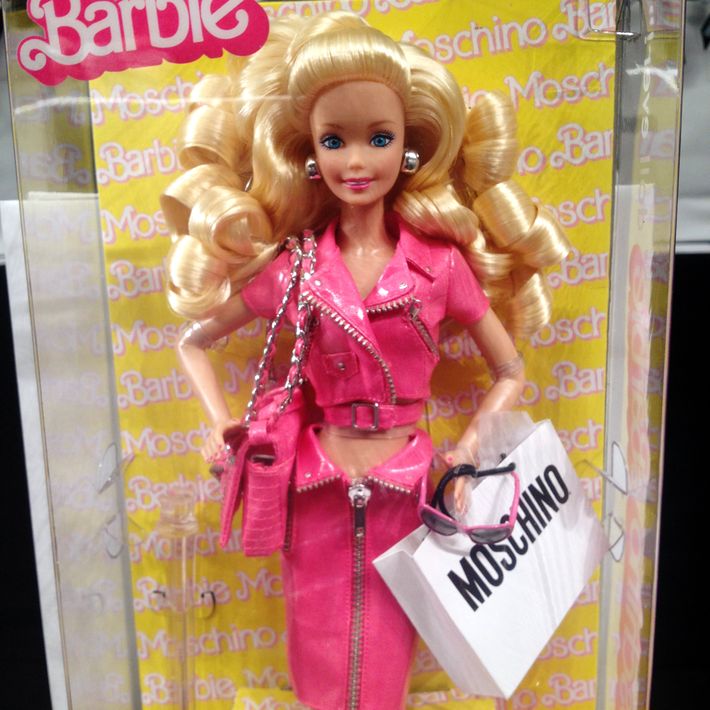 Speaking of dress-up dolls, I am beginning to worry about Anna Dello Russo.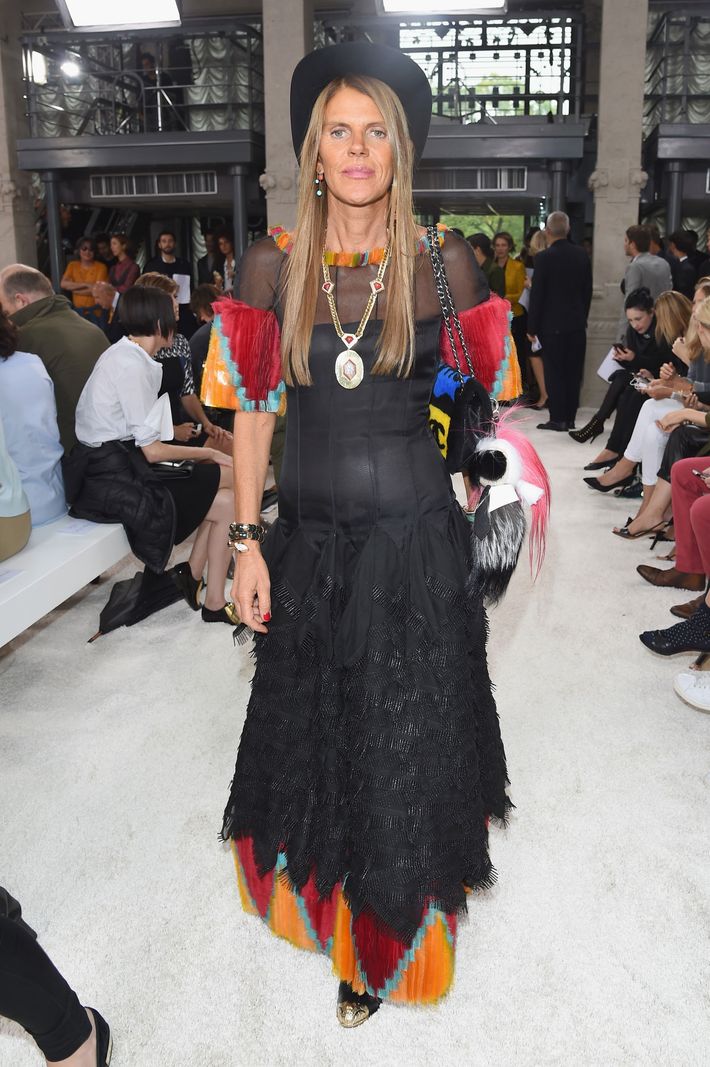 Meanwhile, Amy Adams looked stunning in blue sitting front row at Max Mara. I felt like I'd already seen her everywhere, though, as she's the face of the fall campaign, which is on a billboard right outside of my hotel.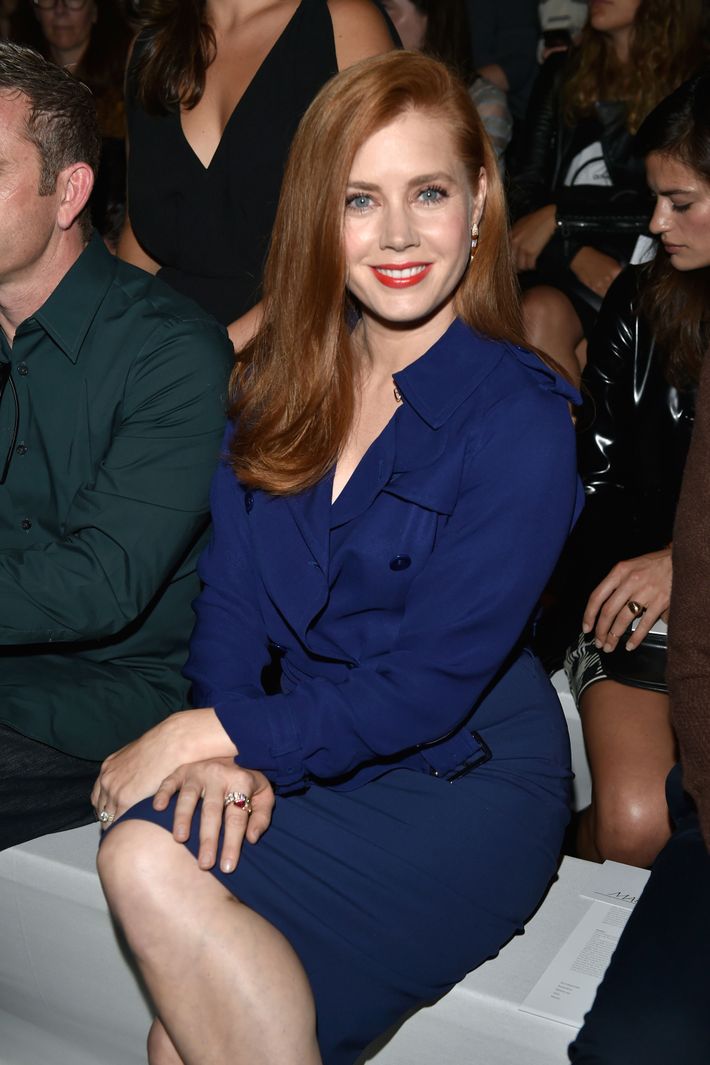 According to the beautifully printed notes, Fendi had both an architectural and conceptual inspiration this season. The arched stage set was based on the Palazzo Della Civiltà Italiana, and Karl Lagerfeld dropped a Nietzsche reference in the notes as well, saying "the past and history are now beyond 'good and evil,'" and reminding us that "Inspiration is like the desire of the human heart. But it has to be filtered and transgressed." Of course.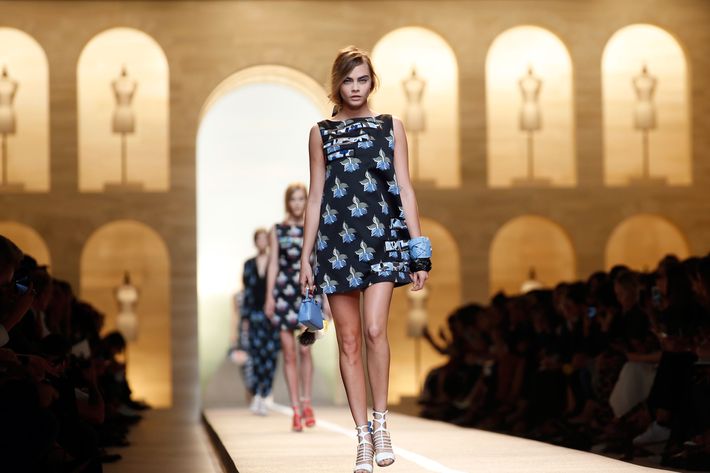 For the clothing, that meant precise, shredded suede and leather with an orchid print. The whole collection had a quirky, younger vibe than some of the recent shows.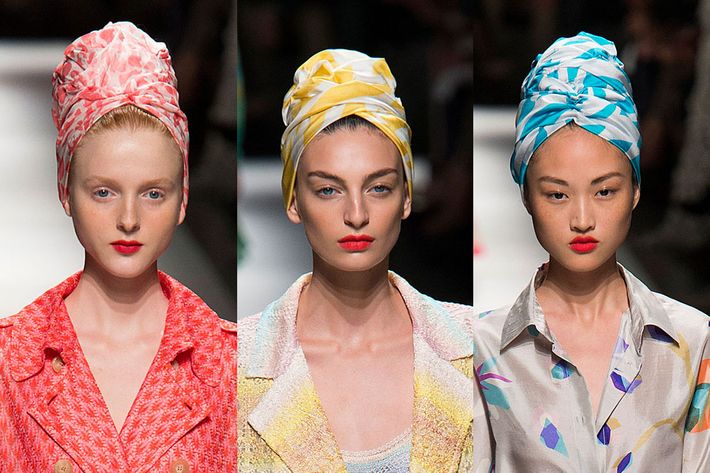 Missoni knows how to do a turban. And that's no small feat. Toward the end of the pastel collection of printed silk maxidresses and zigzags, a remarkable song came on: The tune was Prince's "Nothing Compares 2 U," but the words, sung in a beautiful high voice, seemed to be Mandarin. Further investigation revealed it to be the work of Fatima Al Qadiri, my new obsession. Listen:
Before Versace, it seemed like the entire U.S. press met for drinks in the lobby of the Four Seasons, which is just a few doors down from the show venue. Imagine the high-school cafeteria, but with Aperol, blanched almonds, and designer clothing.
Versace doesn't mess around with its model star-power. This season, its lineup included Isabelli Fontana, Lindsey Wixson, and Mariacarla Boscono. And lots of sparkle, midriff, and attitude.
Rebecca Ramsey and I finished off the marathon two days with dinner with friends at an excellent off-the-beaten-path restaurant called La Voliera, at which there was, thankfully, not a soul we recognized. Merciful, as it had been two 15-hour days with the same crew.
Still to come: Marni, Jil Sander, Bottega Veneta, Roberto Cavalli, Emilio Pucci, Ferragamo, and more! Stay tuned.