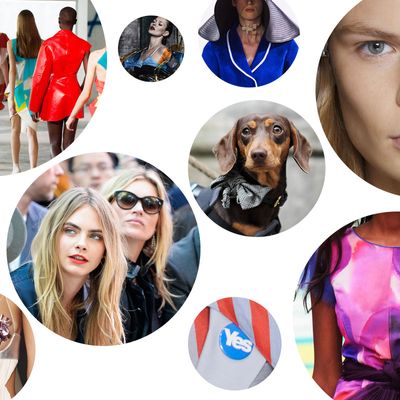 Photo: Imaxtree, Getty Images, Courtesy of AnOther Magazine
Yesterday, we bid cheerio to London Fashion Week. It was a five-day extravaganza that featured a rare glimpse of sunshine and Cara Delevingne's sideboob, a cameo from Paul McCartney, and the sight of tampons hanging from trees — though, thankfully, not all at once. Below, the 16 most glorious, totally bonkers things that happened this week. On to Milan!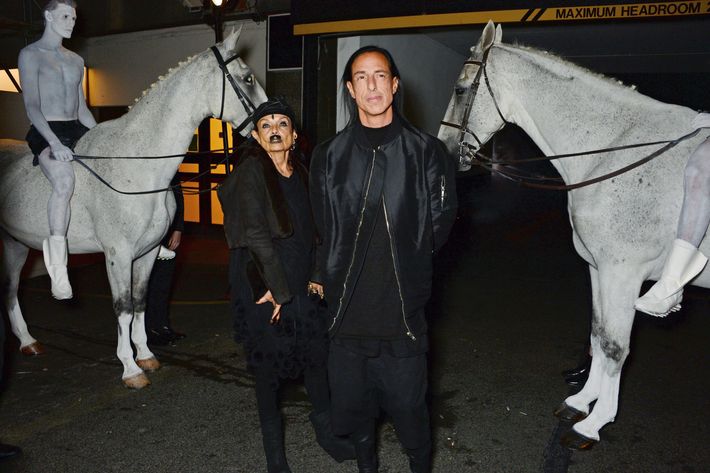 1. Rick Owens had one of those parties where everyone in the room is cooler than you. In a parking lot behind Selfridges department store on Saturday night, guests danced to trance music, and shirtless men poured the drinks. The designer himself arrived just after 1 a.m. accompanied by his wife Michele Lamy. When they entered, a fan cried hysterically at the sight of them. Drama.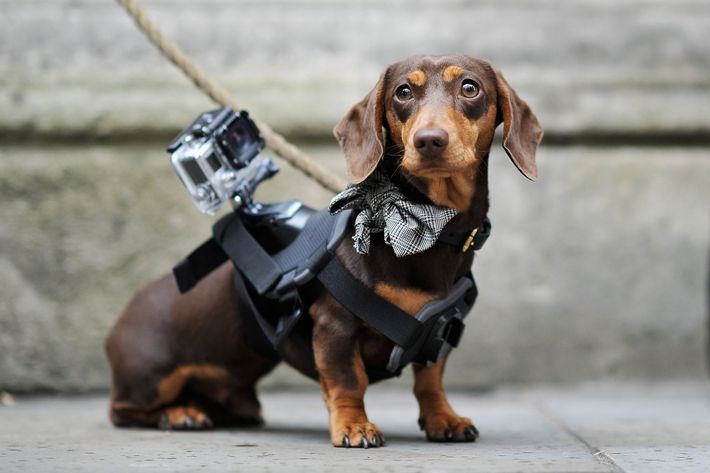 2. A dog schooled the fashion crowd on their shoes. THE OUTNET enlisted a dachsund named Sergio the Shoe Hunter to circulate the shows capturing footwear on a GoPro — and throw tiny buckets of shade at you.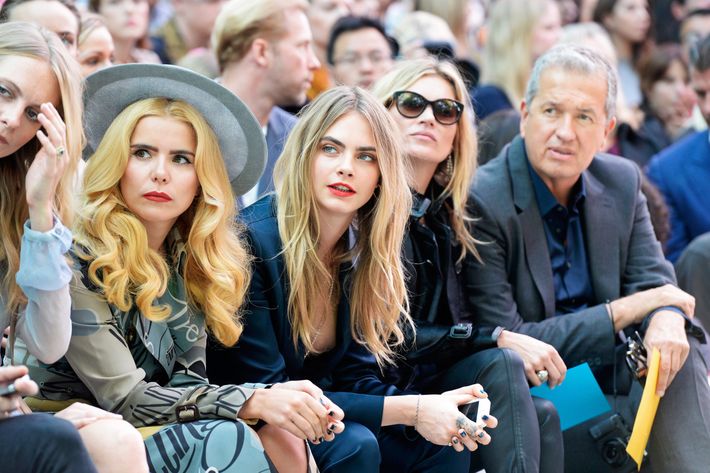 3. Cara Delevingne sat out the Burberry Prorsum show for once — in favor of sitting in the front row. She wore sneakers from the SS15 collection and revealed a lot of sideboob in a low-fastening jacket — but her best accessory was Kate Moss, whose attendance sent the photographers into a frenzy.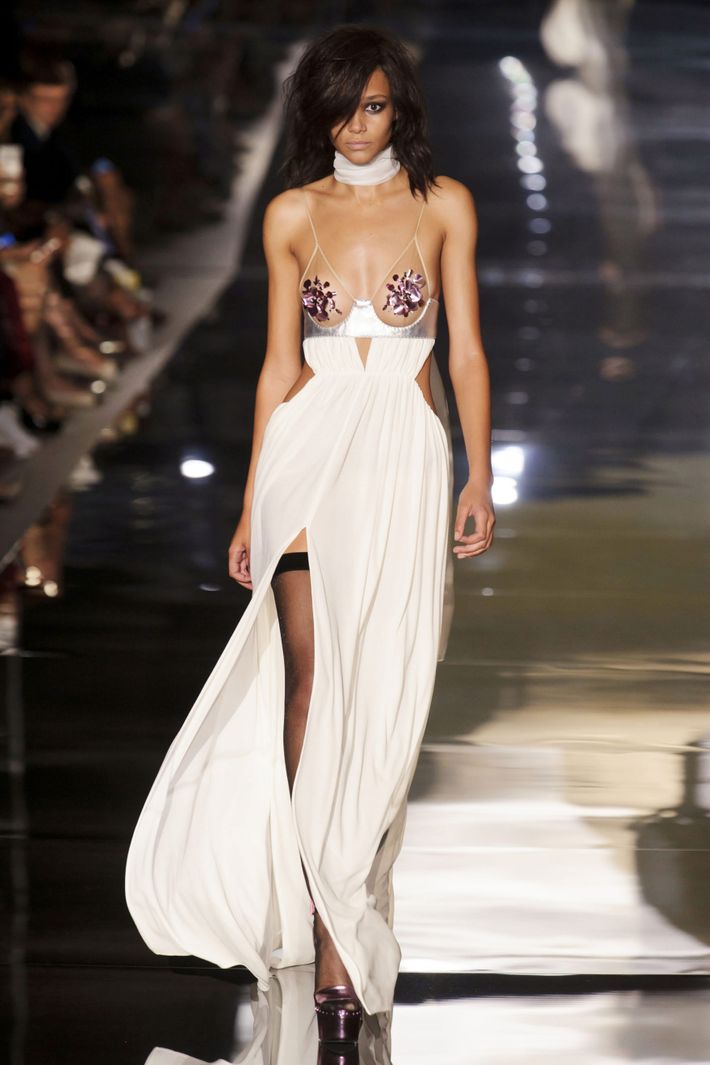 4. Boobs were everywhere this week. Tom Ford gave us bejewelled nipple pasties for evening, and sheer tulle left nothing to the imagination at Christopher Kane, Meadham Kirchhoff, and Marques Almeida.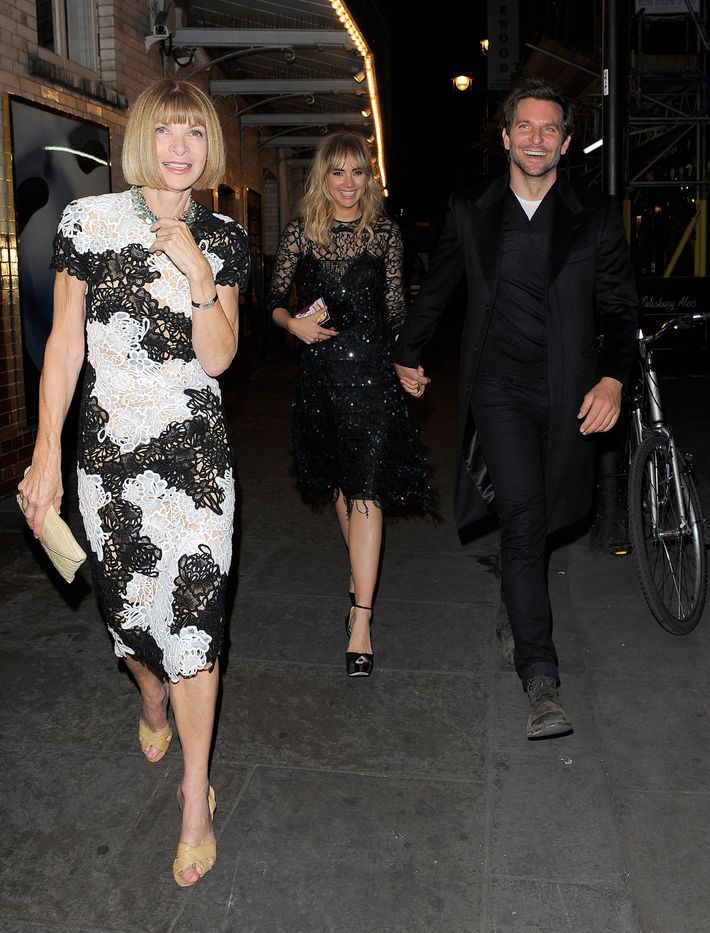 5. Bradley Cooper made a handsome appearance at the Tom Ford show, sitting next to Anna Wintour and Hamish Bowles. As we established last season, Wintour and Cooper get on like a house on fire, so it wasn't surprising that they sat next to each other laughing like best friends who hadn't seen each other in years.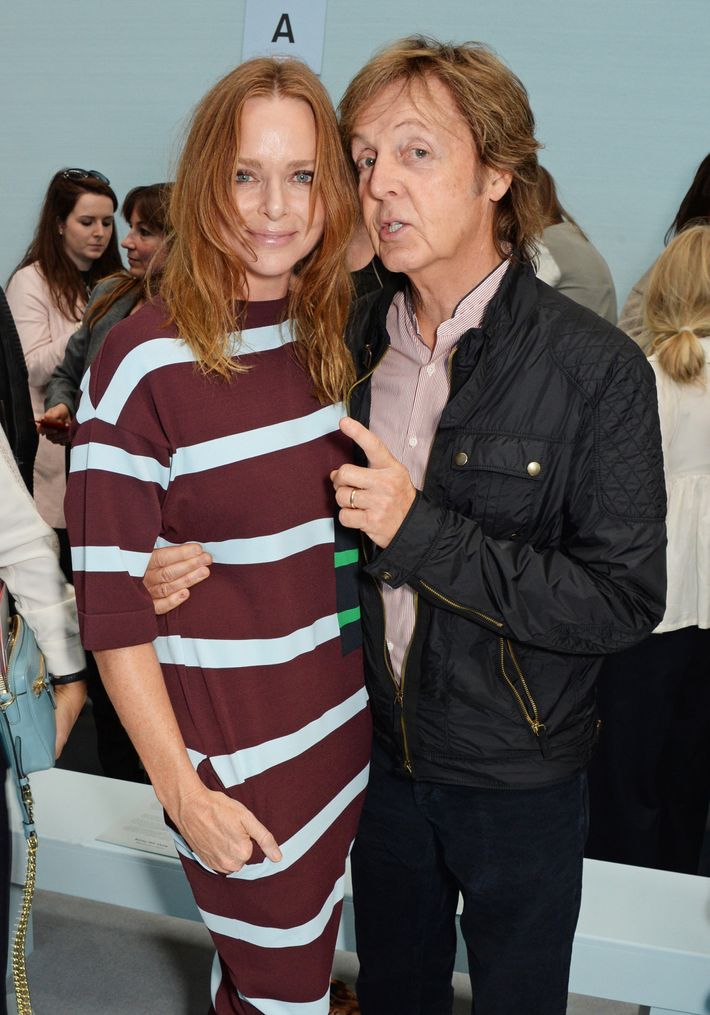 6. Paul and Stella McCartney showed up at Hunter's show. You wouldn't think wellies were glamorous enough to attract an A-list crowd, but as it turns out, Stella is married to Hunter's creative director. Plus, it rains a lot here, so Paul was probably shopping for his next boot.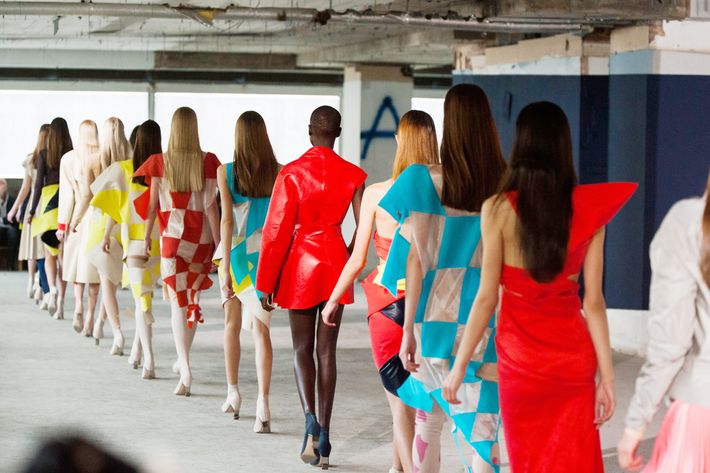 7. The show spaces ranged from ridiculously fancy to totally grubby. Jonathan Saunders showed at the British Museum, and Simone Rocha at the ornate St. Andrew's Church — but most interesting was the dusty garage that housed Thomas Tait's show, where we spotted asbestos cleanup notices.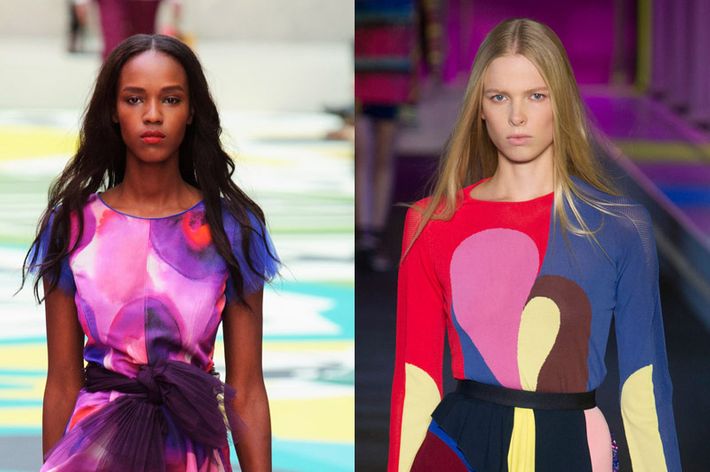 8. We paid our respects to Henri Matisse. The late artist's colorful works served as inspiration at Burberry Prorsum and Peter Pilotto. Clearly designers did their homework and visited the Tate Modern's recent Matisse exhibition.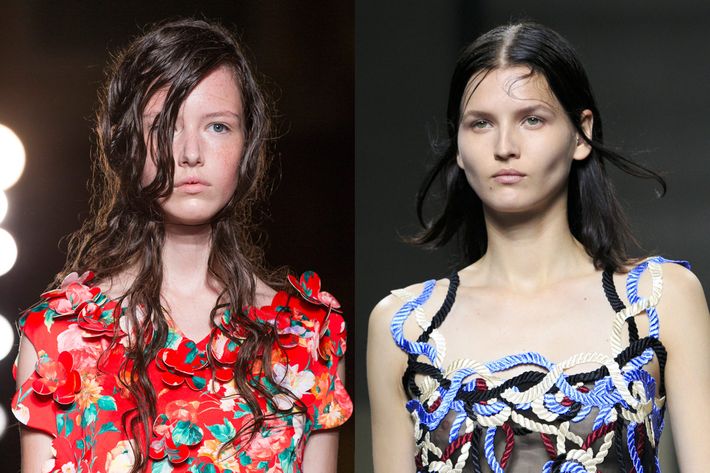 9. The big thing in beauty was messy, wet hair. Unruly strands were plastered on faces and necks, seen at both Christopher Kane and Simone Rocha. Call it the Proenza effect.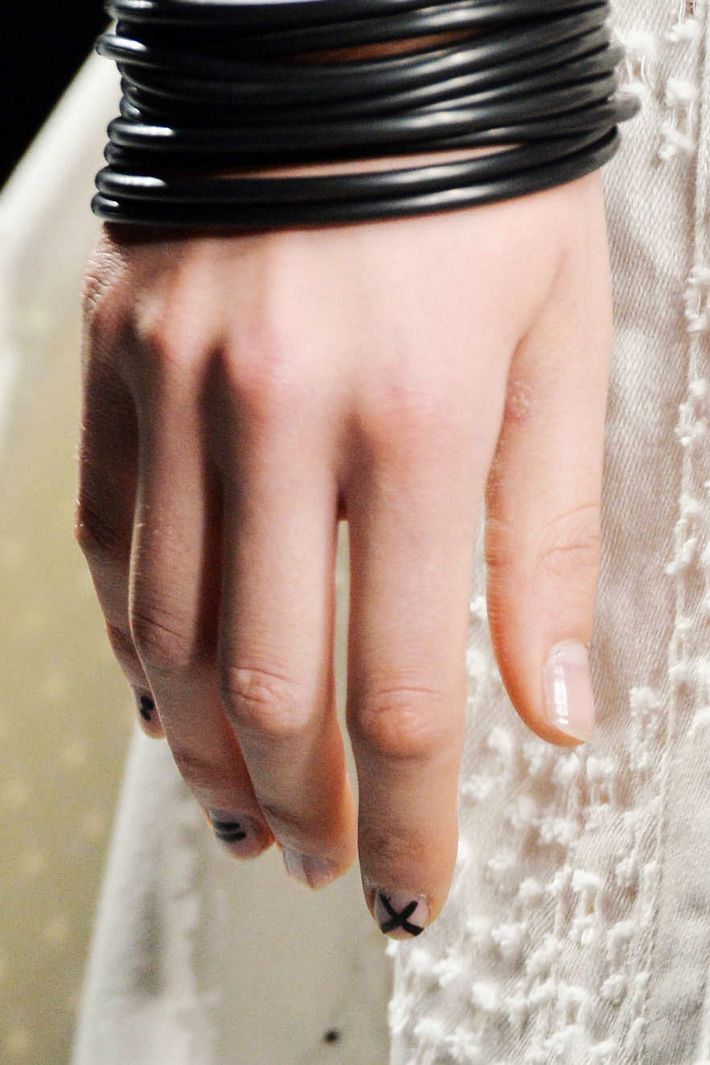 Tatty Devine statement bangles
10. At Sibling, Katie Hughes taught us that nail art may be over, but accent nails are not. It's all about coordinating it with the position of your jewelry.
11. On the set for Meadham Kirchhoff, blood-soaked tampons hung from trees. A feminist statement or a counterculture attempt to gross us out? Possibly both.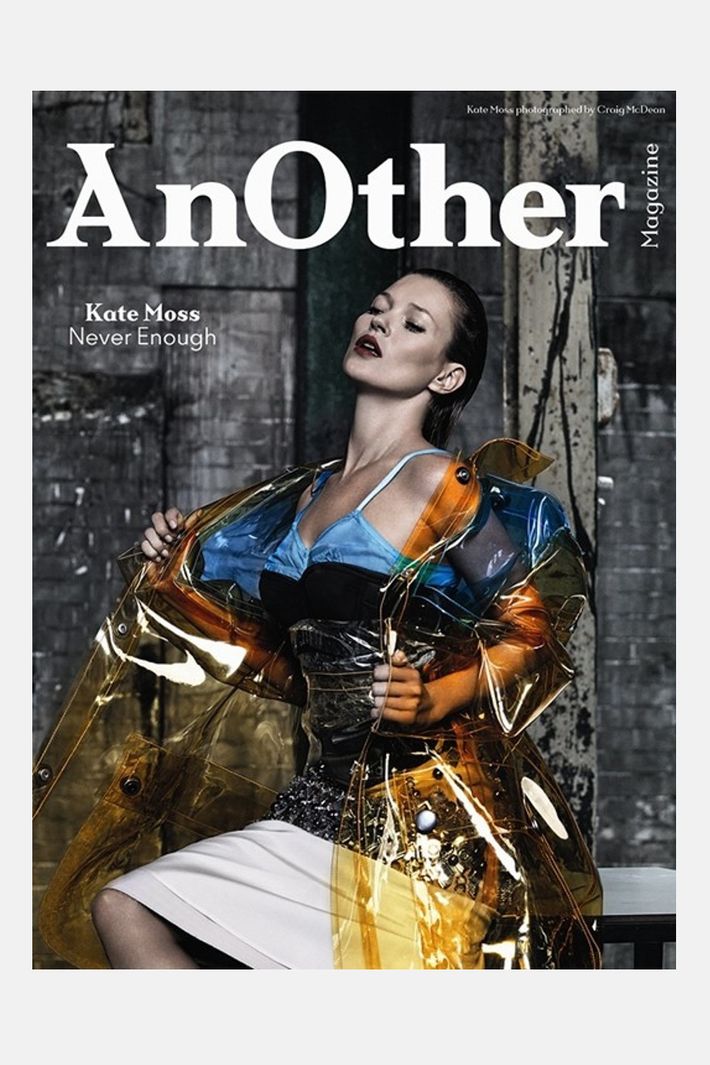 12. Alexa Chung, J.W. Anderson, and Ellen von Unwerth got drunk together. They were among guests at Kate Moss's big Fashion Week party to mark the launch of the Moss-themed issue of AnOther Magazine.
13. Anya Hindmarch's show was especially bonkers this season. A minute in, guests suddenly found the floor was moving underneath them and seats were spinning around the room. It was most disorientating — and even more so when a troupe of skeletons appeared and danced for us. What did it all have to do with handbags? Not a lot, but it was cool.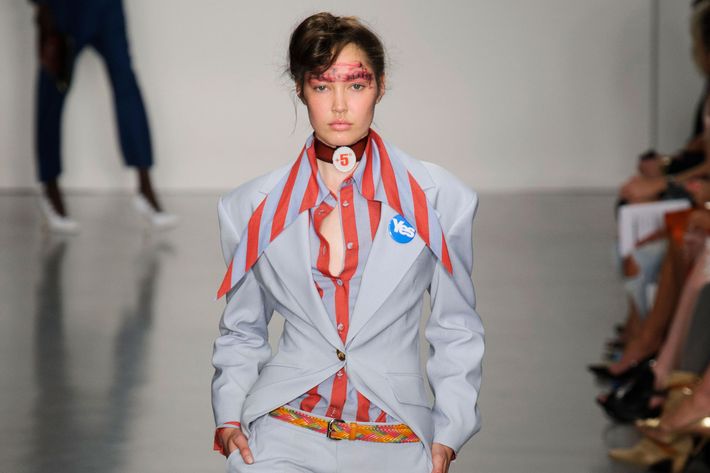 14. Vivienne Westwood used her show to campaign for Scottish independence. Leave it to Westwood to make a strong political statement in her show.
15. The street-style print of the week was the Dries Van Noten floral. Several editors were spotted in it — including Malina Joseph Gilchrist from T Magazine and Marina Larroude from Teen Vogue.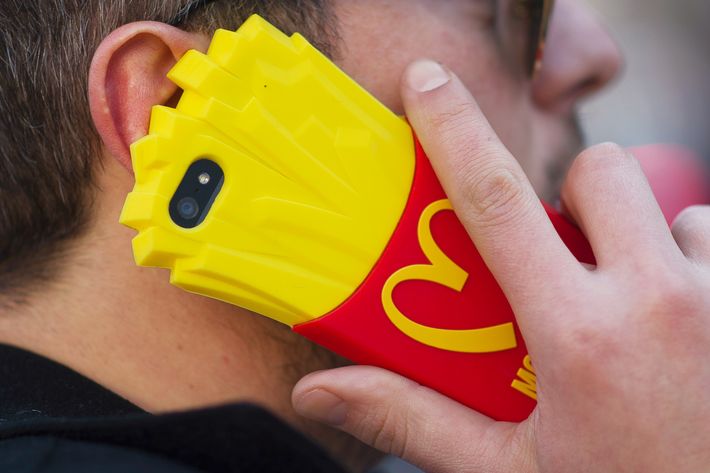 16. And finally, the world reached its Moschino-iPhone-cover peak. A whole season since the McDonald's-themed show and they're still everywhere. Seriously. In the fashion industry, aren't we supposed to have short attention spans?