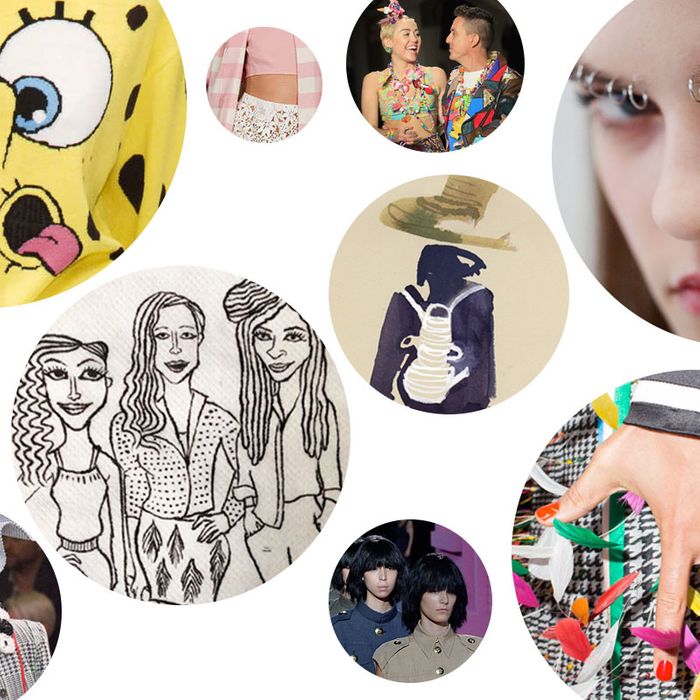 Photo: Imaxtree, Getty Images, Bek Anderson, Landon Nordeman, Nakin Killa, Bil Donovan
It's over. New York closed another tidal wave of frocks, socializing, power struggles, manic pageantry, and hangovers. And what a week it was — from Thom Browne's inspiring showmanship to Britney Spears's less-inspired lingerie presentation at the New York Public Library; from Marc Jacobs's concept of love and war to Miley's DIY raver jewelry. High-school students were very on-trend this season, seen everywhere from Eckhaus Latta, to Rosie Assoulin, to Chloë Sevigny for Opening Ceremony. Not to mention all over the runways, but that's nothing new.
Below, the 19 most delirious, glorious things that happened in the last few days of Fashion Week.
1. The Great Rodarte Seat-Bump of 2014 happened when two seasoned vets in the front row refused to make enough room for Bill Cunningham. When he asked to sit, neither would make way for him. Finally, he threw himself in between them unapologetically — as he should — but shame on them. Age before beauty. Yield for Bill.
2. After the Rodarte show, we stopped in for a little shopping at Comme des Garçons. We spotted Grace Coddington trying on a pair of red slip-on sneaks (with holes) to match her red shirt and, of course, her hair.
3. Rosie Assoulin hosted high-school students at her show. She held her presentation in the gym of the Notre Dame School in the West Village, and halfway through the presentation, a group of uniformed female students came to check out the collection. Assoulin greeted them with open arms. We love her ever more.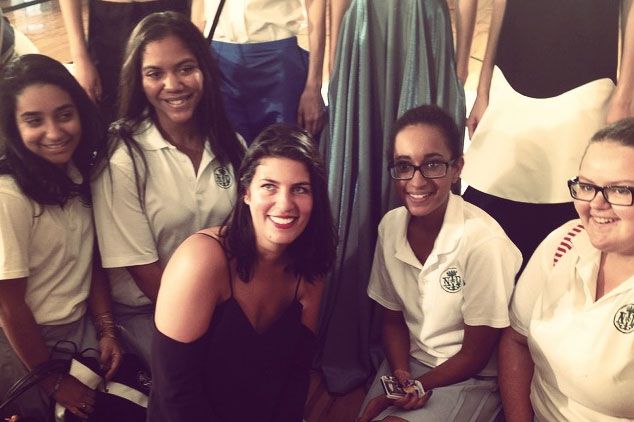 4. Assoulin also had some nice jugs. Her first-ever bag collection came in the shape of water jugs. Our favorite: a white rope backpack that looked like a Grecian amphora. Cut contributor Bil Donovan was on-scene sketching.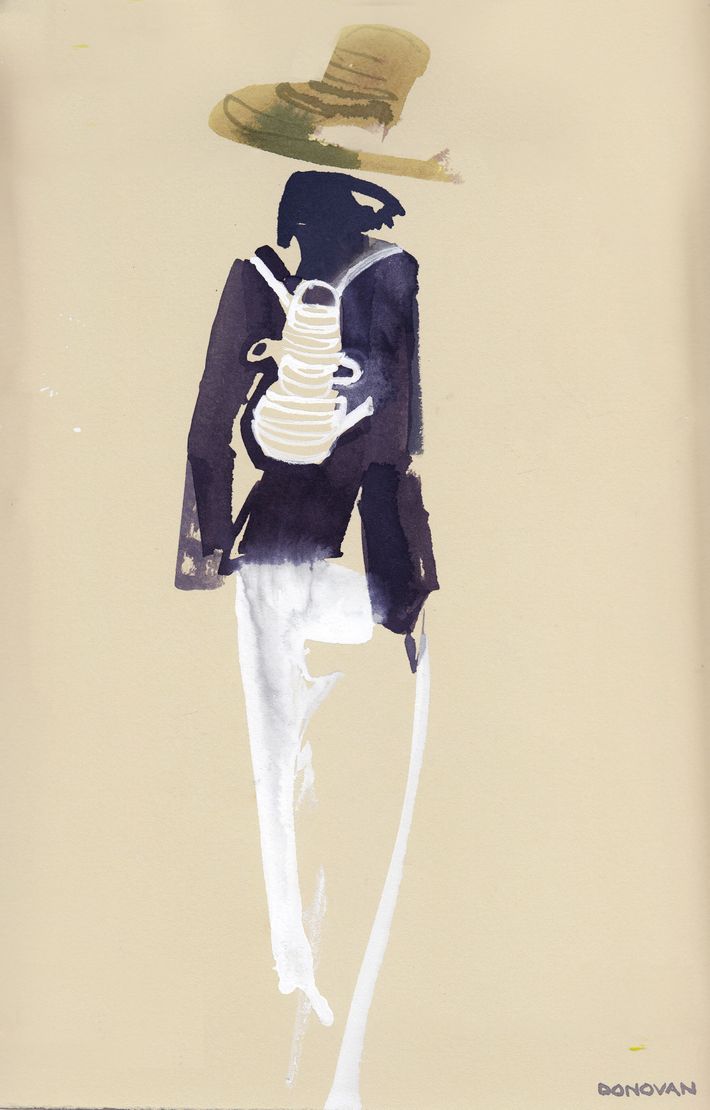 5. Miley showed her "Dirty Hippie" candy-raver jewelry at Jeremy Scott. And then grabbed prominent curator Jeffrey Deitch for a photo op. Look, ma, I'm a real artist!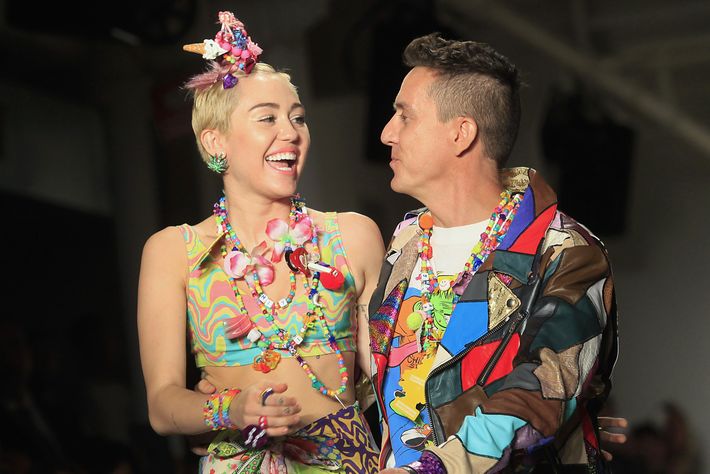 6. Leigh Lezark and Geordon Nicol couldn't even get backstage at Jeremy Scott. You know its bad when the fashion world's preeminent party royalty (what do they actually do?) can't talk their way to the backstage area. Somehow we did though.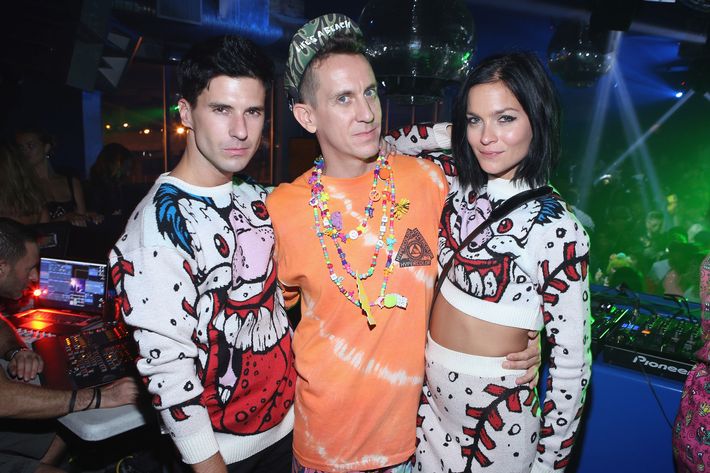 7. Will the real Caroline de Maigret please stand up? "Who's this Caroline de Maigret wannabe next to us?" we wondered aloud at the Phillip Lim show when we noticed a shaggy-haired lady in menswear plop down next to us. We were so used to seeing her in photos we didn't think she was a real person. It was, of course, the real Caroline de Maigret. Oops.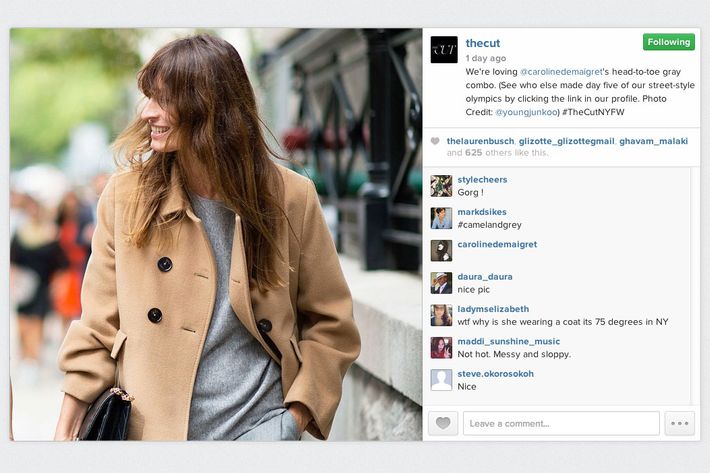 8. Maggie Rizer made a return to walk in the Michael Kors show on Wednesday. As he told us after the show, "She's living a really full, happy life, and I think it shows. I never think of models as mannequins. I really think of them as individuals." Here's to living.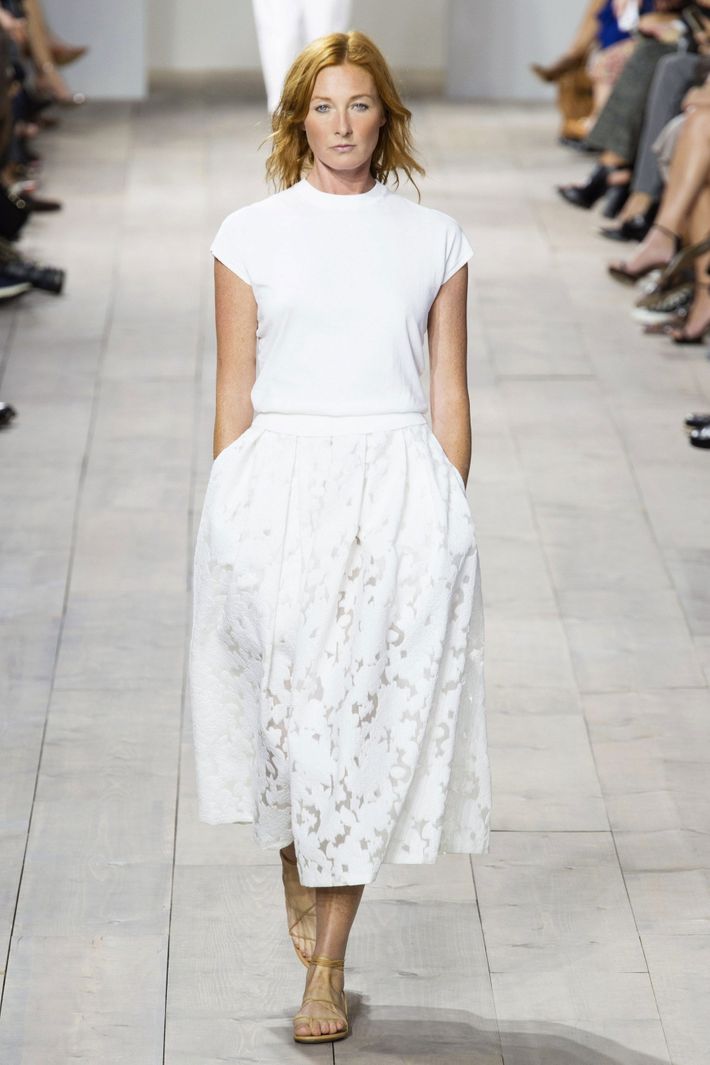 9. Apple interrupted the week with its apparently fashionable Apple Watch, and fashion people have mixed feelings about it. Joanna Coles loves it, but Alexa Chung thinks it's "kinda dorky."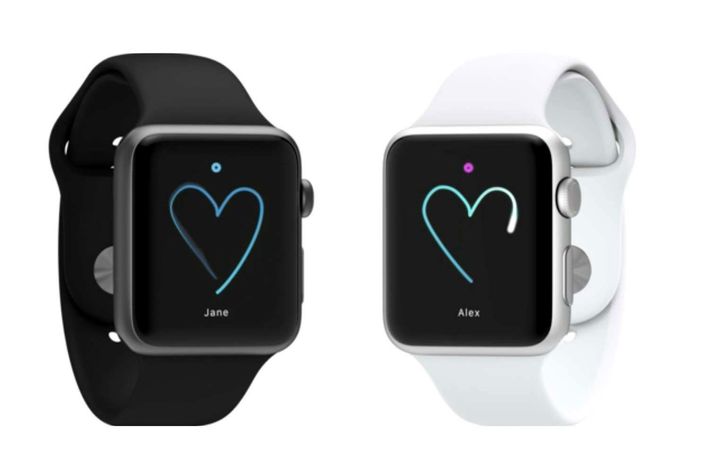 10. The street-style winners of the week are … Rachael Wang, for making the Gap look like Céline, and Lucy Chadwick, who repurposed her wedding dress. But we still have all of Europe, so there's still time for the rest of you.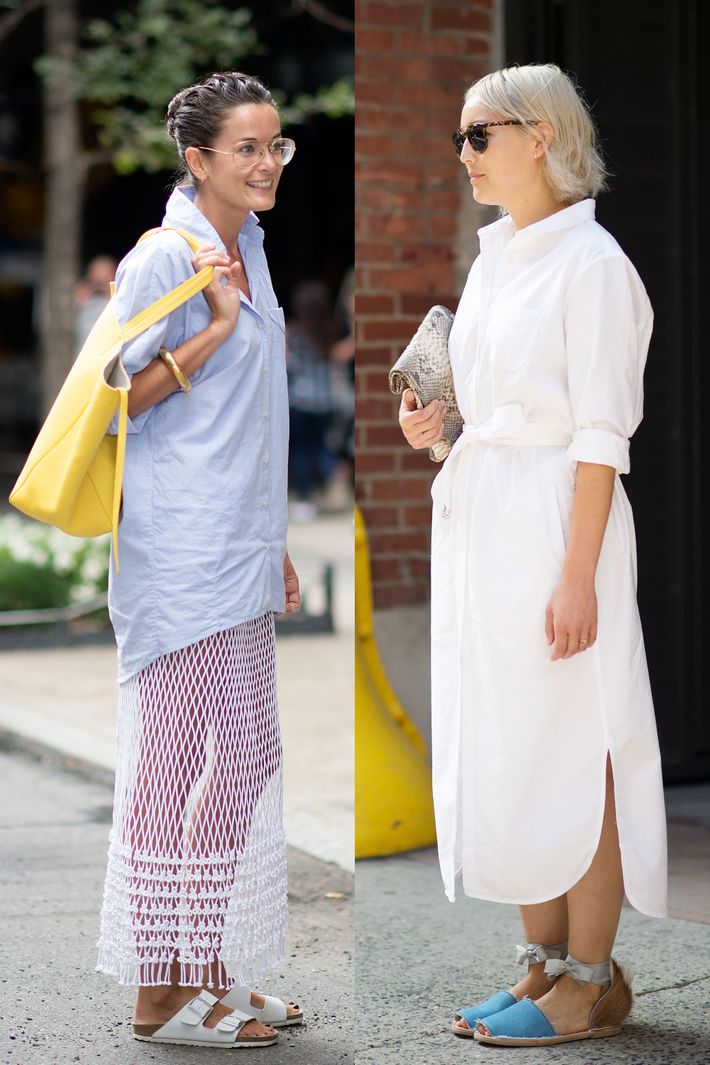 11. By far the weirdest beauty detail of the week: hairy necks at Proenza. The second-weirdest beauty detail: eyebrow rings at Rodarte.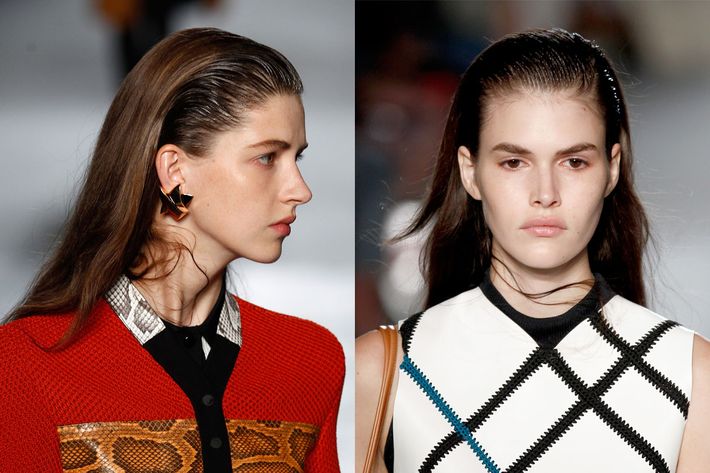 12. Third-most intriguing beauty detail of the week: no makeup whatsoever on the models at Marc.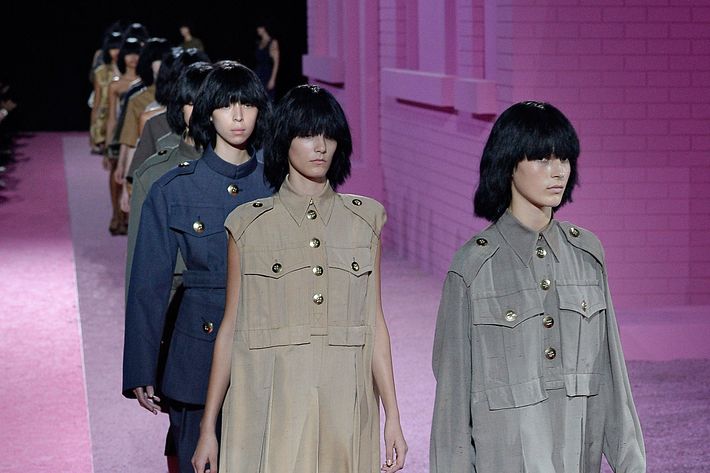 13. The Fug Girls have witnessed everything from Britney Spears's spoken-word poetry at the New York Public Library to a very dapper-looking Justin Theroux.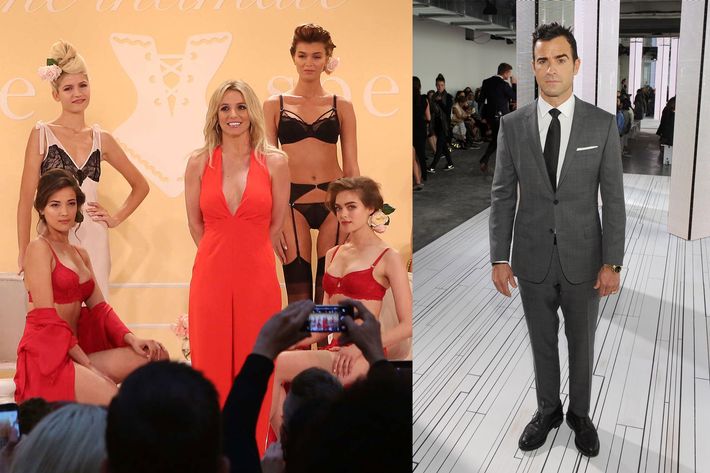 14. Thank God for Thom Browne, who gives us a little European showmanship.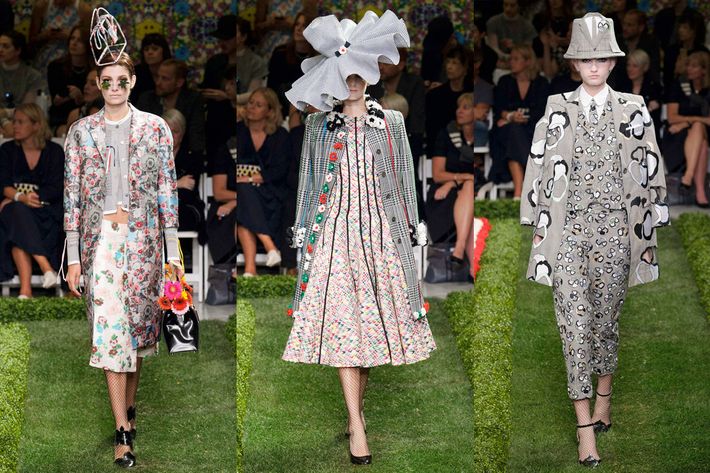 15. Things are still weird backstage. Thankfully. Landon Nordeman has captured everyone from prim little Kiernan Shipka to that ubiquitous lady in the sparkling pink jumpsuit.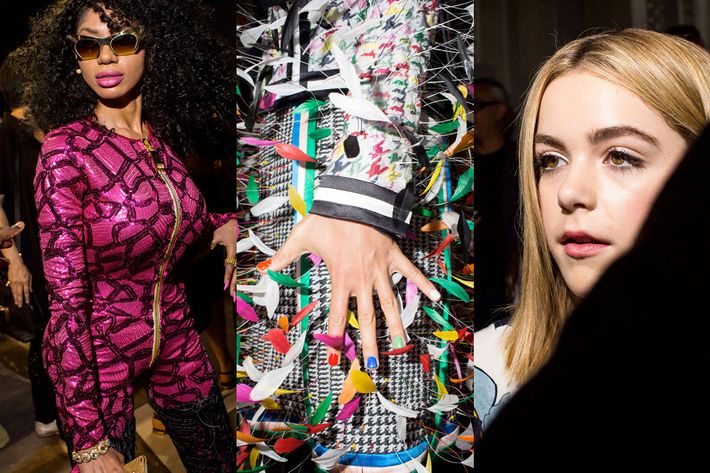 16. SpongeBob made an appearance, but we're not entirely sure if anyone actually mistook it for Moschino.
17. We had a party that was equal parts chic and weird. As we would. Some people thought the DJ'ing could have been better, but we were too busy enjoying NapkinKilla's sketches to notice.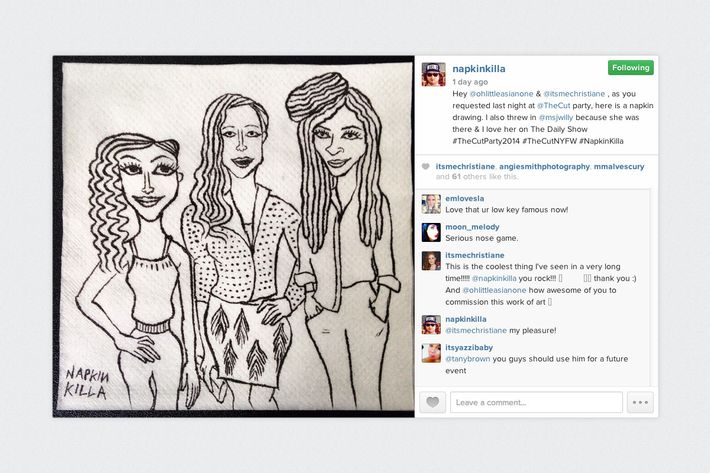 18. Pretty is the new cool. And so is crazy clubwear.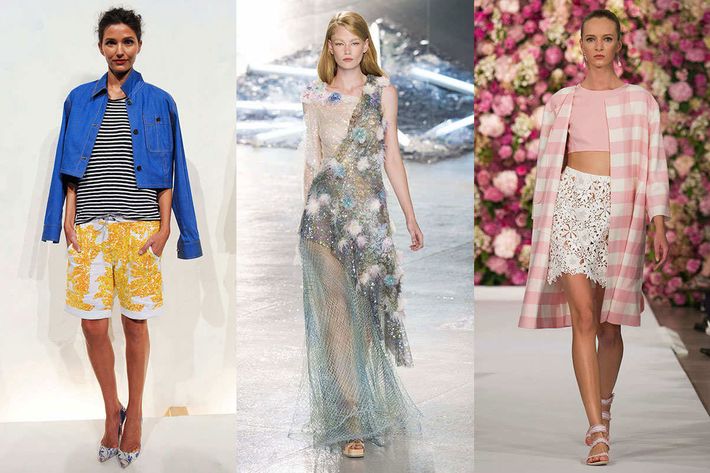 19. The Chloë Sevigny presentation made sincerity cool again. Amen.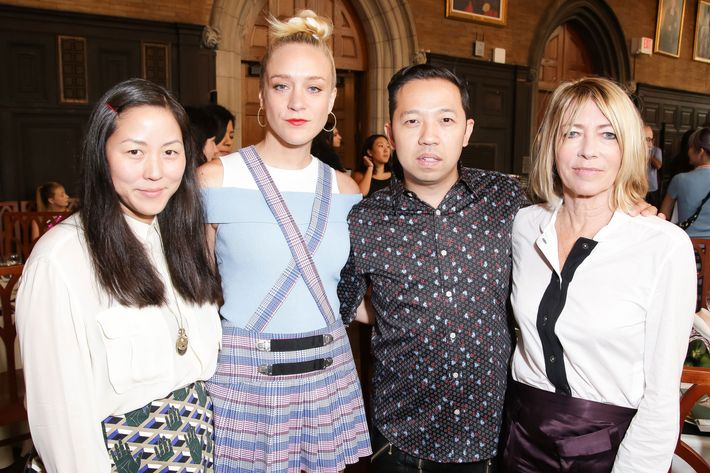 And with that, we're out. Stay tuned for London, Milan, and Paris this month.