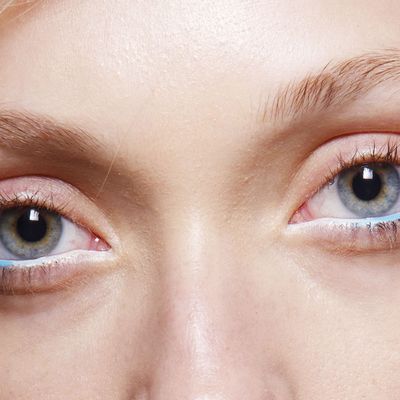 LONDON — If New York Fashion Week was all about taking makeup off, London has been about piling it on. So far, runway beauty here has come in the form of ombré eyes, red lips, and accent nail art. The Cut spoke to hairstylists, makeup artists, and nail artists at the London shows — including Whistles, JW Anderson, and more — to bring you the five top tips from backstage beauty across the pond.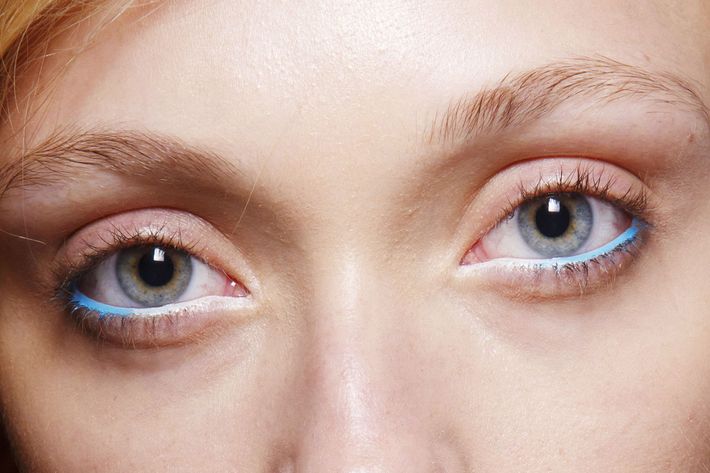 1. Ombré isn't just for hair, it's for eyes too. One of the coolest beauty looks of the season was at Holly Fulton, where makeup artist Andrew Gallimore created an ombré eye, using a cyan kohl liner that faded into white under the models' eyes. Gallimore kept the skin really scrubbed and natural with no definition in the brows to keep the focus on the faded liner. "We're trying to get a definition of each color on either side," he said. "So we put the white in the middle and took it along, and brought the blue in so they have this mix in the middle." He finished with a hint of mascara on the bottom lashes, but kept the top ones bare and curled. His tip: "If you wear it and you blink a bit, it will melt into each other."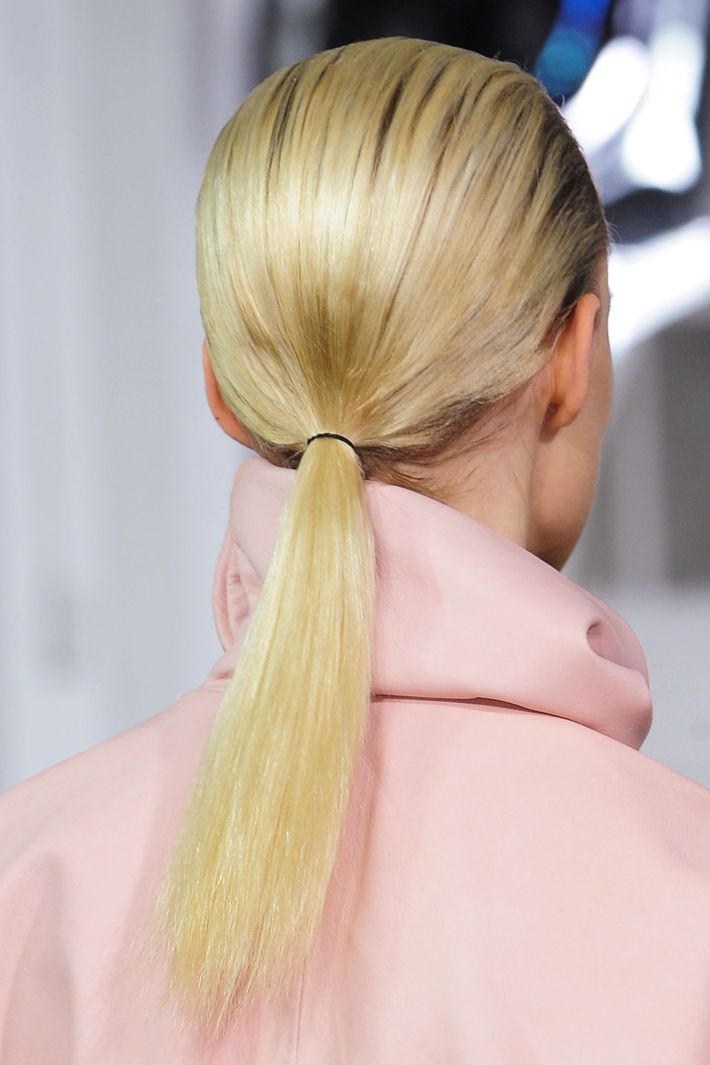 2. A low ponytail is the way to wear your hair. Hairstylists at J.W. Anderson, Whistles, and Shrimps all secured hair at the nape of the neck. At JW Anderson, they blowdried hair and pulled it back into a low pony for something quite elegant. At Whistles, hairstylist James Pecis created a sleek ponytail with a soft center part, worn really low and secured with a thin metal clip. "The idea is that we have a nice, minimal line at the back," he said. "It's more about getting the right texture and having it nonchalant." Alex Brownsell at Shrimps also tied the hair at the dip of the neck, but she curled it under to create a shell-like shape to "give a modern twist to a classic structured beauty."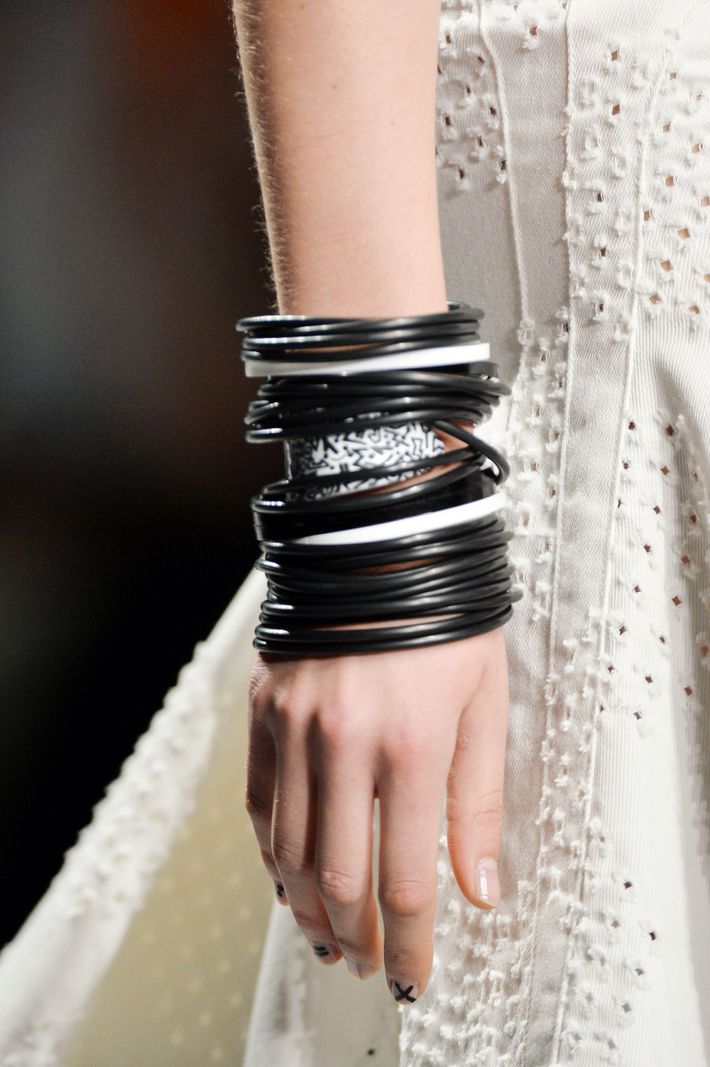 3. Strategically wear nail art on the same fingers as you do your rings. We saw some pretty great accent nail art at the Sibling show. Katie Hughes, who created the look, was also sporting the same motifs on her nails as the models. "Be very random and free with the application as far as what nail you put it on," said Hughes. "Pick the fingers wisely. If you wear chunky rings on your thumbs, then put it on your thumbs. If you wear pinkie rings, then put it on your pinkies. Whenever you do accent nail art, treat it as where you'd wear the jewelry."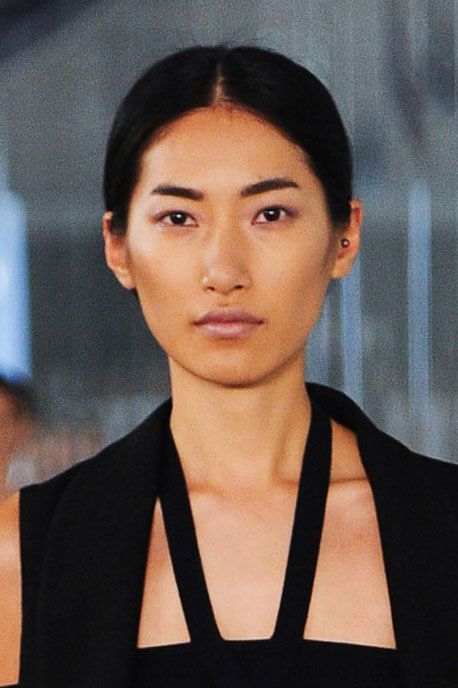 4. In London, lip gloss works on eyes too. Makeup artists' fondness for gloss still applies across the pond. At Whistles, makeup artist Claudia Savage shaded the eyes in mauve and silver shadows, then added lip gloss to the lids to make it a bit grungier. "We're just patting a really thin layer over the eyes," said Savage. "When you add anything wet onto makeup, it makes it look a bit deconstructed. We added gloss on it so it makes it crease a little bit. It looks a bit slicked and less perfect." She kept the lashes curled and added a hint of primer inside the water rim to freshen up the eyes.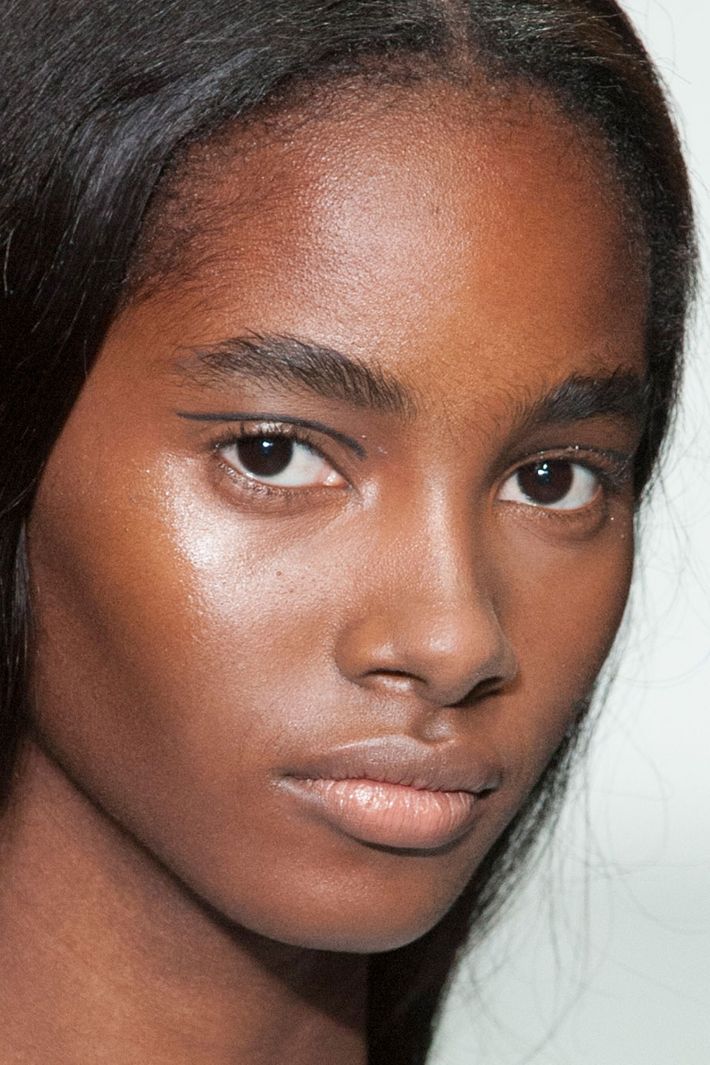 5. Glossy faces and bold eyes are surprisingly easy to pull off.  Val Garland painted a strong gray line on the creases of models' eyes at the Marios Schwab show and added a light gray, platinum gloss. Insides of the eyes were lined with a white pencil, and lashes were left bare. The look was finished with glossy skin. "In everyday life, you wouldn't want a greasy, wet face. So do your foundation as normal, get a bit of moisturizer on your fingers, and just dab it high on your cheekbones," Garland said. "In the eye, use a pencil. You might not want a hard, graphic line, so a pencil is perfect, then take a small brush and blend it in so it's more wearable."
See the full Holly Fulton show here.
See the full JW Anderson show here.
See the full Whistles show here.
See the full Sibling show here.