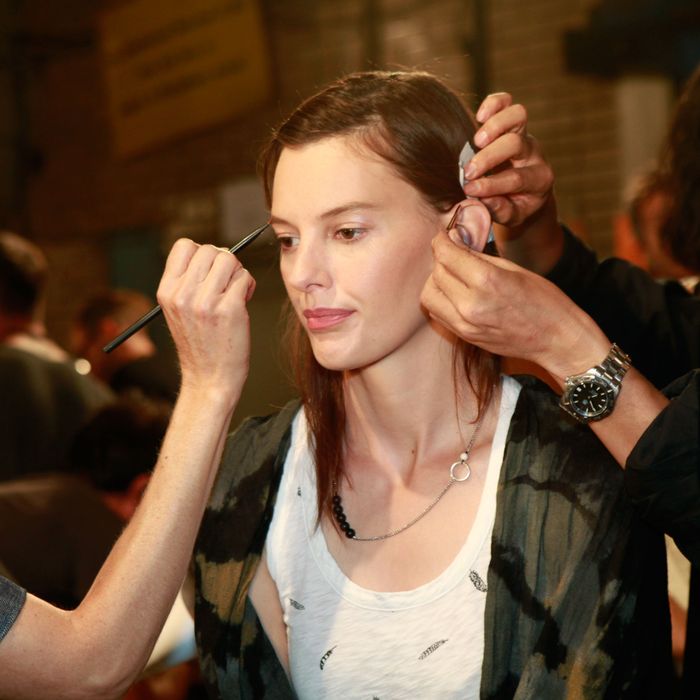 For spring 2015, provided you have lip balm and sweat glands, you have everything you need to be on trend. But still, there are some backstage beauty lessons you can pick up from the shows this season. After all, you can't maintain a sweaty glow all day without some proper technique (or at the very least, a gym membership). Here are some of the things I've learned backstage at the shows this week — while dodging vapes and giant dogs.
1. I've been using Bumble and Bumble's Surf Spray wrong all along. Anthony Turner backstage at Creatures of the Wind explains how you avoid crunchy hair. "Spray it high up, like arm's length!" and don't spray it between the layers of your hair, otherwise it turns into a triangle-shaped pouf. Spraying it high up allows the spray to evenly diffuse which you can then work into the hair. Spraying it only on the top layer and at the ends of the hair adds texture only where it's needed.
2. Your haircut only matters around your face. At Derek Lam, Orlando Pita for T3 shushed away all of the concerns that most women have with the hair past their collarbone. "You hair only matters from here to HERE," he said, gesturing from the top of his head to his collarbone. "Everything else — irrelevant. It only matters how it frames your face anyway." Now you can stop beating yourself up for not being brave enough to get a Karlie Kut.
3. "Just bitten" lips don't have to look like they were mauled by Edward Cullen. Backstage at Rag and Bone, Gucci Westman demonstrated how she created the barely flushed lip. She mixed two NARS lip pencils together and dabbed them onto models using her finger. Consider this to be how to take your lip balm from day to night.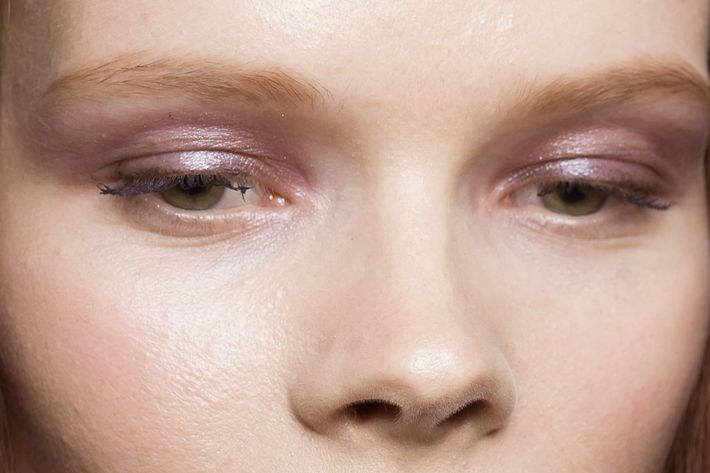 4. Lipstick is a beauty jack-of-all-trades. A sheer, bronze-y lipstick without shine can easily double as a bronzer, as the Cut has previously reported. And when mixed with an eye shadow, the right lipstick can become the pretty, '70s Californian mauve eye, as created by Tom Pecheux at Derek Lam for MAC Cosmetics.
5. Cornrows are the secret tools of hairstylists. Backstage at Edun, James Pecis for Beauty.com put two secret braids into the side of each model's head to prevent the elastic headbands from slipping. At rag & bone, Paul Hanlon gave models with particularly full hair a secret ring of braids to keep the hair looking straight and sleek. And here you thought everyone was using dry shampoo (which, it should be noted, has not been seen all season).