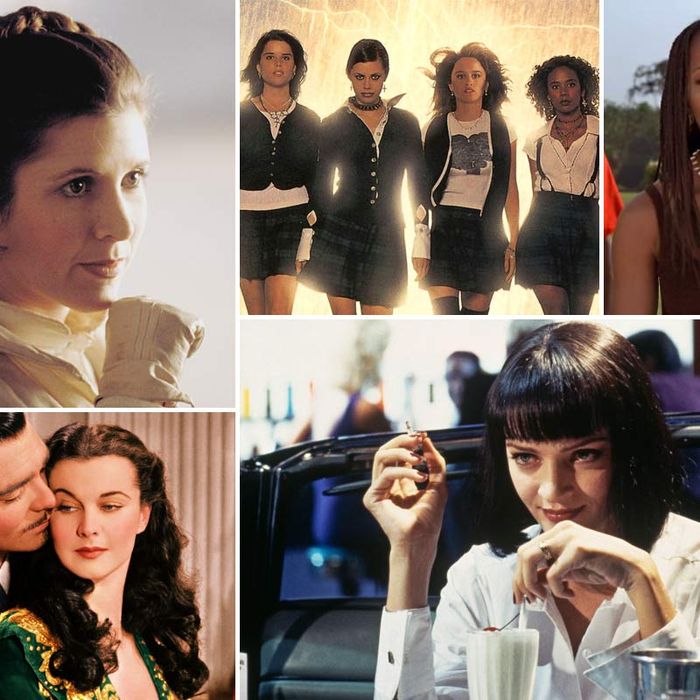 Photo: Lucasfilm/Corbis, Stringer/Getty Images, Twentieth Century Fox, Silver Screen Collection/Getty Images, Hulton Archive/Getty Images
Anyone who has dressed up as Princess Leia knows the importance of a good Movie Beauty Moment. After all, good movie beauty can inspire Halloween costumes, haircuts — and, of course, entire fashion collections. Most important, movies are about pretending, and what's more crucial to pretending than hair and makeup? While dialogue may fade from memory, a good makeover montage or signature hairdo can resonate forever.
Click through our video slideshow of the 50 best hair and beauty moments ever to grace the modern silver screen. 
Grease
How to choose only one moment in a movie of so many notable beauty moments, like Sandy turning greaser? The "Beauty School Dropout" scene wins, if only for the lyric, "Turn in your teasing comb/And go back … to high schoooool." Also, Frenchie was about 30 years ahead of her time with that pink mall-punk hair.
Legally Blonde
This movie taught a generation about ammonium thioglycolate, the chemical that perms hair.
Star Wars
If this movie were made today, Princess Leia's Cinnabon hair would become a YouTube tutorial so fast it would make your head spin. 
Good Hair
This Chris Rock–hosted documentary about relaxer and weaves is a must-see for anyone obsessed with hair. Al Sharpton's hair commentary is not to be missed. 
Pretty Woman
One of the best makeover scenes of all time. Julia Roberts goes from the platinum-bob prostitute wig, to the wild red curls, to the sleek fancy-lady coiff, to the opera updo.  
Clueless
Speaking of makeovers: "Cher's main source of control in life is a makeover." 
Roman Holiday
Listen up, Kate Middleton: When you're tired of being a princess, get a pixie cut like Audrey did.  
Mean Girls 
Some of the zinger-iest lines in this zinger-filled movie are related to beauty: "That's why her hair is so big. It's full of secrets." And: "You smell like a baby prostitute."
Pulp Fiction
Is there a better double entendre than Uma Thurman telling John Travolta, "I'm gonna go to the bathroom and powder my nose"? Also notable: Uma putting Chanel's Vamp nail polish on the map and making everyone want straight Cleopatra bangs.
Mommie Dearest
Obviously, Joan Crawford's eyebrows are the main beauty event here, but the absolutely terrifying face-washing technique of Faye Dunaway-as-Joan from the opening sequence almost trumps them. Let's hope this doesn't become the new trendy face-care routine du jour. 
American Hustle
Bradley Cooper's DIY curling habit and Christian Bale's mesmerizing comb-over sequence. Who would've thought two guys' hair could actually eclipse Amy Adams's canyon of cleavage?
She's All That
Nerd makeover: Some would argue that Laney (Rachael Leigh Cook) was hotter before the makeover. 
How Stella Got Her Groove Back
Angela Bassett's braids brushing across Taye Diggs's perfectly smooth chest is an image we'll never forget. 
Sixteen Candles
Caroline (Haviland Morris), girlfriend of Jake (Michael Schoefflin, a.k.a. the hottest boy in '80s teen movies, and perhaps all teen movies ever), has a few too many Bartles & Jaymes wine coolers and gets her hair stuck in Jake's bedroom door. What happens next is the stuff of teen nightmares.  
Cinderella
If only a sleek updo like that was as easy to achieve as singing, "Bibbidi bobbidi boo!" 
Steel Magnolias
This entire movie is one big beauty moment as half the scenes take place in a beauty salon, but Dolly Parton's character summed it up best: "There is no such thing as natural beauty."
There's Something About Mary
The seminal  hair-gel scene. 
The Craft
Is the phrase goth witch redundant? Dark lip-liner obviously played an important supporting role in this film.  
Barbershop
Eve's straight hair and headband in this movie inspired years of runway looks. 
Miss Congeniality
When Sandra Bullock says, "… I have gel in my hair, and I am armed. Don't mess with me," who doesn't understand that sentiment? 
The Devil Wears Prada
In a priceless makeover montage, Anne Hathaway gets fashion-y bangs and Chanel boots. Best cameo: Gisele, appalled that Hathaway's character isn't acquainted with the Shu Uemura eyelash curler. 
The Princess Diaries
Anne Hathaway's princess makeover: from frizzy to fluffy. 
Sliding Doors
This movie proves we're all potentially just one haircut away from a totally different fate. Gwyneth Paltrow's short chop here is almost as emblematic of the '90s as her relationship with Brad Pitt was. 
The Color Purple
Shug (Margaret Avery) in all her flapper flashiness is the perfect foil to Celie's (Whoopi Goldberg) farm-girl plainness.
Edward Scissorhands
Before there was Kate Gosselin and the mom-hair that inspired a zillion suburban copycats, there were the housewives of Edward Scissorhands's adopted neighborhood. He did the razor cut before it was a thing. 
The 40-Year-Old Virgin
Because man-scaping is hilarious, okay? 
The Breakfast Club
In which we learn that Molly Ringwald can apply lipstick using her boobs.
Dallas Buyers Club
Weirdly, Jared Leto is even prettier as a man than as a woman and his ethereal makeup in this film is remarkable. 
South Pacific
Beware of excess sulfates while "Washing That Man Right Outta Your Hair." Also not an option for those of you practicing a no-'poo lifestyle. 
The Royal Tenenbaums
Margot's eyeliner and severe bob make up arguably one of the most memorable Gwyneth Paltrow movie looks ever.  
Rebel Without a Cause
Before there were Justin Bieber and Harry Styles, there was James Dean and his glorious pompadour.  
G. I. Jane
Hoo-yah! Woman shaves head to prove she can do just as many pull-ups as a man, goddamn it. 
Yentl
But before Demi's do, there was Babs's boyish crop. Different goal (yeshiva), same trope. 
West Side Story
Natalie Wood felt so pretty that she could hardly believe she was real. All because of a boy.
The Birdcage
And here begins the drag portion of the roundup. Nathan Lane is a national treasure in this movie.
Hairspray
The movie is called Hairspray, for heaven's sake. The parade of super-stylized bouffants reach their horrifying zenith when John Travolta shows up with one.
Tootsie
Dustin Hoffman, ugliest woman ever? 
Mrs. Doubtfire
Wait, no. Robin Williams, ugliest woman ever (and comic genius; rest in peace).
The Virgin Suicides
Sofia Coppola backlit everyone throughout this whole movie, making the blondes in particular look weirdly, angelically perfect. 
Coming to America
Remember the "Soul Glo" theme song? Eriq La Salle's (a.k.a. Darryl) drippy wet curls made a lasting impression on me. And probably on all the furniture they touched, too.
Love Story 
Ali MacGraw's straight middle part, beachy waves, and bushy brows were obviously harbingers of things to come (namely, Cara Delevingne).
Working Girl
We can obviously trace the current ozone problems back to the colossal amount of hair spray used in this film. 
Cleopatra
Elizabeth Taylor's heavily spackled Queen of the Nile set the tone for decades of drag impersonators to come.
10
Who can forget Bo Derek's bouncy … beaded cornrows, which inspired a generation of white girls to give them a whirl, and sparked the micro-industry of on-demand, beachside braiding. 
Gone With the Wind
This movie abounds with Important Beauty Moments: Scarlett getting laced up in her corsets, pinching her cheeks to achieve innocent realness before running to see Ashley, and later, after she is caught canoodling with Ashley in the barn, Rhett advising her, "Put on plenty of rouge. I want you to really look your part tonight." 
The Hunger Games
Katniss (Jennifer Lawrence) may become a pawn of the Capitol, but she'll always have her messy side-braid. 
Saturday Night Fever
John Travolta's grooming scene is uncomfortably masturbatory and completely magnetic. 
Rosemary's Baby
Cutting your hair during pregnancy is generally a bad idea (weight gain can cause your face shape to change), and doubly so when you're carrying the devil's spawn. 
The Rocky Horror Picture Show
Dr. Frank-N-Furter's (Tim Curry) eyeliner/lip-liner/brow-liner game is on point.
Blade Runner
It's hard to decide who looks more badass here — Sean Young or the replicants.