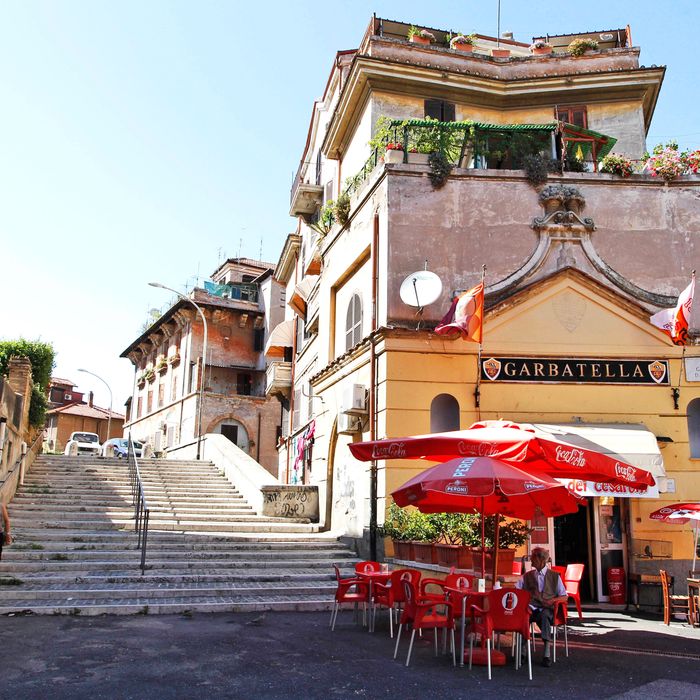 Photo: Alessandra Tarantino/Corbis
Photo: Alessandra Tarantino/Corbis
Wander around the area that most guidebooks call Rome's most evocative, particularly in the high season, and you might come away with the idea that Rome is a postcard … in which every other passersby is a tourist, restaurants hawk microwaved food, and souvenir stalls litter the cobblestoned streets. 
Luckily, Rome is much larger than the triangle that encompasses Piazza Navona, Piazza del Popolo, and the Trevi Fountain. Here are six hidden-gem neighborhoods that have not only character and atmosphere, but top-notch attractions — and no flag-waving tour guides in sight.
Foro Boario (Forum Boarium)
Tucked into the southern side of the Capitoline Hill, this sliver of a neighborhood is tranquil, pretty, and rich with ruins. It got its start as ancient Rome's cattle market; today, it exemplifies how Rome is as much a puzzle as it is a city, with contemporary buildings literally fitted into historic ones. Columns from an ancient temple form the ribs of the medieval Church of San Nicola in Carcere (visit the church's underground to see more remains, including an ancient Roman road), while the Romanesque Church of San Giorgio in Velabro is built into the intricately carved, third-century Arch of the Moneychangers.
Attractions aside, the quarter gives a glimpse of how well-heeled Romans live (it's one of the most desired areas in central Rome), not to mention a lovely view of the Forum from the south. Come on a Saturday or Sunday to kill a couple of hours at the Campagna Amica market on Via di San Teodoro, tasting olive oil, prosciutto, cheese, and wine, all sold directly from local producers; stop at the next-door café Cristalli dello Zucchero after for some of the best cappuccini and French-style pastries in the city. What you can skip: the only stop most tourists make in the area, the Bocca della Verità (Mouth of Truth). Unless, that is, you're willing to wait for a half hour or more to see a medieval sewer grate up close.
Aventino (Aventine)
Just over the Circus Maximus from the Forum Boarium is the Aventine Hill. According to legend, this is where Romulus's brother, Remus, would have set up the city, if he'd had it his way. (Romulus killed him instead.) Like the Forum Boarium, the Aventine is a residential quarter for those with not only money to spare, but the connections required to know when a graceful palazzo apartment hits the market. In the spring, the Aventine's bloom-laden trees and gardens make it one of the loveliest places for a stroll.
Head to Parco Savello, informally known as Giardino degli Aranci (Garden of Oranges), for one of the most romantic views over the Tiber River and Saint Peter's Basilica. Don't miss the fifth-century Church of Santa Sabina next door, one of the only churches in Rome not to have been completely "restored" in later years — which means it still retains its 1,600-year-old, elaborately carved wooden door, among other features. Meanwhile, one of the Aventine's quirkiest attractions, fast becoming the Aventine's most ill-kept secret, is just down the street: the keyhole in the headquarters of the Order of the Knights of Malta. A peek through shows the perfectly framed dome of Saint Peter's Basilica, giving you three sovereign states — the Order of the Knights of Malta, Italy, and Vatican City — in one glance.
Testaccio
In ancient times, this rione just to the south of Rome's fourth-century Aurelian walls was the site of Rome's port. That explains the hill, Monte Testaccio, which was formed by all of the broken amphorae that were dumped here after having fulfilled their use of transporting olive oil. In the 19th century, Testaccio was the site of Rome's slaughterhouse. Despite its working-class roots, Testaccio today is a favorite area for young Romans to live — few of whom can afford the Aventine or Forum Boarium, never mind the area around the Spanish Steps. The quarter still has a sizable community of old-timers, too, many of whom you can see going for surprisingly sprightly passeggiate, or evening strolls, in the Piazza di Santa Maria Liberatrice each evening. The generational mix gives a real feel for what Rome is really like.
What Testaccio lacks in cobblestoned streets, meanwhile, it makes up for in slightly offbeat attractions. Pay homage to Keats, Shelley, and other non-Catholic notables at the secluded Protestant Cemetery; at the MACRO, admire whatever contemporary art exhibit is on now in the slaughterhouse that gave the quarter its livelihood (look up to see meat hooks above you). Testaccio is also trying to make an attraction out of its new food market, which opened in 2012 in a clean, modern, but soulless sprawl of a building. While that effort seems to be a struggle — the market has none of the ambience of the previous one, with its wooden roofs and hustling nonnas — the quarter still has some good food. Favorites include coffee and cornetto at Café Barberini, one of the only places in Rome that makes the Italian croissants fresh (rather than reheating frozen versions), and Da Bucatino, where the amatriciana is so saucy, they serve you a bib with your pasta.
Ostiense
Just south of Testaccio lies Ostiense, usually a stop only for tourists who are making the pilgrimage to its massive papal basilica (San Paolo fuori le Mura, or Saint Paul Outside the Walls, built by Emperor Constantine in the fourth century). Locals, though, know Ostiense as a rare area where Rome feels both gritty and cool: With its urban art, abandoned (and renovated) warehouses, and trendy bars, Ostiense is Rome's answer to Williamsburg … before the trust-funders arrived. The in-crowd flocks to Doppiozero for its extensive wine list and generous aperitivo buffet, as well as to newcomer Porto Fluviale, a massive spot that serves up everything from brunch to pizza to drinks — rare multi-functionalism for Rome. The area also has some of the city's best street art: I especially like the artist Blu's mural right on Via Porto Fluviale, which turns a warehouse into a series of colorful faces with windows for eyes.
Ostiense has a handful of more concrete attractions, too. Its 37-meter-tall pyramid, on the border of Ostiense and Testaccio, was built in the first century, B.C., for a Roman magistrate who, like many of his contemporaries, had a thing for Egypt; it's just been restored from soot-black to its original, gleaming white. Those with a fascination for the underbelly of Italian history should take note of the blandly functional Ostiense railway station, built by Mussolini to commemorate Hitler's visit to Rome in 1938. In 2012, an abandoned part of the station reopened with a more cheerful use, if one berated by critics of Rome's increasing commercialism: a giant (and very popular) Eataly, the Italian market's first outpost in the capital.
Garbatella
Garbatella, just south of Ostiense, is as bizarre as it is charming and off the beaten path. It was planned as a suburb under Mussolini — one with units grouped around leafy courtyards and gardens — but then taken over by Communists, who radicalized the neighborhood with hammer-and-sickle flags and red-painted walls. Today, the area has a worn-in charm and sense of character unlike any other quarter in Rome.
Wandering around the curvy streets is an attraction in itself; beyond that, don't miss the Centrale Montemartini, a former electricity plant that houses the overflow of Roman statues, busts, and mosaics from the Capitoline Museums. There's something poetic about seeing the sculptures, most of which would have been in enormous temples and public buildings, now in a modern monument to power. Bonus: While the Capitoline can get quite crowded, the Centrale Montemartini is often all but empty.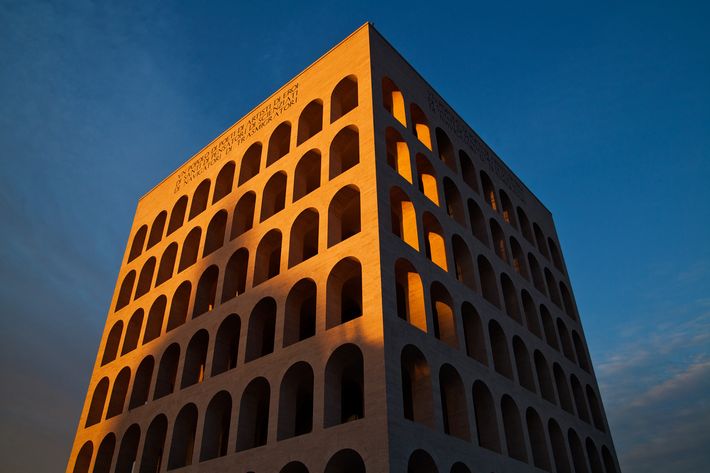 EUR
EUR (pronounced "AY-or") gets its name from its original purpose: the Esposizione Universale Roma. The area was planned and built for Rome's hosting of the 1942 World Fair — which never happened, thanks to a little something known as World War II. The buildings are supremely, fascinatingly Fascist in every sense, including in how they reinterpret Imperial buildings, like the enormous Palazzo della Civiltà Italiana or "Colosseo Quadrato" (Square Colosseum), which Fendi recently announced it would relocate to in 2015.
Today, EUR is frequented mainly by businessmen, residents drawn to the modernity of the apartments, and by school kids. Museums that are a frequent target of Italian field trips, but rarely of foreign tourists, include the Museo della Civiltà, which has a complete cast of the carvings on Trajan's Column and a scale model of ancient Rome. More than that, though, in a city whose tumbles of ruins and uneven streets can remind visitors of the messiness of humanity, the oddly immaculate, organized EUR couldn't be a more different experience.