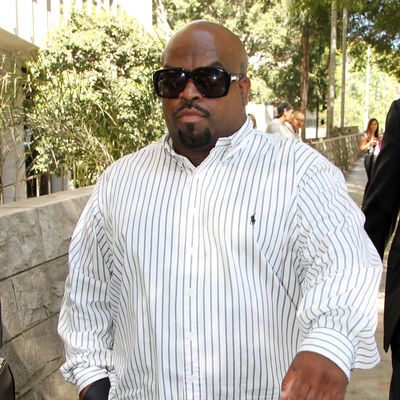 Photo: David Buchan/Getty Images
Singer CeeLo Green pleaded no contest to ecstasy possession yesterday. The charges stemmed from a 2012 date during which he slipped the drug in a woman's drink without her knowledge; the woman woke up in bed with Green the next day with no memory of the previous night. Green claimed the two had consensual sex. Prosecutors did not pursue a rape charge — but that was not because, as Green wrote on Twitter, "People who have really been raped REMEMBER!!!!"
On the contrary: It an unfortunate loophole of the criminal-justice system that unconscious women can't be witnesses to crimes committed against them, often making those crimes difficult to prosecute. For this reason, rapists frequently target unconscious women and, indeed, facilitate their unconsciousness.
Making matters worse, our culture tends to blame women who become unconscious for any rapes that may ensue, which could be the reason why some people mistake unconsciousness for sexual consent. People like CeeLo. "If someone is passed out they're not even WITH you consciously, so WITH Implies consent," he tweeted.
But not all is lost. Two years after Green allegedly raped a woman — and one day after he got off with three years' probation and a canceled reality series — someone close to Green, presumably his lawyer, taught him what rape is.
Congratulations on your evolving beliefs, CeeLo.