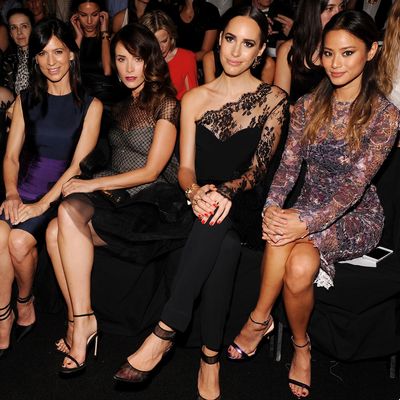 Photo: D Dipasupil/Getty Images
Once Upon a Time star Jennifer Morrison invariably wears her hair in either milkmaid braids or an absurd planet-size topknot, so when we heard the rumors she was in the building for Monique Lhuillier's show on Friday night, we started debating which one it would be. The joke was on us: Somehow, Morrison managed both, with a braid snaking up the back of her head and cresting in a keratin orb that was so far forward, it was practically on her forehead. She looked almost like a unicorn — which is actually rather on-message for her show, come to think of it, so maybe she can blame it on a marketing ploy.
Morrison didn't talk to the press — none of the front-row dwellers did — but she posed for plenty of fan photos and handed out hugs to the rest of the celebs like candy. Monique Lhuillier can always be counted on to bring both award-season gowns and a cadre of glossy-haired starlets that's one sneeze guard short of a buffet, and she certainly delivered on both. Morrison was joined by Jamie Chung, former Fashion Week regular Sophia Bush — speaking of hair, it was a trial not to be able to tell her that we prefer her with darker locks — and a similarly tonsorially misguided Hannah Simone, who had pulled her own hair back into a faux bob that wasn't nearly as luxurious as her usual do. That said, Simone may have attempted this as a way to distract from the overlong beige strapless jumpsuit someone had conned her into wearing. She looked upholstered, which is a shame, because she's too gorgeous to walk around like a stunt double for an antique chair.
Perrey Reeves brought along her new fiancé, who just happens to be a young blond tennis instructor, which is delightfully Hollywood Wives. Jackie Collins would approve, which is a sure sign that you've achieved the apex of human existence. Rectify's Abigail Spencer rocked a deep side part and a fab red lip, and American Horror Story's Taissa Farmiga looked flat-out great, easily winning this front row in a becoming white lace frock. It always feels like a back-handed compliment to say that someone is considerably more attractive in person than they appear on TV, but Taissa Farmiga's AHS characters also both had majorly serious life problems. As far as we know, in real life she's neither secretly dead nor possessed of homicidal genitals, so styling herself as if either is true would be the kind of marketing ploy that makes even a cranial unicorn horn look suave. Well resisted, Taissa. And well played.
See the full Monique Lhuillier spring 2015 show here.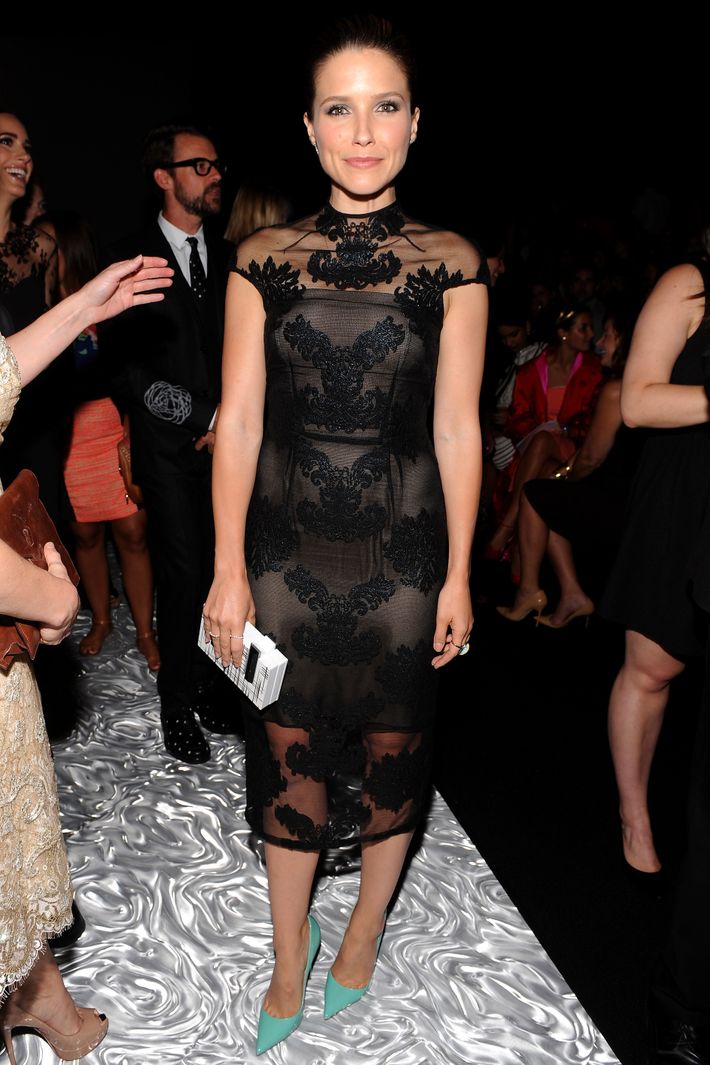 Sophia Bush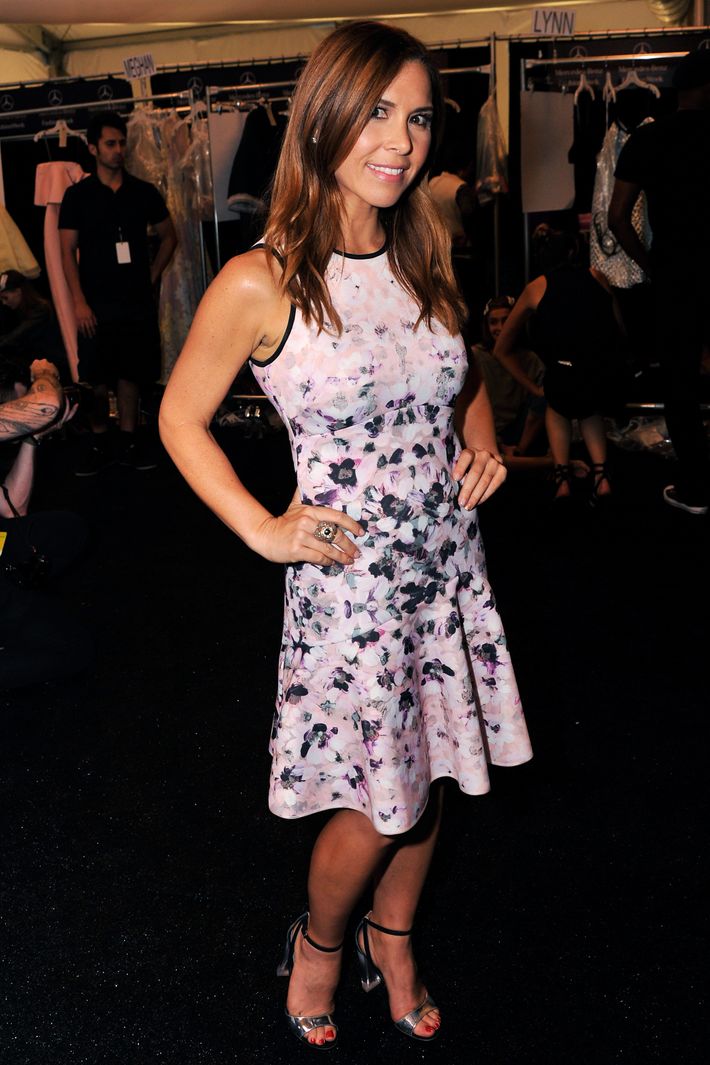 Monique Lhuillier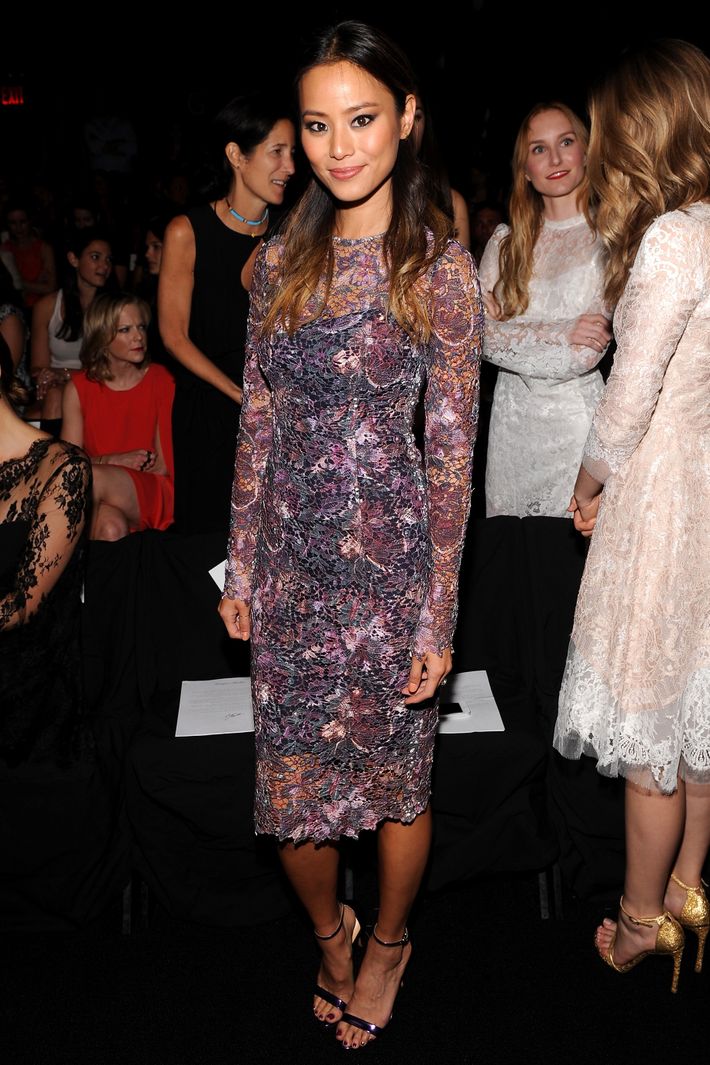 Jamie Chung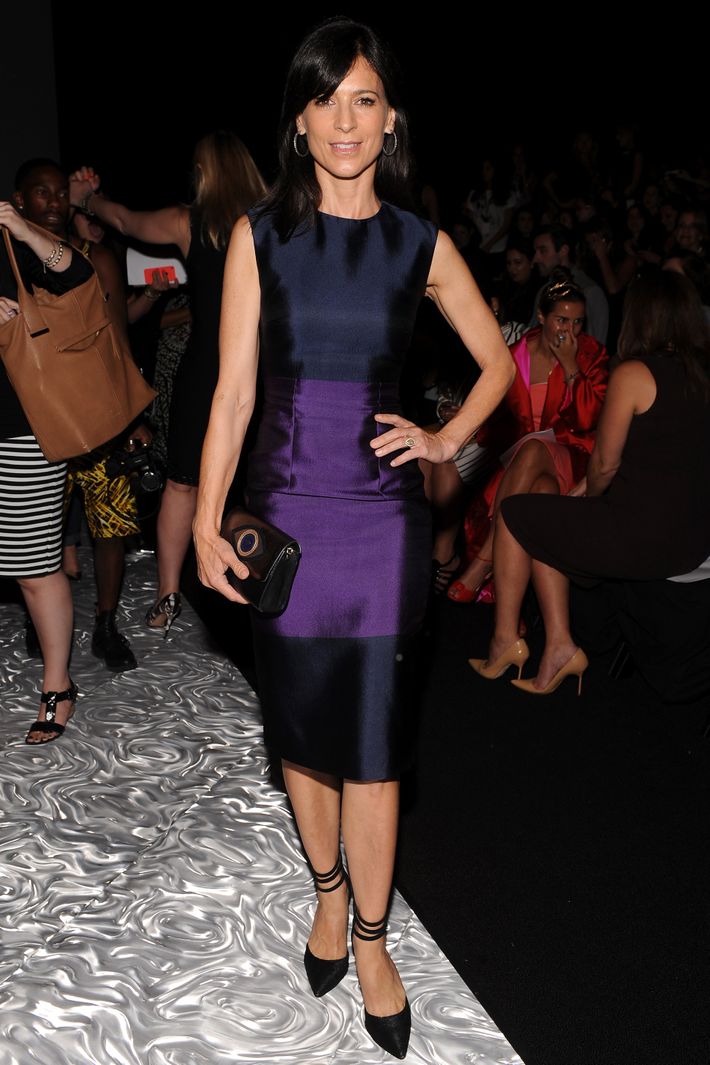 Perrey Reeves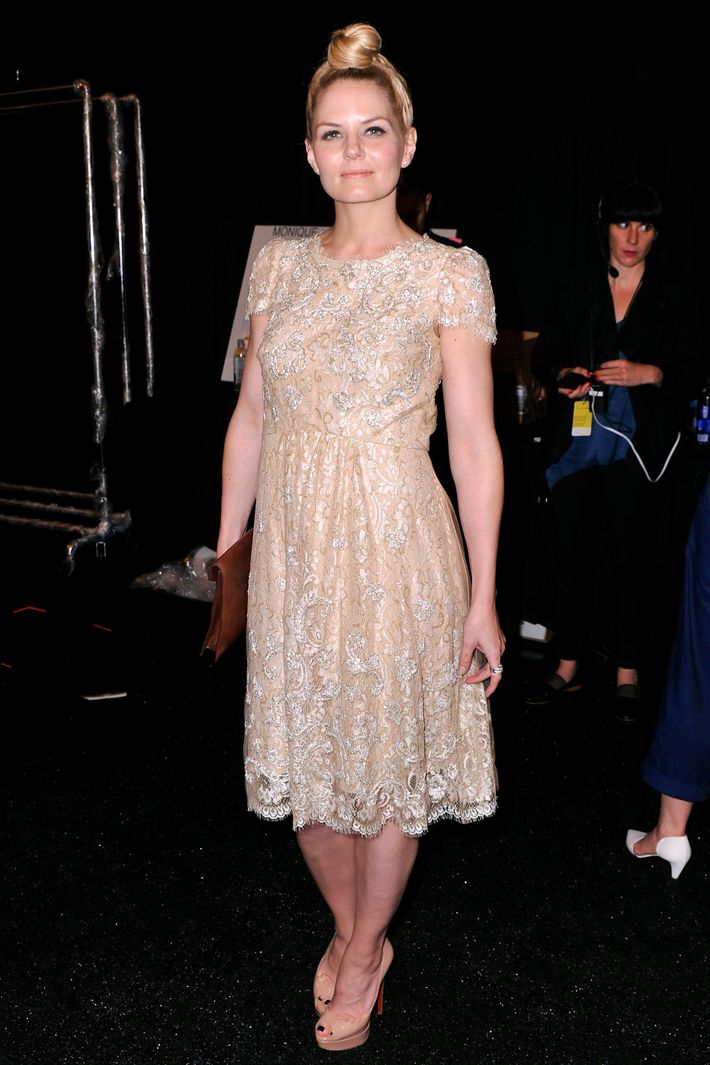 Jennifer Morrison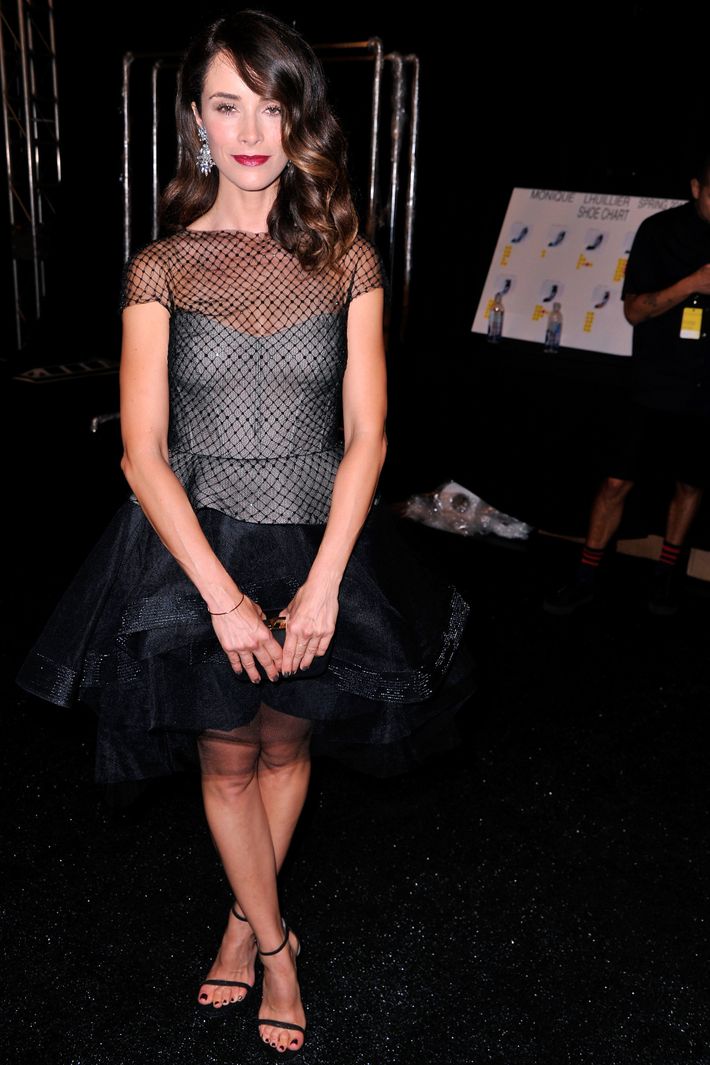 Abigail Spencer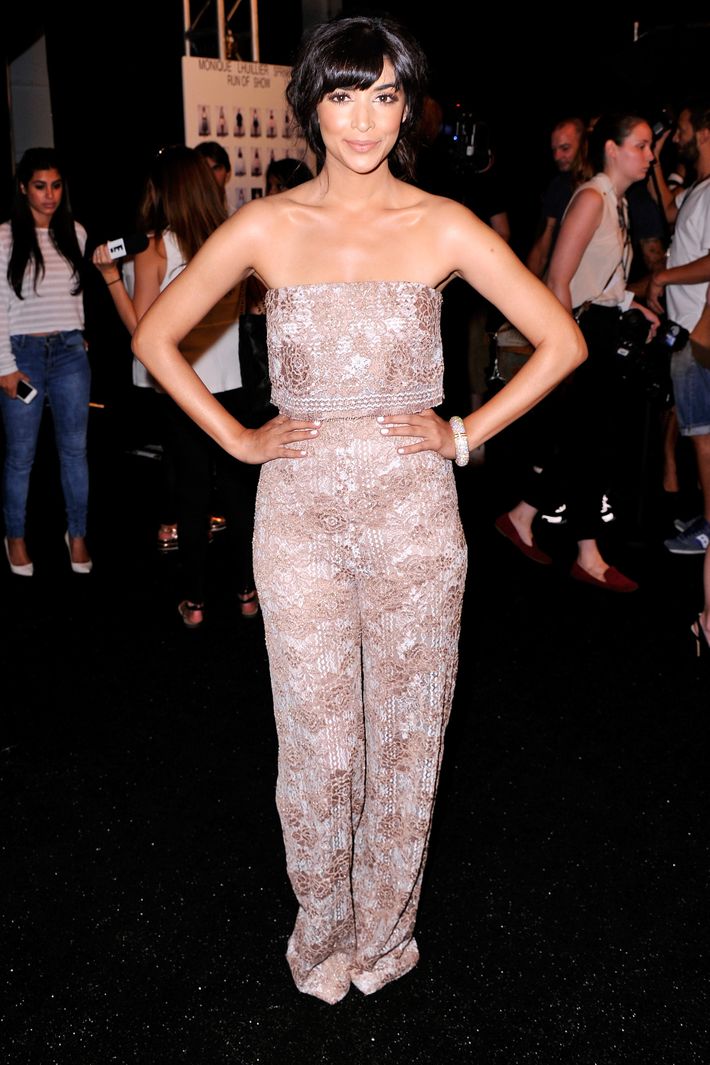 Hannah Simone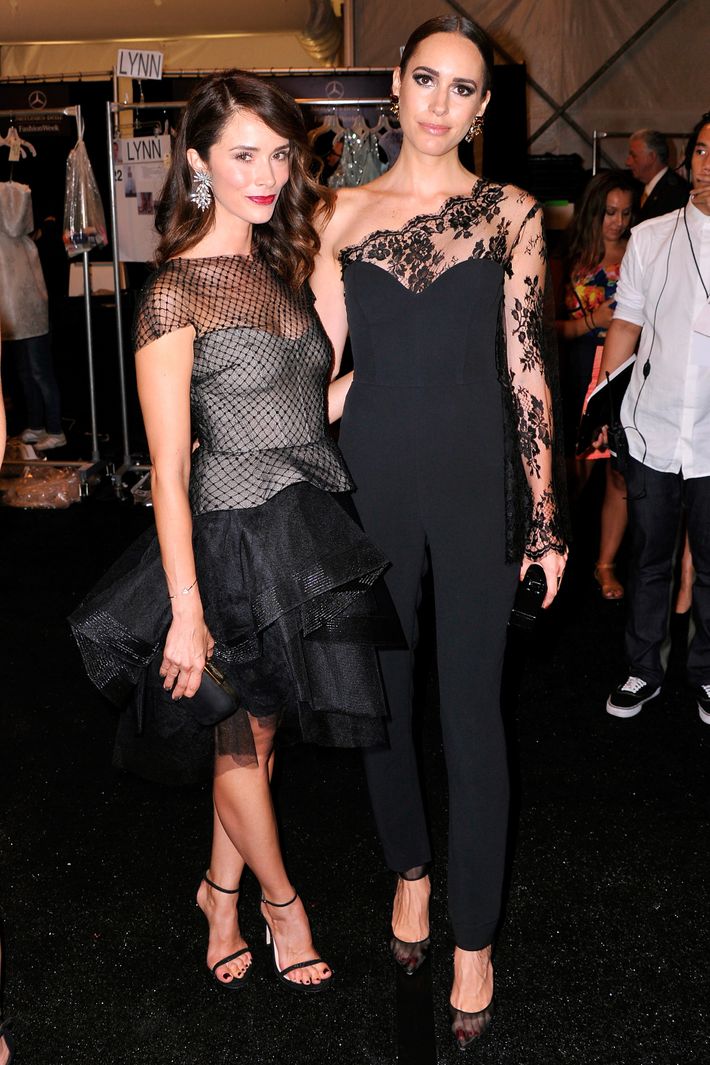 Abigail Spencer, Louise Roe