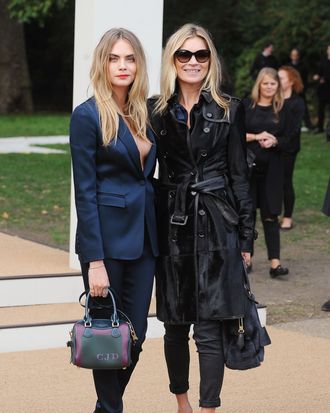 Photo: James Higgins/Corbis
LONDON— After today's Burberry Prorsum show, the Cut overheard a British journalist delivering a glowing review of Kate Moss. "She's fabulous — a national treasure," she said. "She's going to be beautiful when she's 90. She's our Helen of Troy." After a moment of reflection, she added: "But she is old enough to be Cara's mum."
Technically, yes. But as others accumulate wisdom, Moss has only accumulated extra coolness in the two decades she has on Delevingne. When the pair arrived to sit front row at Burberry, the hype was so crazy that TV presenter Cat Deeley, who was trying to make her way past the mob of photographers to her own front-row seat, looked completely terrified. Delevingne and Moss are, of course, the faces of Burberry's latest perfume. Usually Delevingne would have taken prime position on the runway, but someone must have realized that the My Burberry fragrance would gain more column inches if she sat in the audience.
Still, the show survived without her. Named "The Birds and the Bees," it took the nature theme right through from the setting (a tent painted with flowers and insects) to the very words used in the collection notes. Nipped-in jackets were described as "wasp-waisted"; the gauzy pleated fabric that appeared throughout the collection was "wing-pleat tulle"; and what looked like a scarf tied around the waist was, we were informed, Burberry's new "Dragonfly Belt."
Despite all this countryside whimsy, the clothes themselves felt more informal and a little more streetwise than recent collections. There were sneakers, there were shrunken denim jackets (often edged in cozy shearling), and there were extremely cute and totally practical flat leather sandals. Iridescent sequin-covered dresses, sweaters and skirts like shimmering fish scales, and glossy panels of patent leather crowned the shoulders of coats. It was the fashion house's most textural collection in several seasons. Some of the outerwear and bags, by the way, are already available online to purchase and personalize until the end of the month.
Meanwhile, back in the front row, Delevingne shot runway videos on her iPhone and made faces at some of her model friends. Moss spent the show whispering in Mario Testino's ear and giggling. They were just two young models, having a ball.