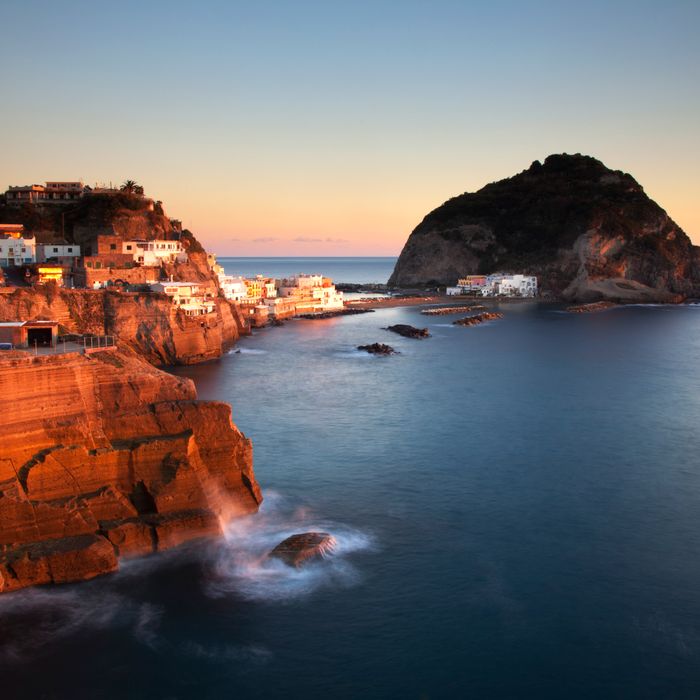 Photo: Ken Scicluna/JAI/Corbis
The mayor shouldn't have gone to Capri this summer.
That's not just because it made de Blasio absent during one of the biggest challenges of his young tenure so far — the death of Eric Garner — it's because Capri, while beautiful, is also expensive, touristic, and, worst of all, as glitzy as you can get. The mere name smacks of wealth and privilege — bad PR, even at the best of times for a mayor who ran on an anti-Bloombergian platform of equity. Italy boasts plenty of other islands that would have been a better bet for the mayor. Yes, the photos of their spectacular scenery and crystal-clear water would still have made New Yorkers jealous, but most of his constituents likely wouldn't recognize their names. Here are five places I would have sent de Blasio instead. (Mr. Mayor, next time, call me!)
Ischia
The largest island in the Bay of Naples, Ischia is like Capri's slightly less glamorous sister. Like the other islands on this list, Ischia is hardly unknown to Italians. (Or to Germans. As with most of the world's seemingly off-the-beaten-path spots, the Germans are already there.) It is, however, off the radar for much of the international jet-set crowd. You come here for the stunning scenery and the beaches, not the Michelin-starred restaurants and "Page Six" clubs. Ischia's under-the-radar feel is surprising, though, given its beauty. Picture a place that's lush, green, and dotted with wildflowers. Top it with a ridiculously large, labyrinthine castle (the Castello Aragonese, with origins that date back to the ancient Greek fortress of 474 B.C.E.). Pop in thermal pools, world-famous gardens, and whitewashed resort towns where vacationing Italians stroll on evening passeggiate or nibble on the flaky sfogliatelle pastries of nearby Naples, or Ischia's particular specialty, cooked coniglio (that would be rabbit).
Procida
At one and a half square miles, Procida (PRO-chee-dah), located just 40 minutes from Naples by hydrofoil, is the smallest island in the Bay of Naples. It's also, in some ways, the loveliest. Because it's been a settlement for fishermen for so long (today, some 11,000 residents live here year-round), it doesn't have as much lush, open space as Ischia or Capri. What Procida lacks in greenery, however, it makes up for with its local legends, gorgeous views, and pastel villages — all of which feel like working fishermen's villages, not resort towns, since, of course, that's what they are. Old men gather in the little piazzas here at dusk for a smoke and a chat; local kids (and day-tripping families from nearby Naples) splash in the water. No surprise that the island was used as the setting for the film Il Postino.
Don't miss a visit to Terra Murata, the citadel-village that was walled off to protect against ongoing incursions by Saracenic pirates in the 16th century, and its Benedictine abbey. This abbey happens to be the site of a local miracle: When Procida was besieged by pirates on May 8, 1535, an image of St. Michael the Archangel was said to appear in the sky, sword drawn. The pirates fled, an event celebrated with a procession every year on May 8. The weeks leading up to Good Friday, meanwhile, see locals working hard on their larger-than-life, handmade floats of wood, cloth, and papier-mâché, each showing a different scene from the Passion; called the misteri (mysteries), these floats are destroyed when the procession ends.
Ponza
When Rome's wealthy (or their friends) need a weekend escape and don't have time to get to Capri, this is where they come — it's a good 70 miles further north (and closer to Rome) than the Bay of Naples. Not that you have to be a millionaire to get here. Plenty of ferries run from Formia or Anzio (each an hour's train ride south of Rome) directly to the island, with the fastest taking 70 minutes, and accommodation — as with all of these islands — includes many more apartment and house rentals and B&Bs than full-blown, five-star resorts.
Measuring less than three square miles (compare that to Ischia's whopping 18), Ponza is tiny. But don't let its size fool you. This is an island where myth dwarfs the actual place: Legend has it that Odysseus was seduced and kept here by the sorceress Circe, whose cliffside cave you can still see, while the island itself got its name from Pontius Pilate, whose family was said to have a house here.
Ponza today is a lovely, tranquil island scattered with a handful of pastel-colored villages, its edges bordered with dramatic cliffs, hidden coves, and, of course, that bright-blue water. Renting a little outboard boat and toodling around the coastline is popular, especially since many of the tiny beaches aren't particularly accessible with even a tiny Smart — unless you don't mind parking at the top and taking steep, winding paths down (and then back up) the 500 foot cliffs to the sea.
Panarea
Panarea is the Capri of the Aeolian islands, an arc of eight isles just to the north of Messina; on a map, they look like the pebbles being kicked up by the boot as it tries to give Sicily the old heave-ho. At just over one square mile and home to fewer than 300 residents year-round, Panarea is super-tiny. It's also super-chic; if de Blasio were hoping for an exclusive feel that wouldn't come with all the bad PR of a name as recognizable as Capri, this would be the spot. Its handful of exclusive clubs have given it the reputation of being the top Aeolian island for nightlife, so it's no surprise that Panarea swells with visitors — the vast majority of them well-heeled Italians — come July and, especially, August. But don't worry, Mr. Mayor: The tiny, waterfront village, with its couple of clubs, is so small, even all of the visitors start to recognize one another after a single night; if Chiara and Dante insist on going out on the town, Panarea is as safe as it gets.
But club-hopping isn't the only activity on the island. Panarea's volcanic nature means that, like the other islands here — and along the Italian coastline in general — it doesn't have lots of long, sandy beaches. Instead, it's the perfect place to rent (or borrow) a boat, the best way to find itty-bitty islands and coves just off the island's coastline. The other Aeolian islands are also easily accessible by ferry, including Stromboli, with its still-active (and often erupting) volcano.
Pantelleria
Last but not least: If de Blasio truly wanted to disappear for a while, Pantelleria would be the place to go. In fact, plopped in the sea between the coasts of Tunisia and Sicily, the volcanic island is actually closer to Africa than Italy. (To get here, the mayor would have had to take a four-hour flight from Naples, or a 30-minute flight or one-and-a-half-hour ferry from Trapani.) Combined with its surreal beauty — unlike the other islands, volcanic Pantelleria is all greens and blacks, rocky cliffs and palm trees — that sense of seclusion is largely why other VIPs have been (quietly) drawn here. The most notable is Armani, whose compound, far from any main roads (not that there really are any main roads on Pantelleria to begin with), can be seen only from the water.
But forget high-end hotels or restaurants. This 32-square-mile island, with its population of fewer than 8,000, is as quiet as it gets, and it manages to retain that atmosphere even at the height of summer. Pantelleria is a place to rent a boat; to visit vineyards and taste the wines made from the local Zebibbo grape; to have home-cooked, Arab-inflected meals at trattorie tucked on hilltops that you wouldn't even know existed, save for the locals who directed you there. It's a bit too far for even most Italians — but not for a politician hoping to really get away from it all.