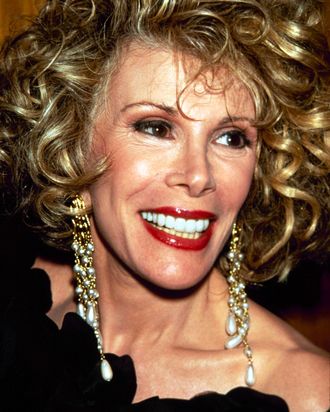 Photo: Time & Life Pictures/Getty Images
While last night's Fashion Week revelers certainly had a good time, the topic on everyone's mind was the passing of Joan Rivers. From Questlove's serendipitous plane trip to Naomie Harris recalling when the comedienne called her "Naomi Hairless," read on for celebrities' fondest memories of Joan.
Leandra Medine: I was on Fashion Police about two years ago. I always had this idea of Joan Rivers as brilliantly snarky, kind of crude and crass, and honest to a fault. But when I met her I also learned that she is really kind. She was a complicated feminist because so much of what she did was tear women down, but it doesn't seem like her incentive was to tear us down. It was to scuff us up and get us ready so that when she dishes it, we can dish it back and sort of laugh at it. 
On set, she said she didn't much care for my jeans, and I was like, "That's fine I don't really like your sweater." And then we both laughed about it.
Questlove: When I was 12, my father and her happened to be appearing at the same club in Atlantic City. I got to watch her show and I was amazed by the fact that 100 percent of the show was crowd work. It was all improv. But the most incredible thing was one night on a red-eye coming home from L.A. I had watched her documentary on iTunes. She was going through what I was going through, and I was like, Wow, I really have to thank Joan Rivers when I see her. I sat on the plane and … she sits right next to me! So, not to say I geeked out, but she let me geek out, you know? And I think she was more shocked that I took that story personally.
Naomie Harris
: I never met her but I was on her show as being worst dressed at the Oscars last year. I know that most people would think that is a bad thing but I actually found it to be a huge honor. She called me Naomi Hairless because my slit was quite high and I must have had a very good bikini wax. My stylist and I both Tivo'ed it [so we] watched it again. We were cracking up. We were like, This is so cool!
Joseph Altuzarra

: I went to see her live because I was such a big fan, and I was really saddened to hear about her passing. She was such an incredible force and so inspiring and irreverent. I didn't know her, but I really feel very sad. I just saw a picture of her and Ms. Piggy in the same ruffled pink outfit that I thought was amazing. 
She was definitely an "Altuzarra" woman — unapologetic, super confident, and really comfortable with herself.


Garance Doré: Well, I think she was a rebel and I really loved her for that. I saw some old videos and the movie about her, and I feel like she was a very touching and moving person. I love her sense of humor and that she never stopped. But mostly there was something human and imperfect. She owned herself, whatever she was.
Derek Blasberg: In 2010, I took Chris Bollen, Jen Brill, and Lazaro [Hernandez] from Proenza [Schouler] all on a very cold December night to see Joan Rivers. She was so offensive, and hysterical. We went backstage and met her. She insulted me for being Midwestern and Jen for being Asian. She just ripped through all three of us. And we left there with such warmth in our hearts. Today I sent them a picture — it's the five of us together and it's a bittersweet moment.
Reporting by: Jamie Miles, Emilia Petrarca, Renata Sellitti, and Katie Van Syckle.