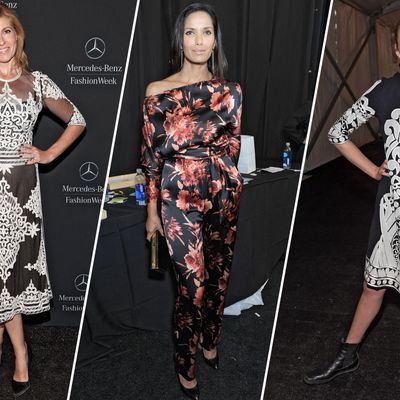 The people at Naeem Khan must be reading our minds, because they always deliver to us our unicorns — first, in the form of one Matthew Damon, and then on Tuesday afternoon, Connie Britton's hair. It was attached to the rest of Connie Britton, thankfully — who looked as great and ageless as TV would lead us to believe. It's slightly shorter than we remember from the last episode of Nashville, but still basically shiny, wavy, enviable, and possibly made of angels. We hoped the scrum would surge us near enough that a strand might fall on our arm and cure all of our worldly ills and more, but instead, she talked about lip gloss to a camera crew before gracefully taking her seat. We will have to fix our blisters some other way.
She was joined in Khan's front row by Padma Lakshmi, who talked a bit about the Top Chef: Boston season that starts in a month. "I ate a lot. Which is why I'm basically in pajamas today," she said, gesturing humorously to her satiny, floral off-the-shoulder jumpsuit. Yvonne Strahovski, most recently of 24: Die Another Day, took some pictures with Padma and matched her height if not exceeded it; she is a very tall, very pretty drink of Australian water, indeed. We also spied Jenna Dewan Tatum and Jamie Chung chitchatting, which we assume was about Witches of East End spoilers, while Teen Wolf's Holland Roden and The Fosters' Bianca Santos kept more to themselves. Morgan Saylor was sandwiched in there as well, and in keeping with her really chill vibe, she was the only person in the front row to pair her designer duds with something other than delicate sandals — specifically, she picked something that resembles those neoprene inserts people wear inside their snowboarding boots. She should've saved them for February, when it's plausible we will have to cross-country ski to the tents.
But Tuesday, for us, was mostly Kat Graham day. We started out with her and 30 Rock's Katrina Bowden at Badgley Mischka, where both ladies clapped as we did when Naomi Campbell joined the designers' final bow. A note: While releasing balloons from the ceiling seems like festive idea, in practice, they make it really awkward when everyone has to step on them or kick them around to exit the tent. Then we got Kat at Naeem, trading her orange traffic-cone lipstick for something pinker and her ponytail for Heidi braids; a bare 15 minutes after that, she took her seat at Pamella Roland, in a black frock. Somebody must've only had a short break from the Vampire Diaries set and decided to milk it for every ounce of ogling she could.
The Roland front row also brought us another Garcelle Beauvais sighting. Would she even remember if we asked her for gossip about Models Inc.? Then again, how could anyone forget? We never will. Next to her sat model Julie Henderson, Serinda Swan of TV's Graceland, and Cara Santana, girlfriend of Jesse Metcalfe. We couldn't tell if Santana had on a dress or separates, but either way, the short feathered skirt rode up whenever she sat, to the point that it looked like she was perched on a nest laying eggs. She seemed self-conscious about it, too, at one point whispering and gesturing to Swan in a way that conveyed she was worried about flashing everyone, and couldn't figure out how best to sit. Connie Britton's hair would've known what to do. Where are those unicorns when you really need them?
See the full Naeem Khan spring 2015 runway show here.
See the full Badgley Mischka spring 2015 runway show here.