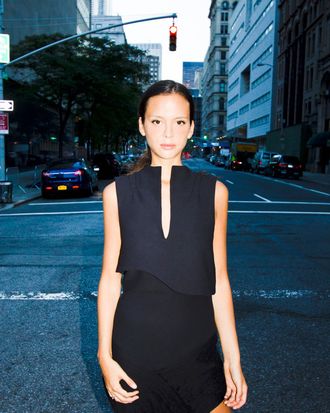 Photo: Courtesy of Violante Nessi
Picking up where we left off with our French Girls Do It Better series, all month long on Italy in 30 Days we'll be checking in with some of the country's chicest fashion-world bellezze for their thoughts on beauty, style, and living la dolce vita. For our first installment, we caught up with 23-year-old, Bologna-born designer Violante Nessi. After doing time at Altuzarra, Tom Ford, and Marc Jacobs, later this month she'll be showing her debut collection by appointment in Milan during Fashion Week. Click ahead for her thoughts on fitness, the best denim, and why Italian women will never give up their beloved carbs.
What does Italian beauty mean to you?
It's a combination of the glamour of Sophia Loren and the refined simplicity of Sofia Coppola. Italian beauty is both natural and sophisticated at the same time. I also really like the Italian Greats like Loredana Bertè, Patty Pravo, and Gianna Nannini.
Do you wear makeup?
I wear makeup often — it helps me to look less like a teenager! I love Clinique, Chanel, Giorgio Armani, and MAC. For skin care, I recently found a great alkaline anti-aging cream. My skin looked so much healthier after only one use.
Which brands are your favorites?
For day, I try to dress elegantly but comfortably … black for the most of the time. I try to avoid heels if I can, and of course I wear a lot of my own pieces. I feel it's very important for me to experiment and wear what I design and learn from it. I also feel comfortable in Acne, Proenza Schouler, or Givenchy. I love Uniqlo for basics and Genetic Denim for jeans — I love their fit.
Italian women are notoriously great flirts, but I've heard they're actually quite traditional when it comes to sex and dating. Vero?
Many Italian women still love the old format of courtship. Although, to be honest, I think they are disappearing like dinosaurs and becoming much more, what you might call "open-minded."
Are you a pasta-lover like everyone else?
Yes! Americans don't like it as much, I think because you don't know the best way to cook it. I have seen such sacrileges! And it's not true pasta makes you fat. You gain weight only if you go crazy with sauce and cheese.
Do you go to the gym?
I don't care about diet and exercise that much. I used to, but I realized I was not enjoying life that much … and because as they say, "Only dogs like bones." I just try to eat healthy, but I don't go the gym. I don't like it because it's too gray. I played basketball for six years and I did athletics for five, so I love competition, like running and exercising outdoors. My close friends also don't care so much about calories and diets — I would find them so boring [if they did].
Where do you travel in Italy?
I love the Val D'Orcia in Tuscany, the Costiera Amalfitana, and Venice. They are my favorite places in Italy.
What's the biggest difference between Italian and American women?
Hard question — I think Italians do life better, but Americans know how to get what they want. What I love too about Americans is how pragmatic they are, and also how people do not judge each other so much, which happens a lot in Italy.
This interview has been edited and condensed.