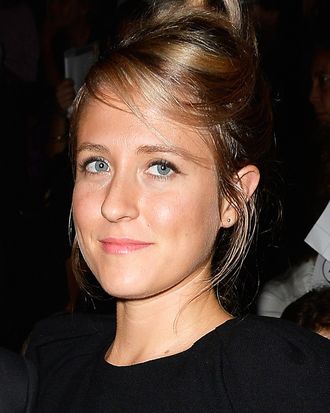 Photo: Pascal Le Segretain/Getty Images
Continuing on from our chat with Violante Nessi, for this week's edition of Life Alla Moda, we sat down with the lovely and low-key Alessia Rosso, video artist and daughter of Diesel founder Renzo Rosso. Born in Veneto, Rosso currently divides her time between New York and Los Angeles. Click ahead for her thoughts on skin care, dinner-party etiquette, and why she always goes back to Italian men.
How would you describe Italian beauty?
It's simple. Her look has to be clean and neat. Nothing exaggerated or California-style or flashy. Very little makeup, a wardrobe with the basics, but done in high quality. She is very composed. Not too exaggerated; she doesn't show off at all. The cleaner the look, the more beautiful. For a little more, we get a tan. A tan gives that extra touch. 
What's your skin-care routine?
I lean the most towards French products. For face, I use Clinique toner, Estée Lauder facial cream, and foundation. I like Sabon's mud mask, body scrub, and body cream, and I also love L'Occitane body cream. For hair I currently use Fekkai products. There is a perfume by Martin Margiela that transports me straight to the beach, so I really love that.
I take it Botox culture hasn't hit yet?
Maybe it hit, but it's already passé. The one thing that all Italian women love is doing their nails together, and a true Italian woman does her own nails; she has all the necessary tools and will do it herself. We wax ourselves, too.
What's the Italian approach to eating?
It's very "in" to be healthy, but eating a plate of pasta for us does not mean getting fat. Carbs are great! We never think of pasta as junk food. We are concerned with the quality, yes, but if it's good quality, we think of pasta as only positive. Pasta just makes you happy. You don't want to ever be hungry. Also, when you have pasta, you can have an extra drink to absorb the pasta!
Explain Italian drinking culture …
We never drink without food, and we don't really drink hard liquor, so you never see us drunk. Unless we are talking about boys. Here's the one thing to know: The ONLY reason Italians hang out is to talk, chat, and gossip.
Not to hook up?
No! In the States, there is "the date," and the whole point of "the date" is for the "hook up" later. In Italian culture, this does not work at all. You have to play the game; make him battle for you. Without the game, there's no fun for us. Generally, we are very afraid to be …
Sluts?
Yes, that's the word.
Is that because of Catholic guilt?
I think so. The church gives us education; it gives us guidelines. It teaches us about self-importance and self-respect. If you give yourself away like that, you lose your self-respect.
But Italian women are amazing flirts!
Oh yes. It's the touch … that's key for flirting, and we are masters of it. Because we come from big families, where we give the two kisses, we give the big hugs, we even get the slaps from grandmother. There's a lot of touching. Italians exaggerate it a little bit, but it makes us feel good.
Even "modern" Italian families are still pretty traditional, aren't they?
Absolutely. The parents never want the guy coming to the house, no sleeping over, no way. My family is more open — they are international people, they travel all over the world. But my dad and my brothers, they still want a guy's social security number when I mention his name! Just kidding. But I love that. It makes me feel protected.
Do you date Americans?
I've tried with American guys, but unfortunately it all comes back to culture, and I go back to Italians.
What about Italians-Americans?
If someone doesn't speak Italian, they're not Italian. But in general, Italian-Americans do have a European quality that comes out … I feel connected to them.
Your father is a force in the fashion world, yet you're remarkably unaffected. What was his secret in raising you?
My father grew up on a farm in the Veneto region, and when he was 15, he took my grandmother's sewing machine and made his first pair of jeans. That used to be a mother's job, but my father just had something in him. He was rebellious. He wanted to taste life and see how far he could go, and was determined to reach all of his goals. He actually did it. Now he's an open-minded, international person, but he still keeps old traditions. We are very lucky that we've had a taste of both. My parents raised us to be very down-to-earth but to also understand business and the world.
After ten years in America, what's the biggest difference between girls here and in Italy?
Slang. The whole "OhhhMiGod!!!" thing. It just makes me laugh. We are not used to it. In Italy, we don't externalize our feelings so immediately. You approach people diligently, not extravagantly. Once we know you, and you are family, we are warm, and chatty and touchy. But until then, we never want to look or sound ridiculous. Another major difference is cooking. A healthy, beautiful Italian woman finds harmony in cooking and inviting great company over for meals. This is the most amazing thing we can do. Cooking, having a glass of wine with friends, chatting, sitting down to enjoy together … this is the root of our happiness.
What are your feelings on how Americans behave at a dinner party?
An American will go right into your fridge and grab a beer. It's innocent, but this would never happen in an Italian home! If I'm the host, I will serve you all the way. I will give you drinks, serve you dinner, and do the dishes. It is my pleasure. Also, Americans never stop, which I respect, but personally I need to have nights where it's just cooking, chatting, gossiping, sipping wine, and without looking at the time. There is an evolution to the night, which is generally too time-consuming for Americans: aperitivo, dinner, dessert, the espresso, the digestif like grappa or Sambuca, and a grand finale with a cigarette … preferably out on the balcony. This is exactly our recipe for a beautiful life.
… and taking all of August off! Where do you like to travel in Italy?
Greece is my very favorite! In Italy, I really like Sardegna for the crystal sea; I also really liked Pantelleria. When I was younger, I used to go to Jesolo during summer time. It is the nearest beach from Bassano del Grappa, my hometown. The sea isn't anything special, but the lifestyle there is relaxing, simple, fun, and a mix between an adult and younger crowd. Here's how it works for Italians and the beach: You wake up around ten — depending on the night before. Breakfast with a fresh croissant and cappuccino. Buy newspaper and gossips. Go to the beach and lay down like a turtle. When you are almost fainting, you go for a swim or walk along the beach just to look at people, especially good-looking people! Light lunch with a salad at the small bars at the beach. Aperitivo with Spritz and chips. Shower and get ready for the night. Dinner around 9 or 10 p.m. Find a great restaurant to have "spaghetti allo scoglio." A little walk on the main street full of people, shops, and restaurants. You do a little window-shopping while eating a gelato with your girlfriends. Put on some heels and go clubbing, unless you found someone to make out with on the beach earlier that day. Just kidding on that — or at least for me.