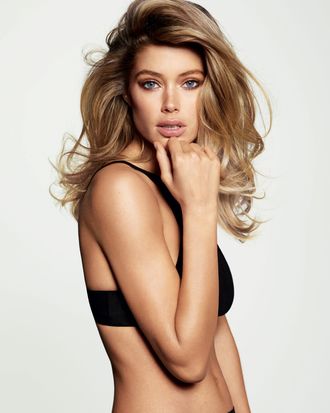 Looking at Doutzen Kroes, Victoria's Secret model and face of Calvin Klein's new fragrance, Reveal, it's hard not to assume she is one of those ultra-disciplined models who works out twice a day and regularly embarks on ten-day juice cleanses. Instead, Kroes is remarkably Zen, talking gently about her love for gardening and her new baby girl, unfazed as the steamy ad for Reveal plays on repeat during the interview. The Cut talked to Kroes about working with her almost-Fifty Shades of Grey co-star, the dichotomy she feels being a mother and a model, and when she chooses not to go to the gym. 
What is your nighttime and daytime beauty routine like?
At nighttime I have a little bit more time, because then kids are in bed. I enjoy taking a long shower. Basically, all I do is just a moisturizer and L'Oréal BB cream and maybe some mascara. I go see a facialist once in a while, and I put on an oxygen mask and moisturizer. That's it.
Last night [at the Calvin Klein Reveal party] it was actually nice to get hair and makeup and be out of my little bubble that I've been in. I just had a baby girl. It's been so amazing, but my world has been really small. It's also really strange to be out here because I spend most of my time in Holland. I've realized that I really like spending time in the countryside and having a garden. And now I'm like, What am I doing in this big city? Even though I love New York.
Your co-star, Charlie Hunnam, in the Calvin Klein campaign was almost in the Fifty Shades of Grey movie. What was it like working with him?
It was amazing. He was a very, very nice guy. I was not wearing so many clothes [in the commercial], and he would be like, "Here, here's a robe. Are you okay? Do you need anything?" He was very sweet about it and very caring. He would have been really great, I think, in the movie. The scenario in the commercial is a little like what they needed for the main character.
Have you read the book?
I've read the first few pages. But I was not really, I was not so … no, but I'm curious about the movie now. I think it's coming out soon. Isn't there something with Beyoncé?
Are you a Beyoncé fan?
Yeah, I love her. I saw her in Baltimore once. I'm upset I missed the show she has together with Jay Z. But who knows, because they're going to Paris next weekend to perform, so my husband says we should go, but I'm not sure. Because then we'd have to leave the baby. I'm still having a hard time leaving her behind.
What is your first scent memory?
It's my mom picking herbs in the garden, making tea. She would add rosemary, sage, and mint. That scent still makes me very happy and think about my childhood. My mom and dad both would grow vegetables. So, when I delivered my baby, we went there, and she would cook a lot, and we would eat all the vegetables from their garden.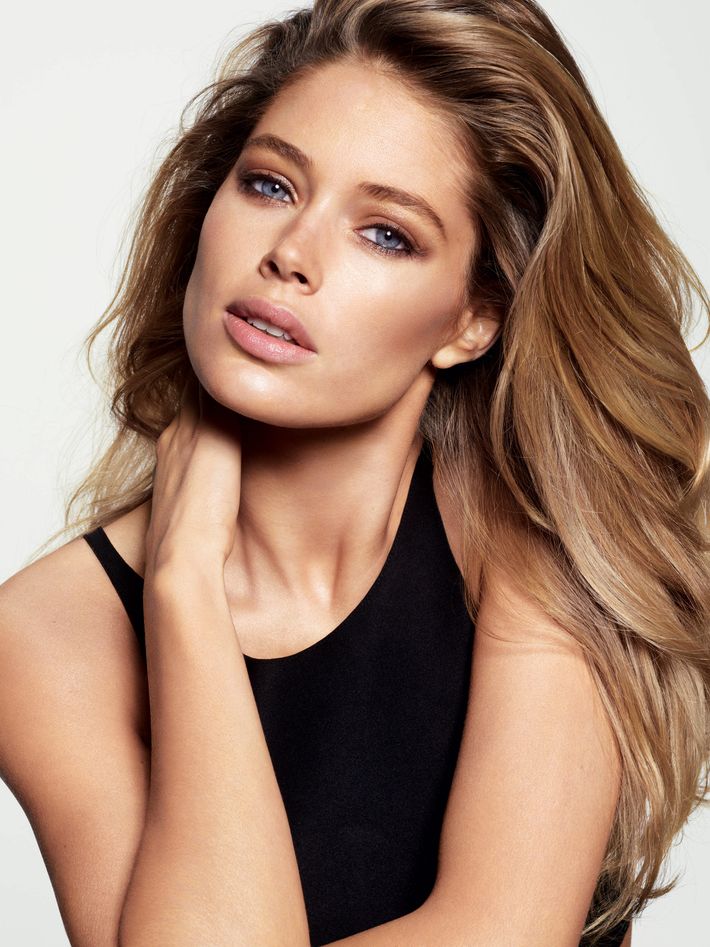 How do you motivate yourself when you don't feel like working out or being active?
No, if I really don't feel like it, I'll change my plans and choose to be with my baby. If that moment makes me more happy, I think that's more important. If I've been working a lot and I've been away from my kids, then I don't go to the gym. It's okay to miss a day. I tell myself not to feel bad about it, too, because then it's a waste if you choose not to do something and feel bad.
When you do go to the gym, what do you usually do to be active?
I do Ballet Beautiful with Mary Helen Bowers. She has a gym in Soho, and I go there or she comes to me. I've been working out with her for, like, two years now. She does Skype, or I do her DVDs, too.
As a model and now as a mother, has your perception of beauty changed at all?
Yes, that changed when I had my first baby. I've always known that beauty is also from the inside. If you're happy, that will shine through. I've always believed that, but since I've started having a family, I became even more happy, and I think it even shows more. I've also become more successful since I've become a mother. To me, that's like proof that if you're happy that's good for you, and people see that.
Is it hard to sustain that mindset when you're in the modeling industry?
Sometimes you have bad days, but I've learned to switch — to know that I'm working, even though sometimes you're not always feeling great. But I've also realized that work is work, and you can't take home to work. Most of the time I am happy, because it would be strange for me to complain about something, anyway, because I have such a great life, and I feel very blessed.
You've said you sometimes feel guilty about being in a profession that makes some girls feel insecure. What changes would you envision for the modeling industry to eradicate that?
It's important sometimes to have pictures that are not as retouched and show more of the real skin. Some retouching is necessary because we want to believe in the fantasy. You don't want to buy a product against wrinkles and then see a woman with a lot of wrinkles.
I feel like it's not fair to put so much pressure on young girls, and they should know that it's fake most of the time. And also for men, they should not expect women to look like that all the time. Because it's not fair, you know? We can't live up to that. I can't — I don't look like that all the time. 
Do you feel a sense of dichotomy between the pressures of your job and the hopes you have for your daughter?
Yes, because I'm in such a world of beauty and everything being about the outside. I think if she wants to be a model, fine. But I want to teach her that she can be whatever she wants to be and that life is not always about the outside. I want her to aspire to become anything she wants and not put any pressure. Sometimes I feel it's hard because I can't not work anymore. I want to work, but the balance to find between working and being a mom is challenging.