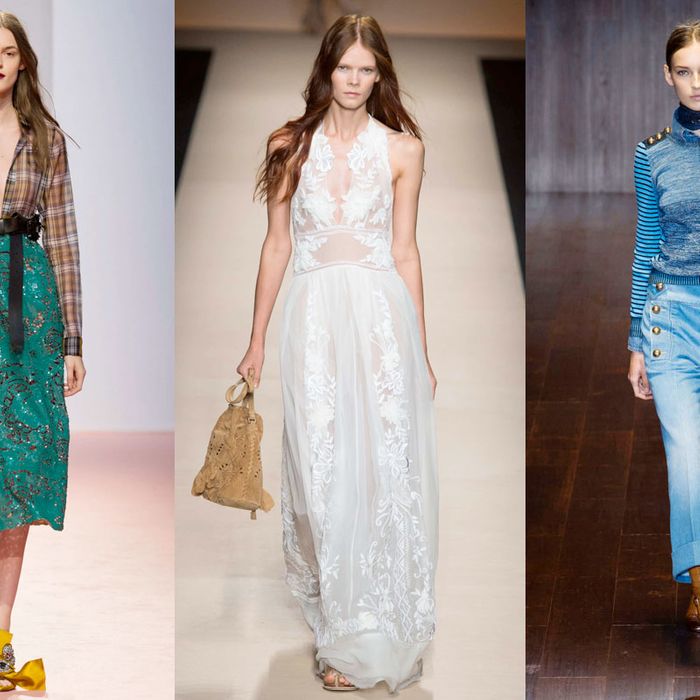 With London behind us, Milan Fashion Week is well under way: Yesterday's shows transported us to the 1970s, gave us a little grunge, and inspired our denim closet. Here, five things I liked on Wednesday.
1. This season's boy-meets-girl dressing statement at No. 21 was like raiding Jordan Catalano's closet. Plaid silks paired with green-sequined separates was a sparkling way to approach grunge.
2. Alberta Ferretti riffed on festival clothes, but the detail on this white, embroidered gown was so lovely in person. We're betting this dress makes an appearance at an "It" girl wedding this year.
3. At Fausto Puglisi, the ubiquitous pool slide got a luxe upgrade with chic, 3-D gold embellishments.
4. The '70s came a-calling at Gucci, with cropped, sailor-esque jeans we'll be buying into next season.
5. Those of us with unwashed hair from travel were thrilled at the sight of sleek ponytails at Gucci and expertly messy hair at No.21.
See the full No. 21 collection here.
See the full Alberta Ferretti collection here.
See the full Fausto Puglisi collection here.
See the full Gucci collection here.