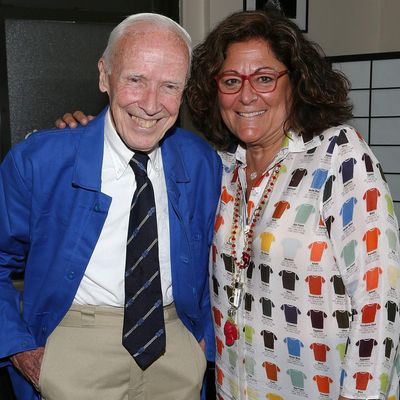 Photo: Taylor Hill/WireImage
It took a spilled vodka and one ruined dress to get Bill Cunningham to agree to speak at the 92nd Street Y as part of Fern Mallis's Fashion Icon series. Mallis said last night that she'd been trying to convince the photography legend for years, but only got him to budge when he was feeling extra apologetic about spilling her drink at the CFDAs. In front of a packed house that included Carolina Herrera and Marylou Luther, she sat down with the 85-year-old New York Times veteran, who insisted on taking his signature lightning-fast snapshots of the audience. Here are just a few of the things we learned about Bill.
• His favorite time to take pictures is 8:30 in the morning.
• Over Mallis's protests, he doesn't believe in wearing a helmet. "When it's a law, I'll [wear it]. I don't need it."
• When he worked at a women's boutique as a newcomer to New York, one of his duties was dyeing a red Balenciaga (or possibly Dior, he doesn't recall) suit black for Jackie Kennedy to wear to JFK's funeral.
• Before his bicycle, he was kind of a car guy: He used to drive a custom-made 1934 Rolls-Royce that he bought used for $500, which he'd use to chauffeur friends to the Hamptons.
• When he was still working as a milliner, he got a call from Harper's Bazaar: "William, rush over with the hats and so on. Mrs. Vreeland wants to look at him." To his horror, the legendary editor began cutting the brim of one of his creations. "She said, 'Well, maybe I cut a little too much off — just add it back on.'"
• One of his early editors at the Times, Gloria Emerson, called him "hopelessly illiterate."
• In the early '60s, he once bolted out of an Oscar de la Renta show to take photos of antiwar protesters on the street. He also photographed one of the first "be-ins," in Central Park, and the famed Fire Island party that is re-created in the opening scene of The Normal Heart.
• His favorite fashion show was the Battle of Versailles in 1973, which featured performances from Liza Minnelli and Rudolf Nureyev, and designs from YSL, Givenchy, Oscar de la Renta, and Stephen Burrows.

• He's upset that his signature blue street-sweeper jackets have gone up in price from $20 to $55. (And down in quality: They feel like "dishcloths.")