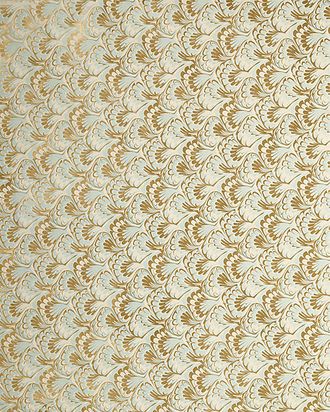 So what if vacation's over? All this month at Italy in 30 Days we'll be celebrating the best design the country has to offer, from fashion to accessories to home goods. If anyone asks, it's totally a fancy souvenir from your last jaunt to Portofino.
Much like Italian style, Italian paper is a bit over the top, but always ultraluxurious. This gilded sheet is made by Rossi 1931, a renowned Florentine company known for combining Renaissance influences with meticulous attention to detail. An ancient family technique creates that extra-vibrant-pool color, and bronze powder achieves a gleaming gold sheen. You could wrap an especially important gift in it, or use it to adorn the walls of your office.
Gold & Pool Marble Shell on Cream Fine Paper, $4.95 at Paper Source.