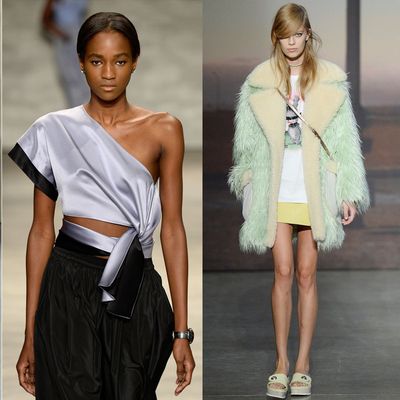 Photo: Catwalking/Getty Images, Fernanda Calfat/Getty Images, Catwalking/Getty Images
The first day of Fashion Week always has a slightly surreal feeling. The city has just woken up from its summer slumber, and everyone — editors, designers, retailers — are still blinking their eyes a bit, adjusting to the light.
Three of today's collections were, in one way or another, inspired by fantasies of escape. At Coach, Stuart Vevers cruised into his sophomore season with a mod-meets-grunge tribute to a Texas road trip. Riffing on Lost Highway and Paris, Texas, he set his hitchhikers against a sunset-gas-station backdrop: They wore improbable-for-the-open-road things like fuzzy shearling coats in macaron colors (they're calling the material "fluff") over shiny patent miniskirts Cher Horowitz could get behind. Haute takes on Dr. Scholl's slides and clogs were the only concession to comfort. Since Vevers is an Englishman, was the road-trip vibe a reflection of fantasy or experience? "A bit of both," he said. "I have done a lot of exploration of the U.S., and there's a certain romance to me about places like that — and a bit of eeriness. Being a foreigner, these things are quite exotic to me." Like Hedi Slimane, his take on Americana is filtered through a pop-culture lens; were Vevers forced to confront the dispiriting reality of an Amarillo filling station, he might feel less pastel. But the unreality, here, was the point.
The collection skewed young, complete with sweaters, T-shirts, and bags illustrated with Furby-like creatures by the artist Gary Baseman, who designed the board game Cranium. It's like the Rapture came, went, and left only a population of tweens.
For the still-young label Tome, the trip happened much closer to home. Designers Ryan Lobo and Ramon Martin thumb through what Lobo calls their "obsession Rolodex" every season to find an artist muse. Georgia O'Keeffe inspired the Southwestern ease of their spring 2014 collection. "We're obsessed with her," said Lobo, "but we're not from Santa Fe. So it was a very different connection this season." They looked to Calcutta, where Lobo grew up, and to photographer Dayanita Singh, who makes her powerful images of women and families in the city. "I can smell the pictures," he says. "They're very familiar to me." The interpretation resulted in metallics, knife pleating, and loose silhouettes. The Subcontinental flair came in subtly, in single-shoulder tops with slivers of exposed midriff and loose, dhotilike pants. The color combinations — blush and bronze, saffron and earthy red — were exquisite. Most crucially, Lobo and Martin succeeded in avoiding both musty-costume vibes and exoticism for exoticism's sake.
A day before their show, Shane Gabier and Chris Peters of Creatures of the Wind, who are fresh off a career-making CFDA victory, seemed unnervingly calm. As they chatted with Tennessee Thomas and fitted models in their Flatiron atelier, it was hard to believe that they were on any kind of deadline — not to mention planning to debut shoes, bags, belts, and jewelry of their own design for the first time. As usual, their collection started from a trippy, even bizarre, epiphany. Its title is Fata Morgana; explained Peters, "It's a super-mirage that causes things on the horizon to distort and flatten out." Think floating castles. In a literal sense, this translated to ombré plaids that faded in and out like a weary traveler's blurred vision. But the real uncanny valley manifested itself in what Peters called "this kind of funny '60s/'70s, almost campy idea of summer clothes and traveling." In the hands of these nimble mix-masters, that meant that everything from Delft porcelain to North African ceramics to daffy Scando wallpaper got thrown into the pot. It was a funny riff on those improbable world-traveler-themed collections that jam in too many stopovers. But the duo ended on a home-sweet-home note, with a grunge gown — sinuous in plaid, complete with pockets.
See the Tome spring 2015 runway show here.