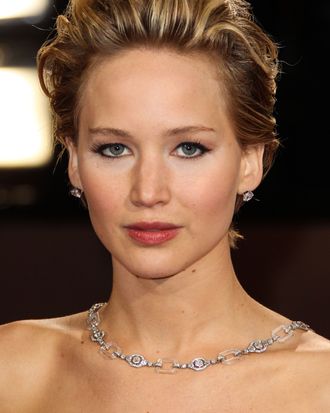 Photo: Xavier Collin/Celebrity Monitor/Corbis
Fashion Week parties are packed with celebs, but there's more to discuss than just next season's best trends. The Cut took the opportunity to ask partygoers about the private photos that leaked over Labor Day, and how they felt about the current state of privacy.
Joe Jonas: "A few people I know, that happened to, so I don't look at them. I think it's disrespectful."
Ashley Smith: "When they came out, I was hanging out with a few of my gay boyfriends. I think that if I were in the same position and I had pictures I wouldn't want people to see. I wouldn't want them looking … but when you have your gay boyfriends around saying, Oh my God, LOOK! You kind of have to participate. Because they were so excited about it, I was like, Fuck it, let's do it."
Danielle Brooks: "I saw Jennifer Lawrence's and I saw Jill Scott's. It's crazy, it's crazy! I'm just glad I have not seen Danielle Brooks's [laughs]."
Amy Sacco: "The end of privacy happened a long time ago — as soon as people got cell phones and camera phones. Even before Twitter, before social media, you had a cell phone with the camera, and privacy was done. That's why I never take pictures of myself naked."
Amanda Crew: "I don't know if you read the articles in defense of these women: It's not a sex scandal; this is like sexual assault. I feel horrible for the girls, and I just feel like there's a lot of blame being put on them when they've done nothing wrong. It can happen to anyone. Give me one person who's never taken naked photos with their boyfriend or their husband. And that's your right. I have friends who were involved in it, so that's why it's a really sensitive subject to me. I think all these women are very, very strong."
June Ambrose: "My friends were like, Did you see? And first I was like, I don't want to see, but then I wanted to see how much they actually got away with. It was very alarming. But you're always at risk when you put something out there. We don't have film these days, we're digital, and as far as the digital experience exists, you don't own it and it can easily be accessed. You capture these portraits of yourself that you love and it's really hard, because we shouldn't have to hide that. It's unfortunate that it happened — and my stocks for Apple dropped after that shit, I was pissed [laughs]."
Kelly Rutherford: "I think we're heading toward a world where we're going to have the utmost integrity because there are too many chances of people hacking into things. I think we have to live our lives as best we can and know that's a possibility. We have to know how to delete, delete, delete!"

Reporting by Jamie Miles, Catherine Coreno, Sean Fitz-Gerald, Meg Miller, and Vanessa Kalman.