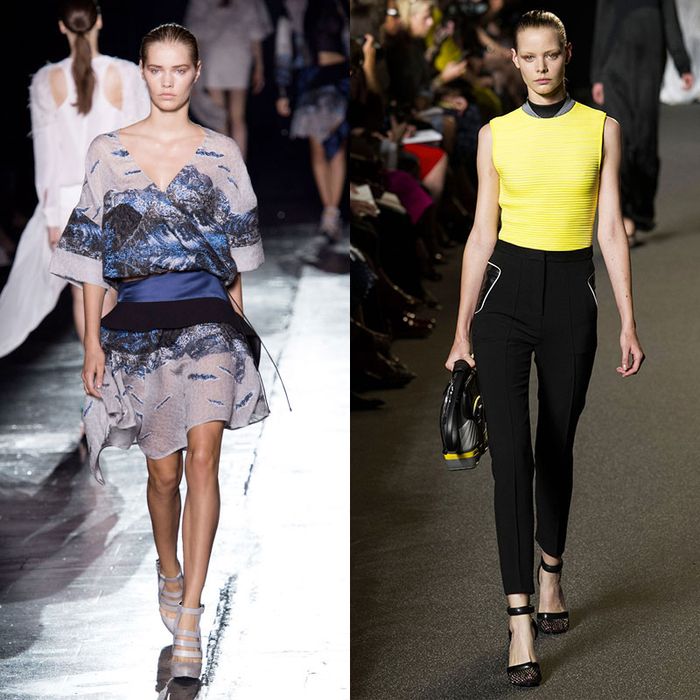 Looks from Altuzarra, Prabal Gurung, and Alexander Wang
Photo: Imaxtree
At Ralph Rucci's show yesterday, cross-and-tuck pleated shift dresses and spangly bias-cut gowns were juxtaposed with a scene of cutting tables and bolts of cloth, as if to say: These clothes come from somewhere. Craftsmanship, it turns out, is alive and well.

"I wanted to make void boxes," the designer explained, "so that this woman's figure just becomes lithe inside the box." When a well-wisher told him post-show, "It's like couture!" the designer quickly answered: "Oh, no, no, don't say that. People are frightened by that."
Frightened? Really? A lot of young designers who showed yesterday also seemed to revel in artisanship. Prabal Gurung explored the possibilities of fabric. The show opened with a series of white dresses that at first seemed pure, but close up, the pieces were complex. The designer takes a trek in the mountains of his native Nepal once a year. "It's solitude that you can't find anywhere else," he said. The delicate embroideries came from a trekking map he sent straight to an embroiderer and chiffon was printed with carabiners. Mountain ranges were woven into sweaters. It was all there: the high altitudes, the mossy hills, and even the wildflowers, represented in three-dimensional fashion via ruffled floral overlays. "It's a juxtaposition of the sportswear-y, trek-y references," the designer said, "mixed with this opulence."

Both Alexander Wang and Dion Lee went for a souped-up take on craftsmanship with an automotive spin. Lee incorporated seatbelt ties into his highway-themed collection, which drew on the open-road paintings of fellow Australian Jeffrey Smart. Wang went vroom-vroom with bowling bags with hot-rod curves and kitschy striped bralettes that looped around like a rotary. Bar-code like bands across some of the looks only served to heighten their very product-ness.

At Altuzarra, the final show of the night, the eerie strains of Krzysztof Komeda's score for Rosemary's Baby rang out as the lights went down. Altuzarra's girls wafted out in the colors of a layette: pink and blue gingham, trailing ribbons behind them. They were pretty babies with a hint of something more knowing, especially in the case of a sweet shirtdress worn open to reveal black panties.  The show took a perverse turn into latticed harnesses and transparent black dresses rimmed with pearls. "It was about this woman who is very innocent, very naive, very girlish," the designer explained, "and the idea of her coming undone in a way. I think a lot of those pieces sort of became metaphors for that: starting to see through the cracks in her clothes." A viewing of Barry Lyndon led him to an intense study of 18th-century robes and panniers. But the designer wasn't content to painstakingly re-create them: Instead, he imagined a deflated, exploded version of the silhouette. What's more compelling than beauty that's in the process of falling apart?
See the full spring 2015 Ralph Rucci show here.
See the full spring 2015 Prabal Gurung show here.