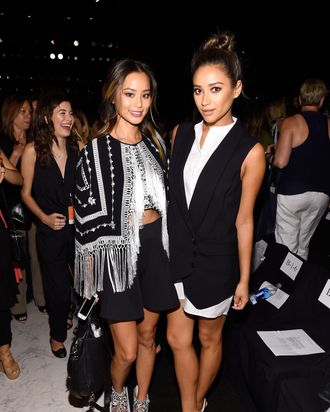 Photo: Larry Busacca/Getty Images
"I'm not sitting in the middle of that" was the first thing we heard when we pushed our way through the front-row press scrum at BCBG on Thursday morning. Considering that this gentleman's seat appeared to be right next to Hilary Rhoda — looking tall and perfect in black pants and a sleek ponytail — he would be well-advised to rethink his life choices.
But, it's the first day of Fashion Week, and for most people, the first show; lots of folks seemed still to be getting their sea legs (runway feet?). "Who is that?" a photographer asked me, as the PR people hustled Shay Mitchell — looking a little shell-shocked, but gorgeous and with great eye makeup — to her front-row seat. We explained: Pretty Little Liars, front-row regular, Pantene endorser. He shrugged. "They all look the same," he said. We don't know if he meant the Liars, starlets in general, or people with good hair, but the dude better catch his snap. There are a lot of potentially interchangeable starlets heading his way over the next week, and they can't turn up on the photo services labeled "I Don't Know. Someone."
We also spied Jamie Chung in a fringed poncho, and a sock-bun-sporting Amanda Crew — whom you probably know from her current role on Silicon Valley, but whom we remember best from her turn in She's the Man. We didn't get a chance to ask her what it was like to be there for the birth of Channing Tatum: Comic Genius (or whether or not she agrees with us that Amanda Bynes is really underrated in said film), because she was busy chatting with her seatmate about a project she's filming in Montreal. It seemed rude to shove in and be all, "Enough about your career. Let's talk about Channing's abs." Although, in fairness, shouldn't everyone at Fashion Week want to talk about Channing Tatum's abs, just as a matter of course?
Crew's aforementioned seatmate was The Leftovers' Emily Meade, who was wearing what we thought was a very very mini minidress … until we spied her cheekily lifting up the front hem and flash someone the shorts underneath. It's nice to see that someone, at least, has kicked off Fashion Week appropriately prepared.
For more from the Fug Girls, visit their blog here.