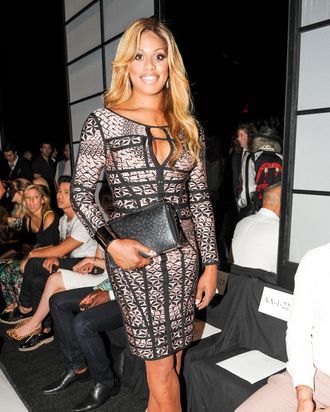 Photo: Neil Rasmus/BFAnyc.com/BFA NYC
Hervé Léger threw us a curveball today. The show generally draws a celeb-packed front row — and with it, an extra large crowd of standing-room hopefuls looking to ogle them. But this year, a series of screens ran up the middle of the runway, dividing the two rows of seats there, and blocking half the room from seeing anything that was happening on the other side. Because we have not yet had our operating systems upgraded with X-ray vision, for all we knew, George Clooney was marrying Amal Alamuddin over there, which meant we had to make ourselves as unobtrusive as possible and actually plunge into the narrower-than-usual space where the media fray was concentrated. It's neither for the faint of heart, nor the faint of elbows.
And it was a fray, thanks to the presence of Orange Is the New Black's Laverne Cox, who wore Hervé Léger on the cover of Time this year. Women in their favorite bandage dresses and men in suits were shouting her name with equal fervor, pointing excitedly, and wondering if it was worth sacrificing their physical safety to get a selfie. Through it all, Laverne stayed totally cool, a double miracle considering that the muggy, hot air today was thick enough to be a doorstop. "I'm actually not staying cool at all," Cox confessed, fanning her face. "I'm really, really hot, I feel like I'm melting." She hides it well, as she did during the Emmys, when her graceful Marc Bouwer gown betrayed nary a sweat gland. "That dress came together on my body," she said of the design process. "He didn't do sketches for it, which I think is interesting and brilliant. He just draped it on my body and cut it and pinned it and the magic happened that way. I've never seen that before."
Before we got chewed up and spit out of the mob, sent back to our purgatory behind a screen, we also spied Katie Cassidy in an insane crop top, looking for all the world like a high-fashion belly dancer. She was joined by Max Azria regulars Petra Nemcova and Sami Gayle of Blue Bloods. Gayle looked a lot more comfortable, climate-wise, in her strapless dress than she did at Rebecca Taylor's show earlier that day; there, she had on tight jeans and a heavy jacket, and legitimately looked like she was about one or two degrees Fahrenheit away from an actual swoon. She shared front-row space at Rebecca Taylor with actress Rashida Jones, whose patterned Bermuda shorts may at least have been appropriate for the temperature, but which were doing her a disservice in about ten other ways. We did spy her giving an enthusiastic recounting of her nightly ablutions — judging from her body language, she does a lot of exfoliation — so maybe she's too distracted by the delights of a good face mask to worry about anything else.
Speaking of good face, we also spied America's Next Top Model champion Yoanna House, arguably one of the show's worthiest winners — and felt shocked and extremely elderly when we realized her victory came a decade ago. Ten years. Kim Kardashian didn't even exist back in those prehistoric times. Even Noted Fashion Photographer Nigel Barker was barely a glint in Tyra Banks's eye, because Yoanna's season was his first on the judging panel. In fact, Barker usually attends Rebecca Taylor, but we didn't see him this year, denying us the ANTM reunion we so craved. Would he have recognized her without her dark pixie cut? Would they have discussed how Tyra has basically invented her own language since then? Are they perhaps in a long-standing feud? It's just our luck: Finally ,we're right in position for a clear view of the drama, and there's none to be found. Fashion Week is a cruel mistress.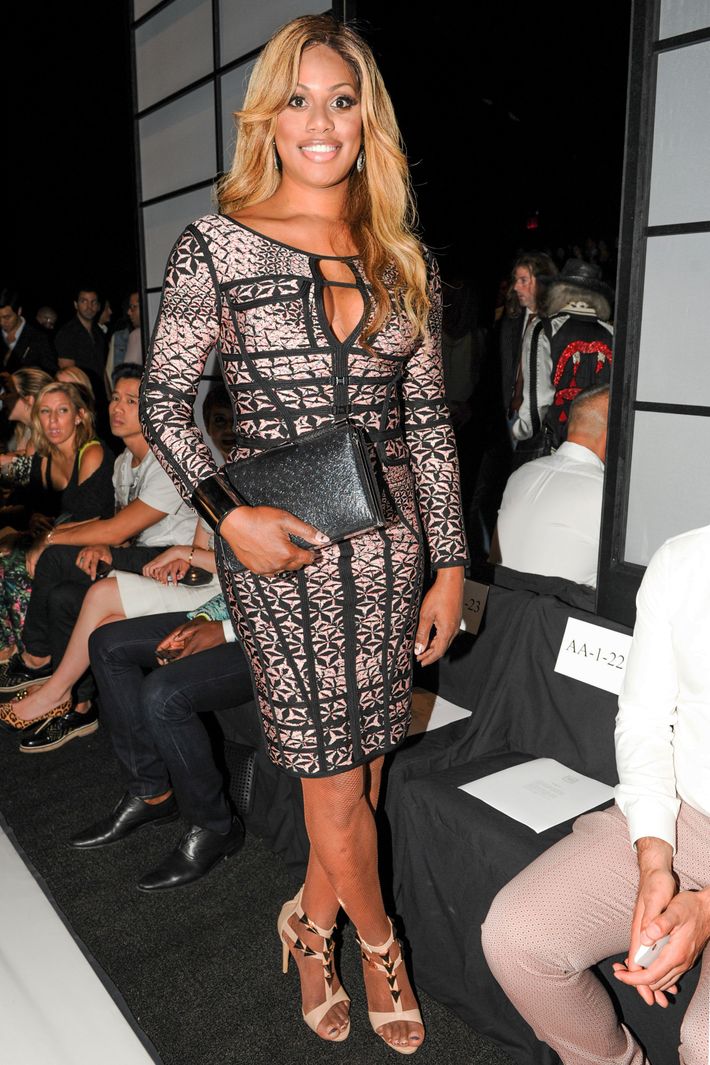 Laverne Cox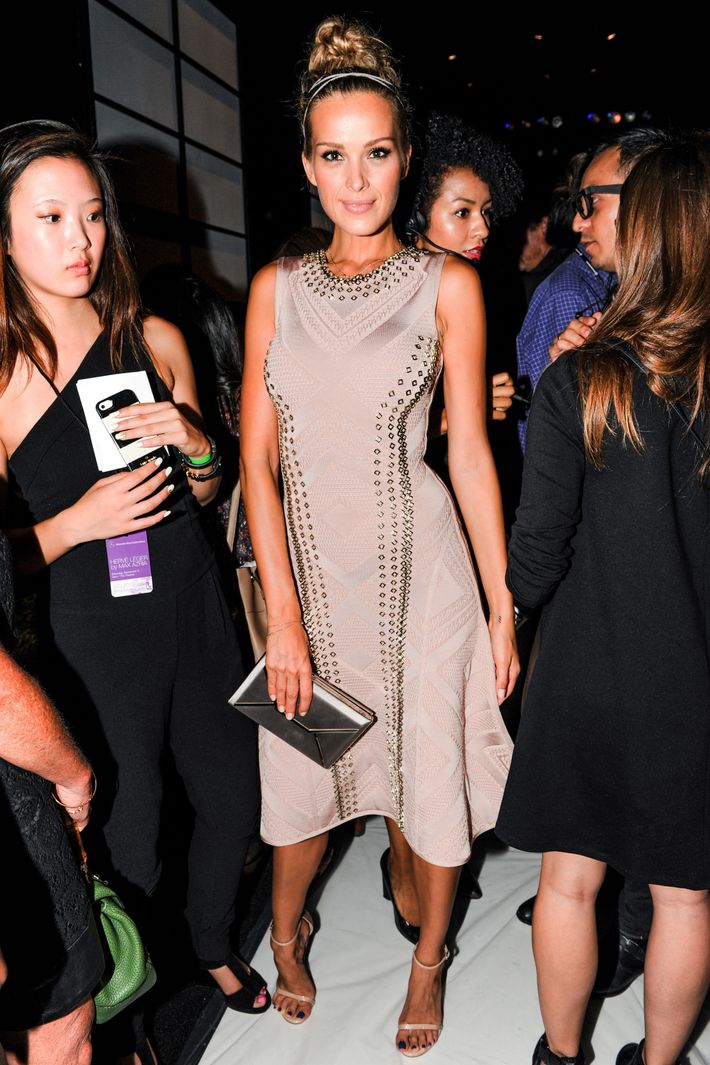 Petra Nemcova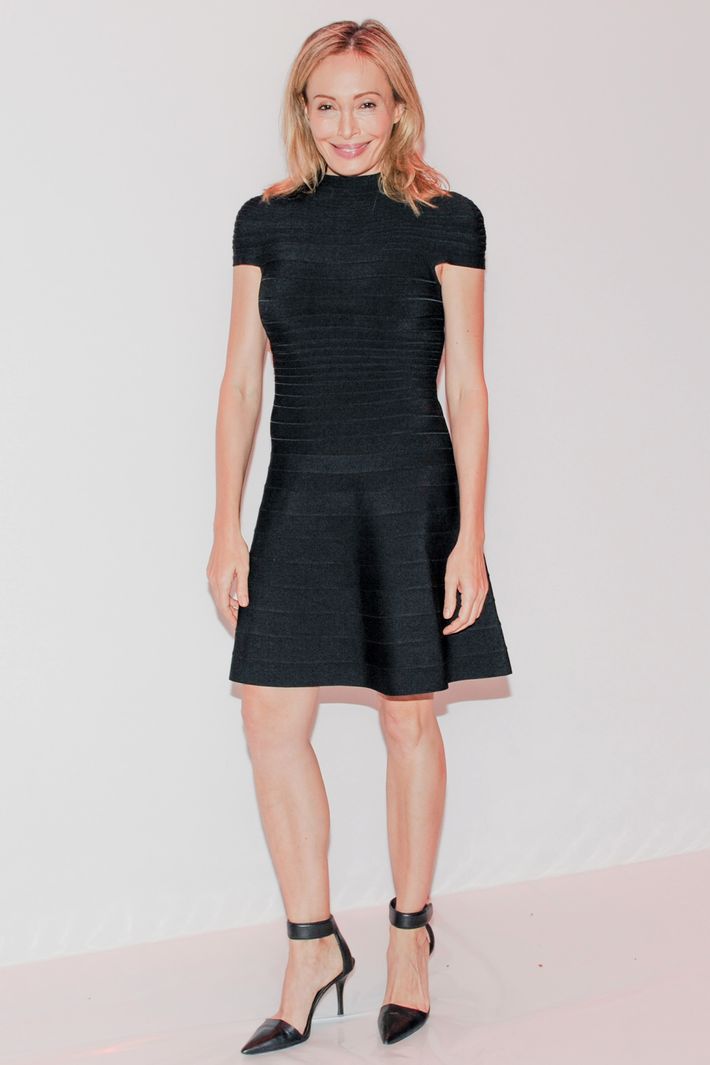 Lubov Azria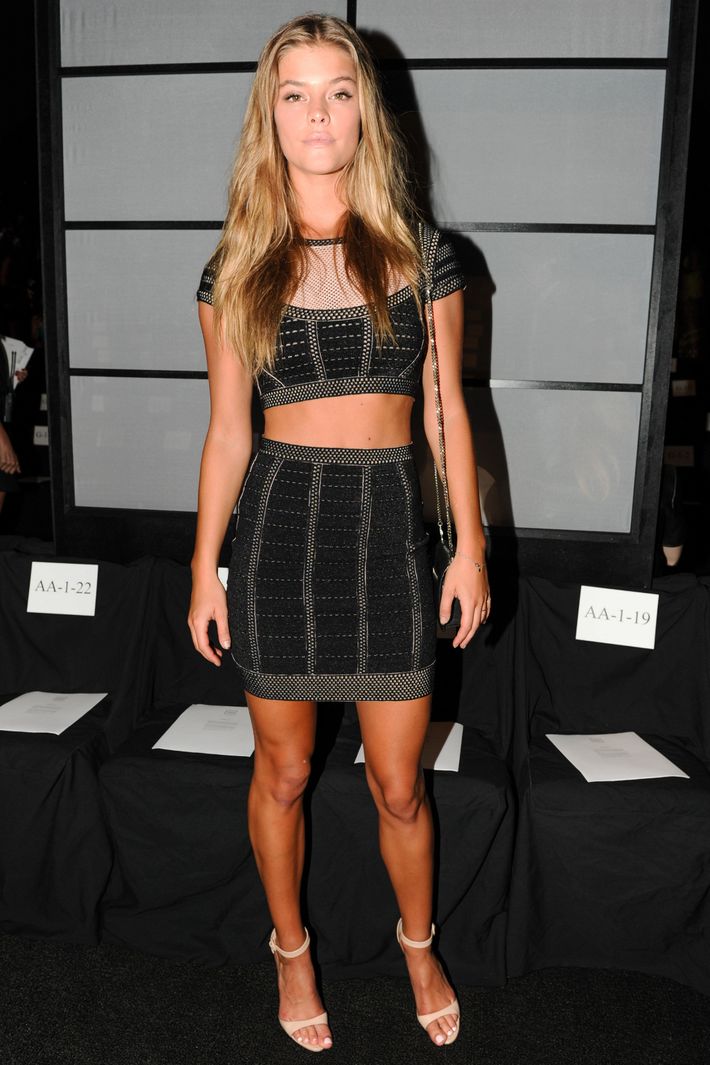 Nina Agdal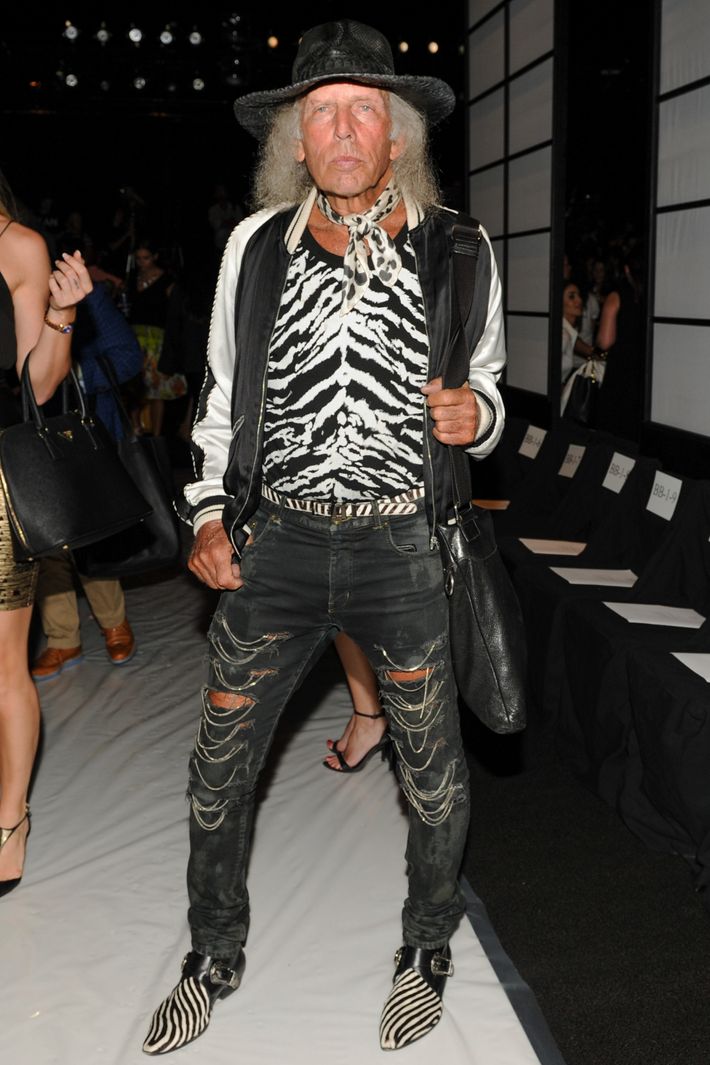 James Goldstein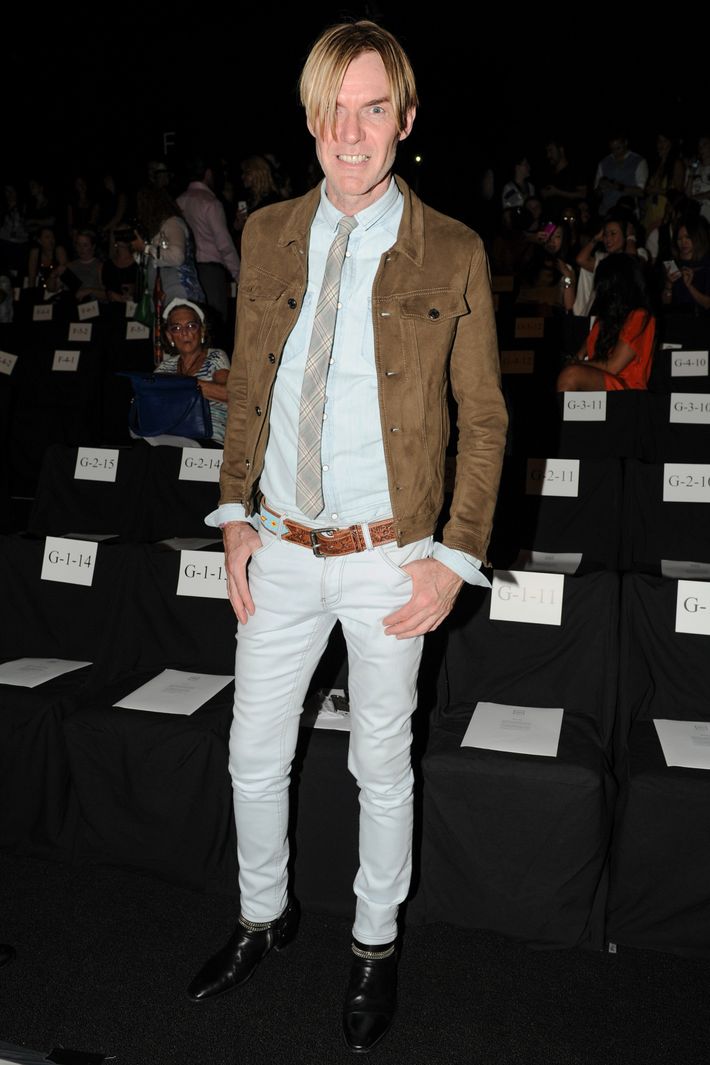 Ken Downing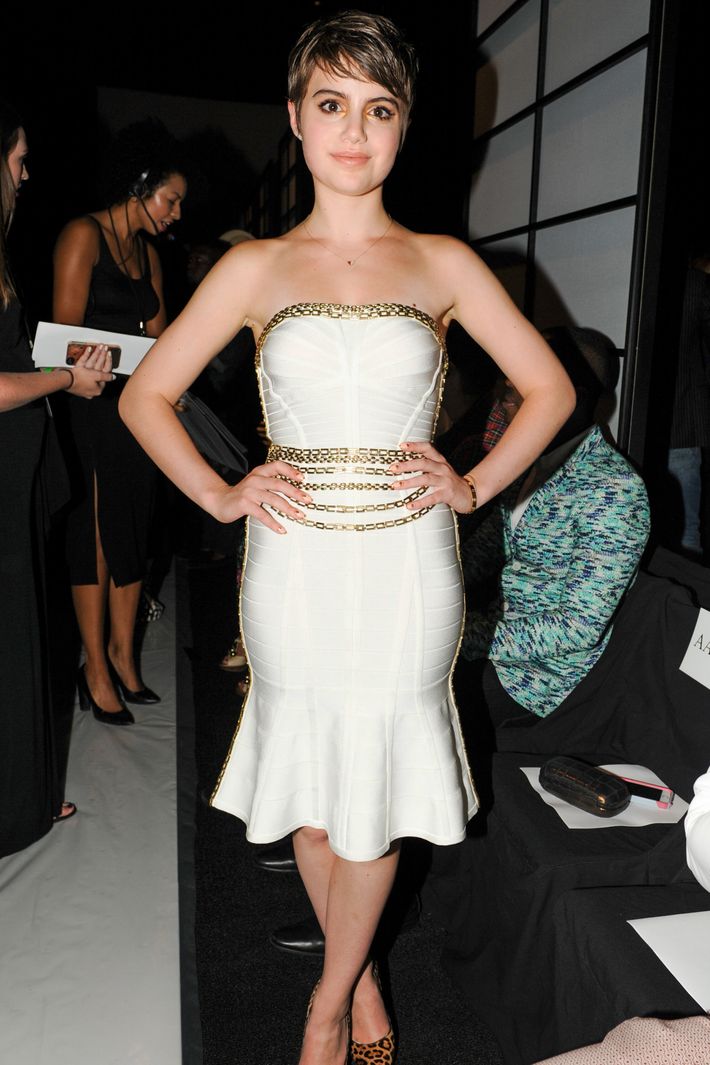 Sami Gayle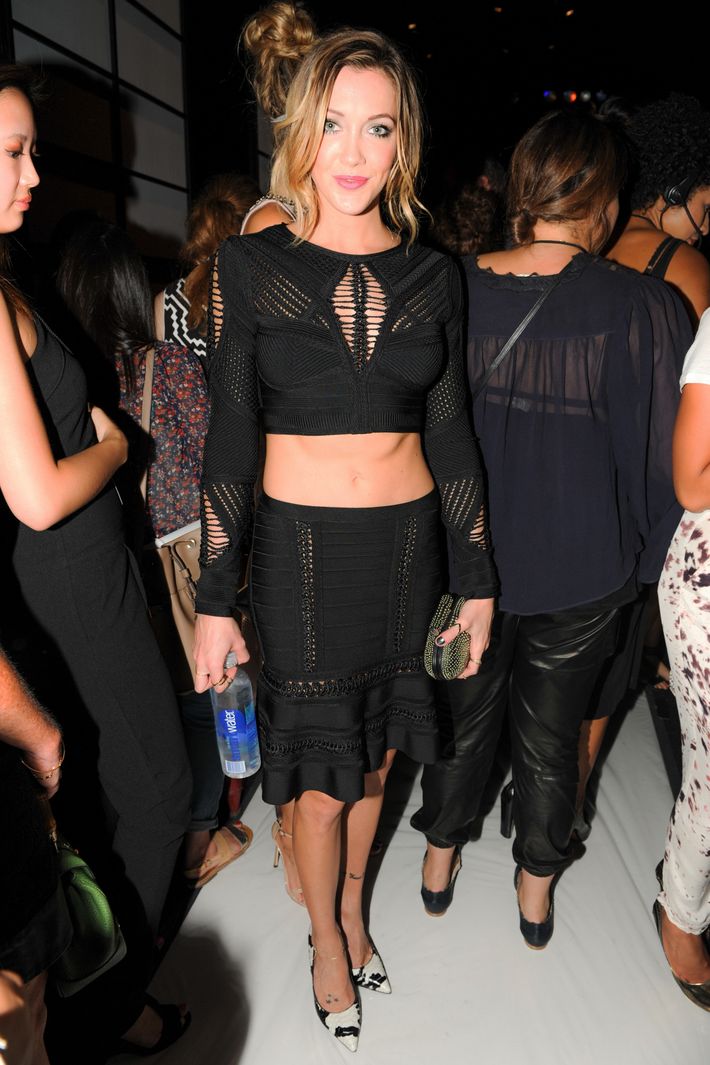 Kate Cassidy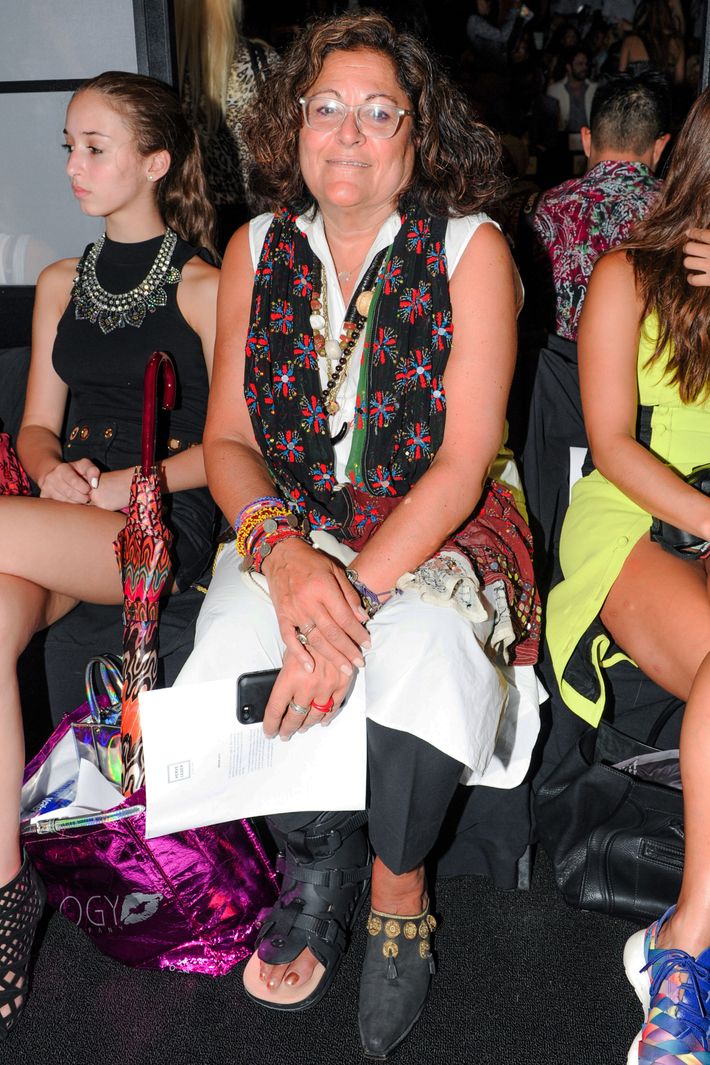 Fern Mallis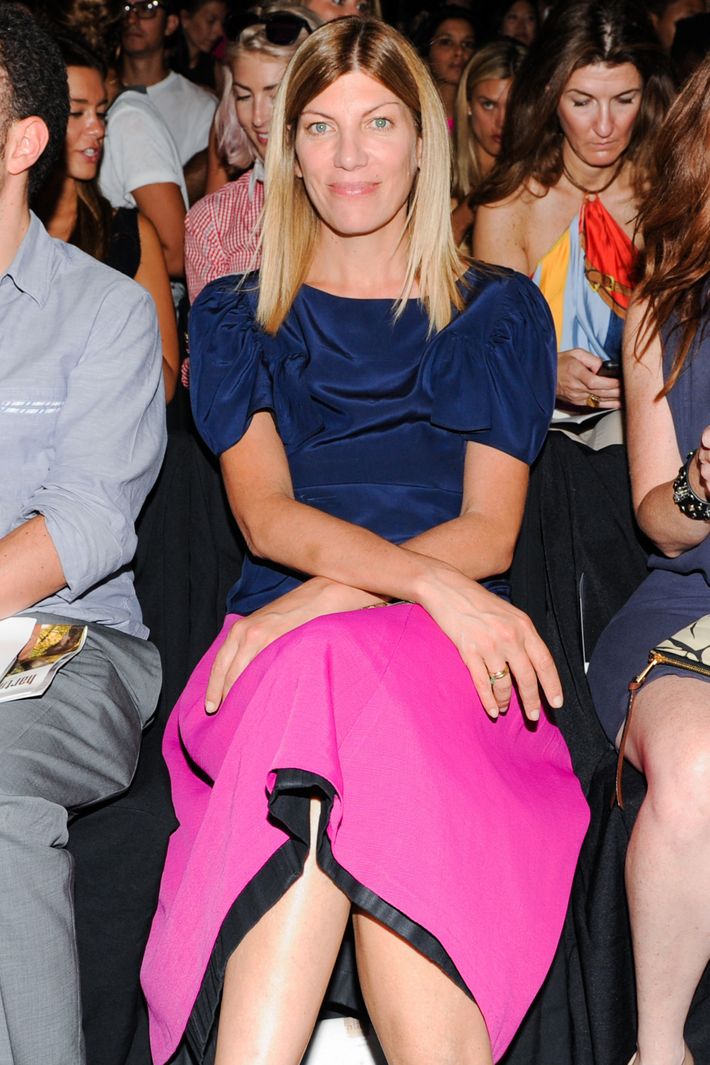 Virginia Smith