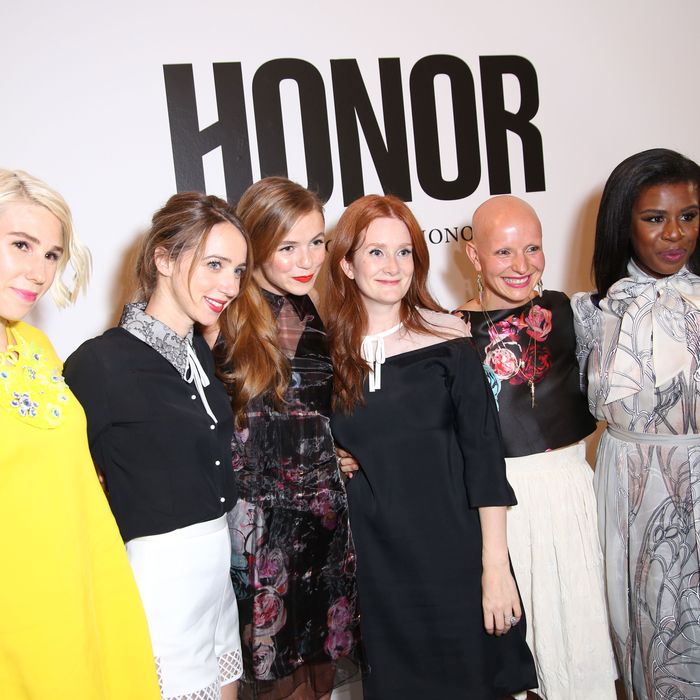 Photo: Matteo Prandoni/BFAnyc.com/BFA NYC
Was there a platinum wind blowing through the Girls set before it wrapped? First Lena Dunham bleached her hair, and at Honor on this afternoon, Zosia Mamet showed up sporting a more tousled white-blonde bob. Honestly, were it not for the chunky wooden heels and ethereal chartreuse frock, we might've mistaken her for an editrix, as her hair has a whiff of the Harried Fashionista about it. We couldn't hear why she dyed it, but we did catch her discussing the specifics of the just-wrapped fourth season of her show. "There may or may not be dragons, I can tell you that much," she quipped, forcing us to conclude that it's going full Girls of Thrones on us, which is great because we'd love to see Lena Dunham's take on a Red Wedding. (She also said Shosh's shenanigans this season will be "slightly less slutty," but we'll keep our khaleasy puns to ourselves.)
Mamet, who spent most of her time chatting up Zoe Kazan, sat down the way from Morgan Saylor, best known as Dana Brody on Homeland. Morgan sailed in with Teen Vogue's Andrew Bevan looking totally cheery in a flowered dress and some divine patterned shoes, as if to elbow aside once and for all the aura of her brooding alter-ego. But when it came to injecting a chasm between her on-and on-screen personae, Saylor had nothing on Orange Is The New Black's Uzo Aduba.
Aduba wore a floaty patterned frock with a tie at the neck — it was almost librarian-esque (in a good way) — which her stylist Christina Ehrlich kept delicately patting into place if it went rogue (which is basically the opposite of how people treat poor Crazy Eyes). She remained completely calm during an awkward moment when a fan asked her what she might dress up as for Halloween this year, and a bystander shrieked, "That is a bad question," referring to the brouhaha last year when Julianne Hough sported extremely ill-advised blackface to dress as Crazy Eyes. She took fan photos with anyone who approached her, said something complimentary to each person, and is extremely low-key and friendly and graceful in person, to the point where it underlines just how much she deserved her recent Emmy. But Aduba said she doesn't actually feel any pressure to prove to people that she and her character are separate and distinct, especially when it comes to clothes. "The bar was set pretty low," she laughed of poor incarcerated Suzanne. "Maybe when I'm in sweatpants." If in doubt, she could always go platinum for a week or so. Apparently, it's all the rage.
For more from the Fug Girls, visit their blog here.