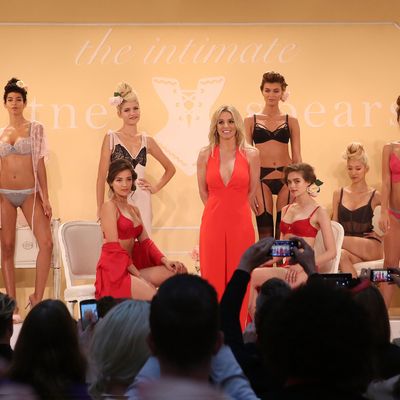 Photo: Bennett Raglin/Getty Imnages
We assumed that we'd suffer from some kind of Fashion Week whiplash going from the elegant glamour of Jenny Packham straight to the Intimate Britney Spears lingerie show on Tuesday afternoon, but it wasn't quite as tonally brutal as predicted. Not because Packham was anything less than divine. It was as fabulously red-carpet ready as ever — now if only half the actresses in the Western world weren't ensconced at either TIFF or Deauville at the moment because a lot of them needed to be there. But it turned out that Britney was so much less of a shitshow than we'd thought it would be.
We got there a bit later than anticipated, but from what we could tell, check-in was a total breeze — we'd been anticipating shades of the time we went to Avril Lavigne's show, where we almost died in the crush of looky-loos (but thankfully lived to witness Brody Jenner sitting front row, chewing gum and drinking wine at the same time). The venue was the Celeste Bartos Forum in the main branch (or as we call it, "The Ghostbusters Branch") of the New York Public Library, which is quiet, refined, even classy. Perhaps too classy for a show that involved models strutting around in thongs and garter belts on a stage, all as envisioned by a woman who once danced with a boa constrictor and wore matching denim on denim when out with her beau, but the effort was certainly appreciated. Classical piano music played. Chocolates with Britney's branding on them were distributed. And the entire thing was narrated by a Britney Voiceover, kind of like we were living in the spoken-word portion of "Oops! … I Did It Again," except she was talking dramatically about underwear rather than a necklace an old lady tossed into the ocean in the end. "I am the dramatic beauty of a city at night," Britney told us over the PA. "Moonlight silhouettes the curves of my body, and the sharp lines of [SOMETHING INARTICULATE] that keep the dash of daring mesh and scalloped edges where they belong. What I wear when the sky is silky black. And tomorrow is a promise, waiting to be kept. Intimate Britney Spears Collection."
After the rather small — but, honestly, rapt — crowd absorbed this poetry, Britney came onstage, wearing a red jumpsuit with a plunging V-neckline, which was basically the grown-up business-lady version of her "Oops! … I Did It Again" pleather catsuit. She did not launch into a medley of her greatest hits, or screech anything along the lines of "Watch out, Biel! I'm coming for him, and you can't stop me!" or take questions from the audience (we personally had several), but instead just thanked us all very politely and sweetly for coming out to see a project she's been working on for a long time. The audience clapped, more enthusiastically than we'd seen at the end of several other more conventional shows this week, and then some dude in the audience just couldn't take it anymore. "WHOOOO, BRITNEY!" he yelled. And frankly, we couldn't blame him.