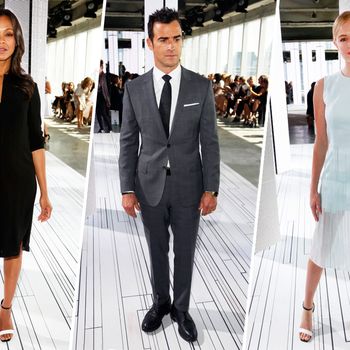 Photo: Richie Buxo/Splash News/Corbis
There's a fun game to be played at Boss Hugo Boss that we like to call "Celebrity or Just a Hot Dude in a Good Suit?" because there is always a surprisingly high percentage of the latter, they all look handsome, and by this point in the week, everyone looks like they might be someone. Today, though, the only actual famous person in said dapper suiting was Justin Theroux, whose eyebrow was in full cocked force during his photo op, and who seemed delighted to be reunited with one particular hoary old front-row photographer. "It's JAY THEROUX," a woman sitting next to the press throng kept announcing. Justin declined to correct her in favor of scrolling through his photographer pal's personal iPhone photo album, which is totally a point in his favor.
On our way up to the venue — a huge open room at the top of 4 World Trade Center with a spectacular view of the water and Lady Liberty — we almost accidentally got into the elevator that was being held for Zoe Saldana and Kate Bosworth to use privately. This is the second time that's happened to us, as on Tuesday night, we almost busted into Barbara Walters's private lift to Oscar de la Renta (she handed the elevator operator her seating assignment and said, "This is where I'm going," as if he could deposit her in B-1-17 directly). This suggests that we probably need to have a few more shots of caffeine. Saldana glowed in a black tent dress — prettier than it sounds — and her gorgeous, giant emerald engagement or wedding ring, and was also accompanied by her look-alike sister. "Guys, she's pregnant, be careful," someone warned the press scrum, which was pleasantly thoughtful, especially considering that nearly everyone we know has nearly gotten whacked in the head with the rear end of a camera more than once this week.
We were surprised to see that Kate Bosworth was brought out last — the timing usually reserved for the biggest star (much the way the A-listers always cruise onto the red carpet last and sometimes skip E! altogether) — given that Saldana's summer movie has made nearly six hundred million dollars and Kate Bosworth hasn't had a hit since Blue Crush. Is she being positioned as the new Hugo Boss Woman, in place of Gwyneth, given that she is kind of a discount Gwynnie to begin with? We can't imagine Goop would allow this to happen, but you have to show up to fight for yourself, Gwyneth. Especially because you're single now and we've found you all these good-looking dudes in suits to ogle.
See the full Boss Hugo Boss spring 2015 show here.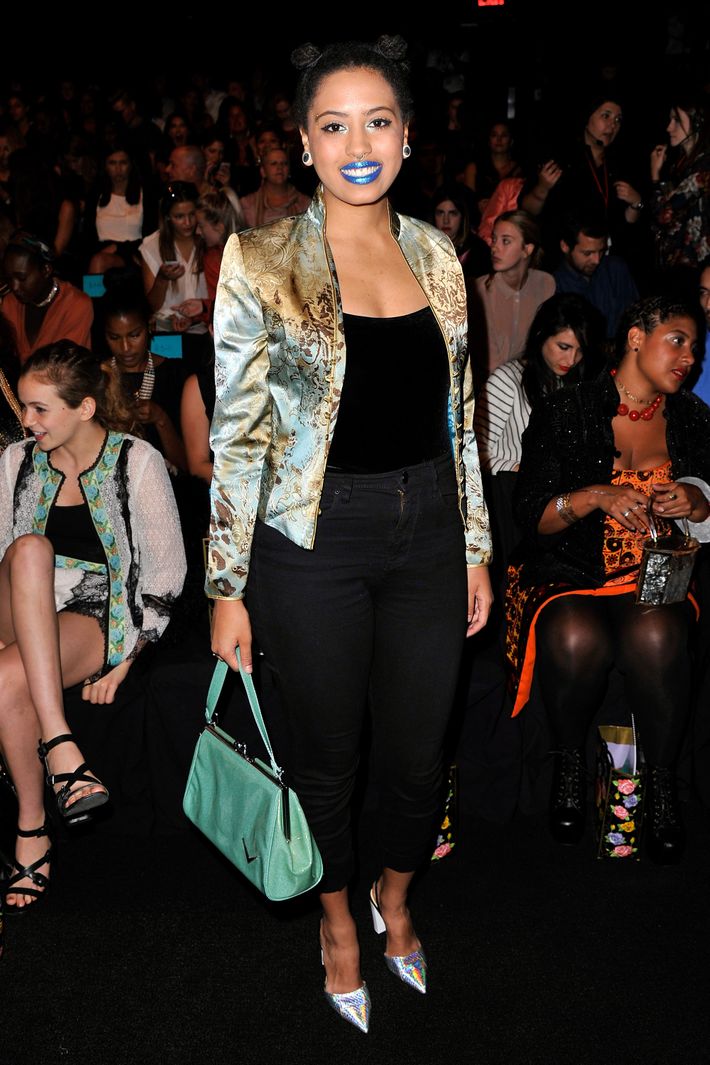 Chiara de Blasio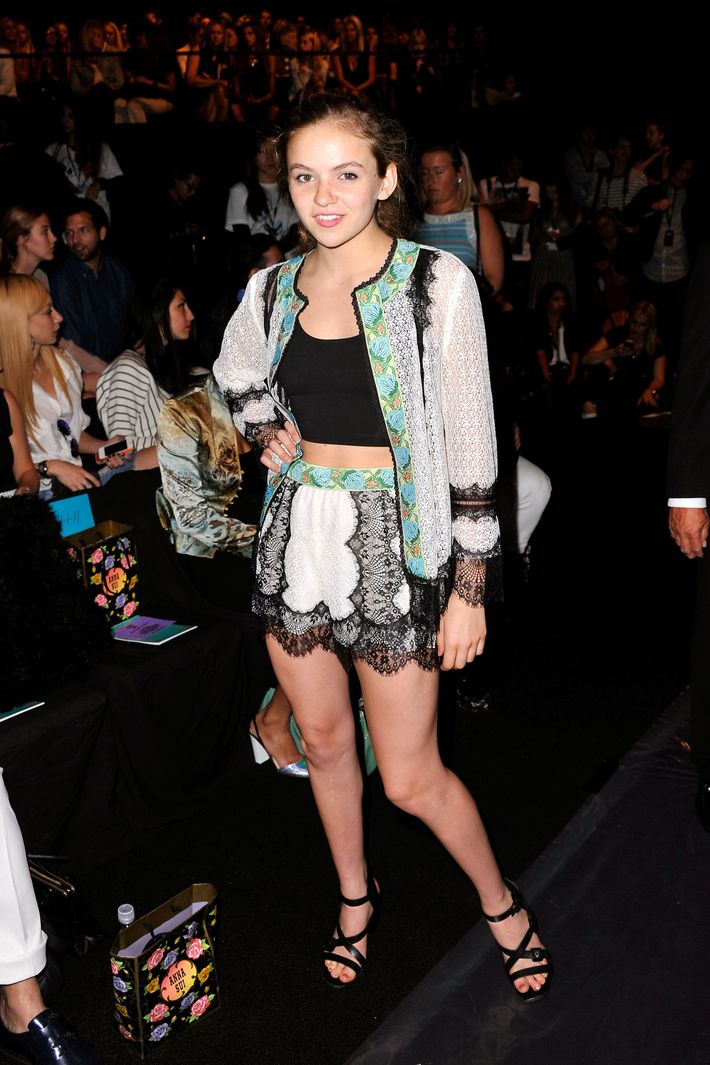 Morgan Saylor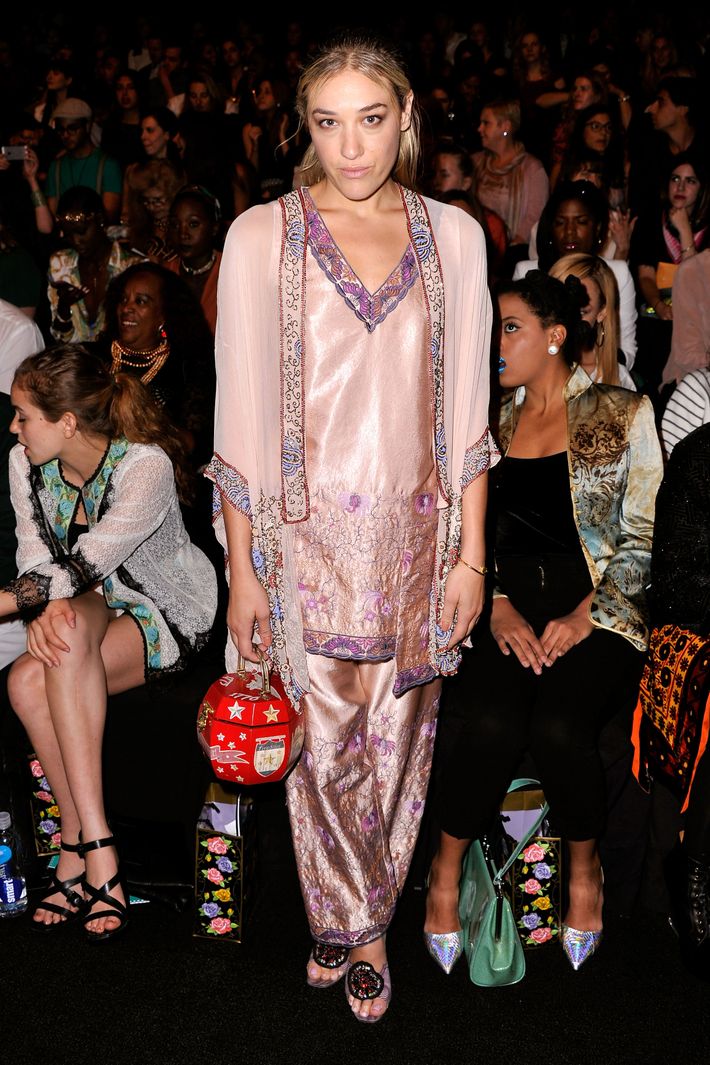 Mia Moretti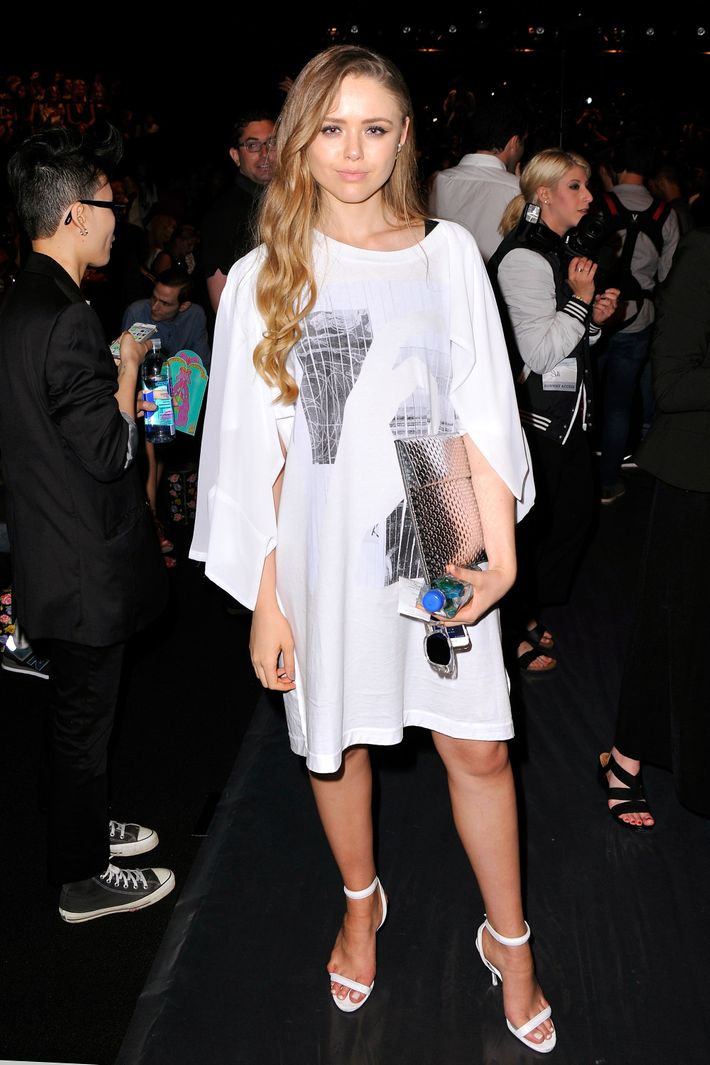 Kristina Bazan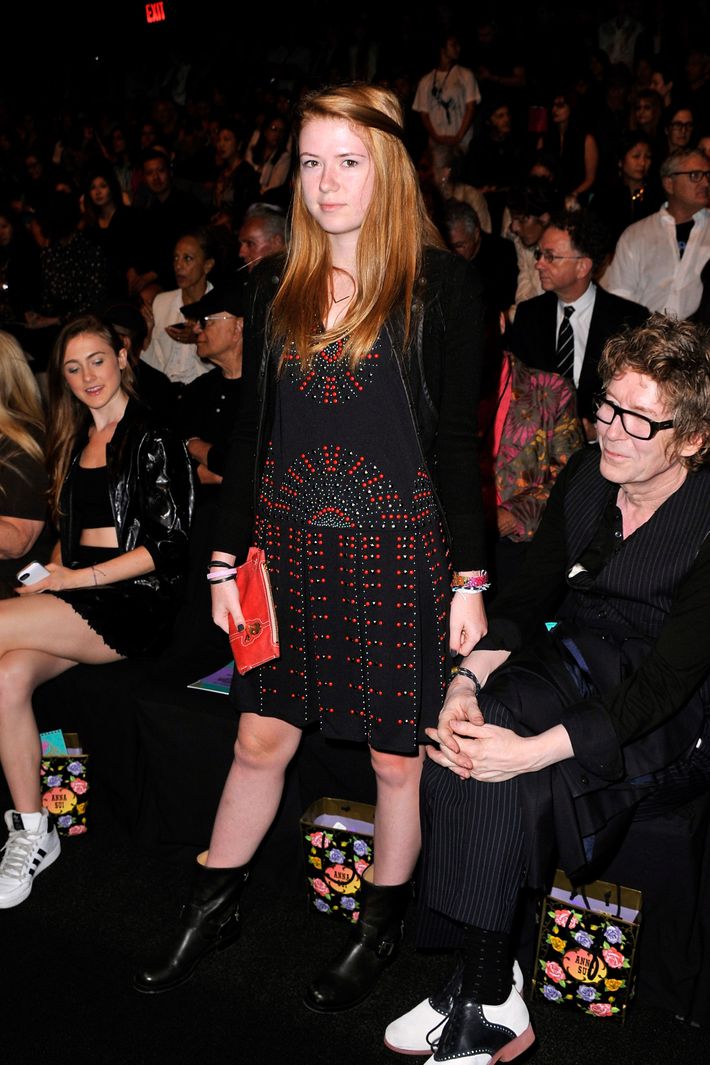 Maggie Mozart Butler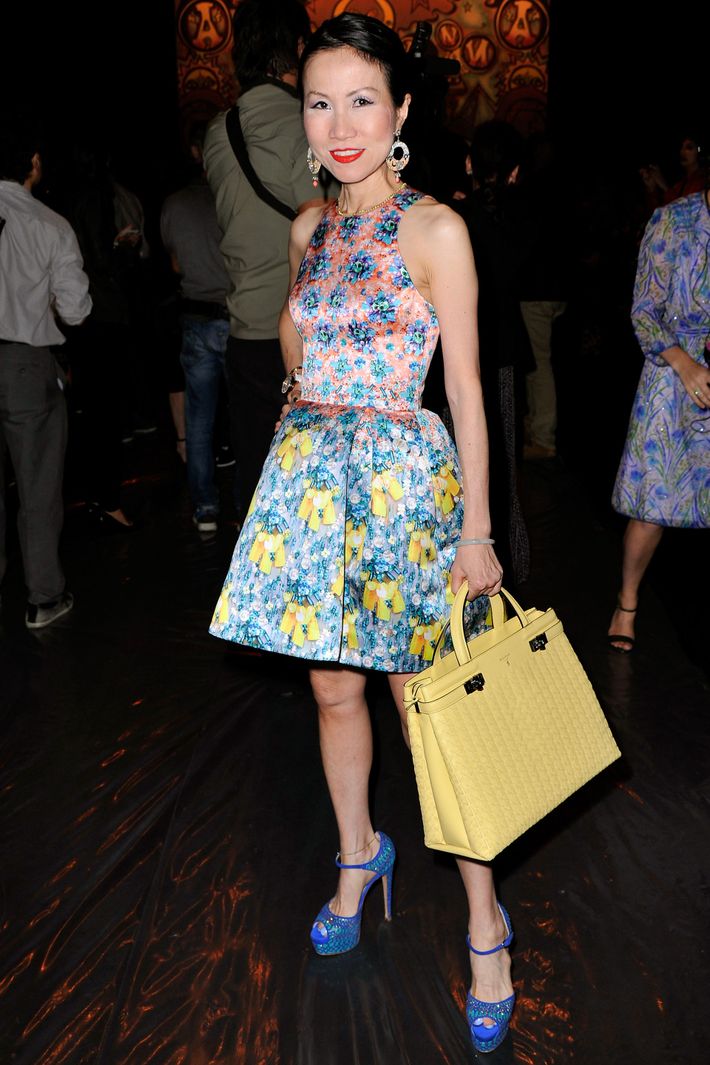 Chiu-Ti Jansen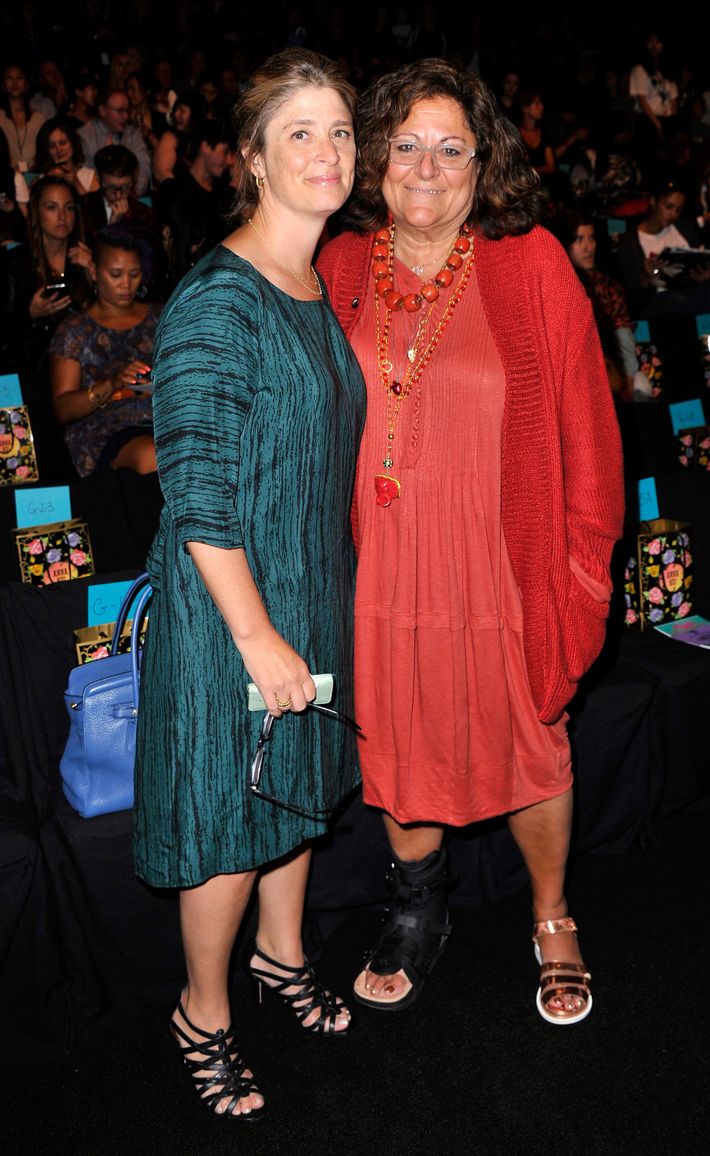 Fern Mallis, Alicia Glen