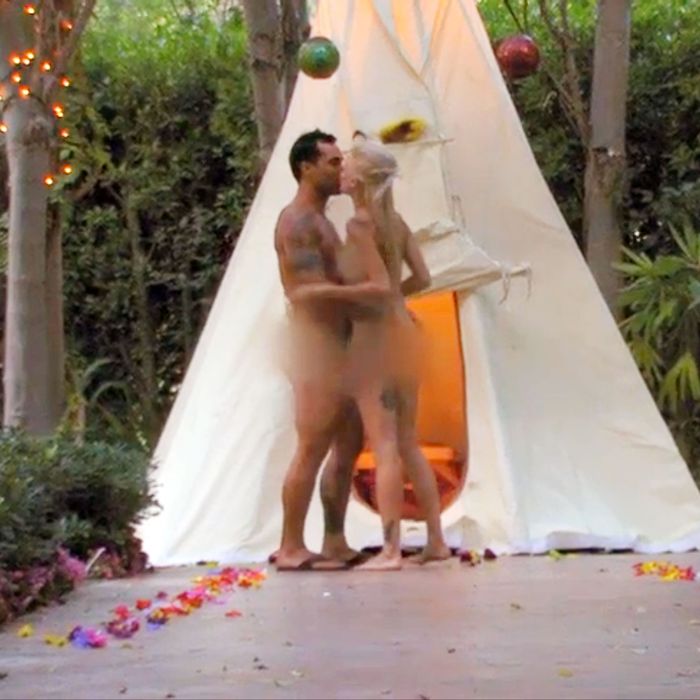 It struck me, while ruminating over this first season of Dating Naked and all that we've been through, that perhaps I've been considering the wrong canonical texts in regard to the contestants. They aren't Adam and Eve from Genesis; they are the Zeus-cleaved lovers Plato discusses in The Symposium, fated to roam a tropical island searching for their other perfect half — or at least a complimentary set of junk.

Over three months and 10 episodes we've watched 60 lovelorn contestants unsheathe and wander a lush Panama island, searching for the peel to their banana and vice versa. On the season-one finale we see a happy ending: hippie Ashley and sex therapist Alika returned to their original four-limbed, two-face, freak state.
The gang gathers together to celebrate A&A's "naked love ceremony" (non-hippie translation: "wedding"), which gives us the chance to get a little update on everyone's post-naked life. What happens when they leave the island and put on pants? Here's a quick roundup:

Joe and Wee Wee are entering a phase of blissful coupledom. DJ Dumb Hair and his inflatable sex doll, Stephanie, predictably took a fuck-trip to Las Vegas and then made a vile YouTube music video. Teenage Chuck and Kristen are still together, but only in the digital sense — they mostly just cybersex together and then cry separately. The Nerdy Royal Couple, Marissa and Steve, are still dating but have turned into that couple — the type that just oozes so much hate for one another that other people feel compelled to hide the butter knives during double-date night at Olive Garden. Sad Moenay is back, still sad, and minus the body chain, so ultimately very boring. Hot Ass Marcus is also back, minus Candice. Still has that hot ass, though.
Alika and Ashley have invited all their fellow exhibitionists to celebrate the nuptials. You see, they are all joined by a naked bond. It's spiritual. Also, the happy couple couldn't convince any of their actual friends or family to attend a televised naked wedding. Though her love cup is overflowing with Alika's essence, the lack of family makes Ashley a bit sad. She wishes her grandmother had attended. She'd love all the balls.
The two meet with the wedding planner, who asks them about standard wedding stuff like DJs and photographers and clothing, and Ashley and Alika request bongos, sage, and paint for people to dip their genitals in. The wedding planner wants to cry from both confusion and horror. Let me help you with this marital vibe, befuddled wedding planner: If Martha Stewart took some ayahuasca and barfed up a wedding to the tune of "Kumbaya," it wouldn't come close to the insufferable level of hippie bullshit we all had to endure for this 45-minuite episode. Grab a bag of rice! It's time to head to the marital drum circle.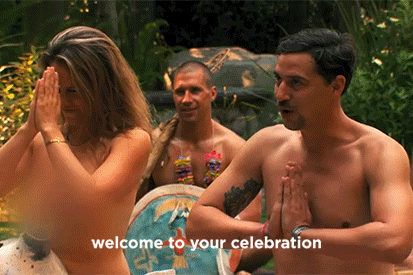 The Pre-Wedding Events:
To help center her guests, Ashley invites them all to engage in a naked yoga session. White man yogi Blue Cheetah leads everyone in some sun salutations, complete with a close-up of their downward dog. While Moenay is sliding into cobra pose, she notices Marcus checking her out. Is it possible that she will be Mopey Moenay no more? After some giggles and some really inappropriate making out, people begin to focus and harness their om. Ashley and Alika look at each other and think, They are ready.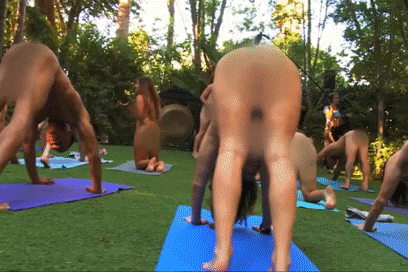 Just in case you forgot, this is not a traditional wedding. Ashley and Alika are uncommon spirits, so nothing common or bourgeois is going to happen here. Rather than have a banal guest book, the couple invites their naked guests to dunk their extremities in paint and smear themselves across a giant canvas, while Ashley looks on weepily. It's beautiful, she thinks, that her children will one day look upon this canvas and see a congratulatory dick smear from Uncle Joe and the loving twin imprints of Chuck's little butt cheeks.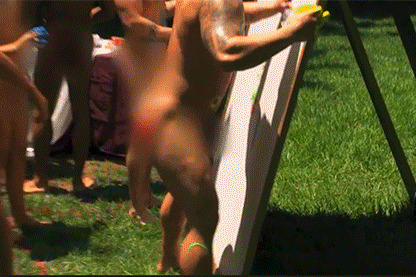 This is how you build memories — just like the pictographs left by the cavemen, future generations will behold these strange shapes and wonder, "What the hell was wrong with people?"

The Ceremony:
As everyone proceeds into the wedding arena, a nice little lawn area with lots of pillows and candles, the mood changes. Where it was once celebratory, it is now full of dread. The guests have never encountered a wedding like this, you see.  They are worried that there might be ritual blood-letting and witchcraft. But, c'mon guys, it's just a bunch of naked people drumming and doing arts and crafts while two boring people speak. It sounds like the best preschool ever. Didn't you guys go to Montessori? I bet it was just like this.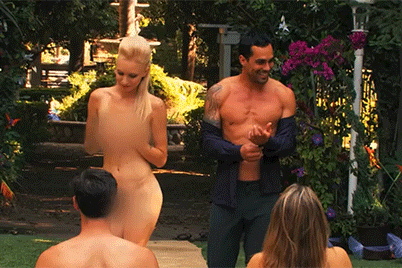 For all the hippie trappings (two shaman officiants, bongos, a naked bride and groom), there was no bloodletting today. In fact, it was a truly bourgeois wedding, made even more bourgeois by the fact that it was trying so hard to be alternative. But, even so, it's kind of sweet. Ashley loves Alika because he is so giving with his sex-therapy work. She loves that he comes home, tired after a long, hard day of administering orgasms. She is happy to kiss away the callouses that have formed on his magical spirit fingers for the rest of her life, because he does Gaia's work. And Alika, well, he took a pretty strong dose of weed tincture about three months ago and woke up at this pretty cool party.
They exchange vows before Shaman Naia and Shaman Regal. I've provided the hippie to English translation for you:

Ashley: I vow to always allow your space to come into your power and yourself. (I'm sure you're gonna sleep around. I've accepted this.)
Alika: I'll always support you, Leo rising. I got your back. (Holy shit. I'm so high.)

Then the bride demanded that everyone kiss, while they kiss. So, for one second we also had a televised orgy. And then we dance. We dance a joyous dance to the heavy bass line of pure and true love.

The Reception:

This whole party makes me miss Dar. Remember Dar? Our proud, naked lion from episode two. He would have tossed back his mane and roared with erotic power. Instead we have to watch poor, nerdy Steve try to impress Marissa by chugging a bottle of white wine and gagging it back up while she looks on in disgust. He then tries to bring back their playful days: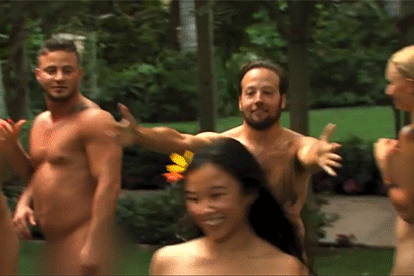 He looks at her sadly. "Let's pretend we're back on the island, babe. Before it's too late." It's too late. They break up at the wedding.

Joe, overwhelmed with love and emotion — and probably responding to that edible Alika slipped him with his nimble spirit fingers — asks Wee Wee to move in with him. It's a nice moment — Joe and his Wee Wee, together forever. And in a fun twist Marcus asks Moenay on a date! Maybe she won't die alone on a cruise ship.


Finally, Alika and Ashley set everyone free and take a sunset stroll to their procreation hut. Ashley has fashioned the traditional neo-hippie tepee of false cultural reverence. Here, they will bed for the first time as an officially bonded couple. Ashley tells us she wants to transition immediately into naked parenthood and is "manifesting a baby." This sounds like a solo activity — perfect because you could see Alika wondering if he has time to grab his shirt before he runs away from this whole situation. But for now, as the amble toward their tepee, he thanks the universe he was able to land Ashley without speaking very much.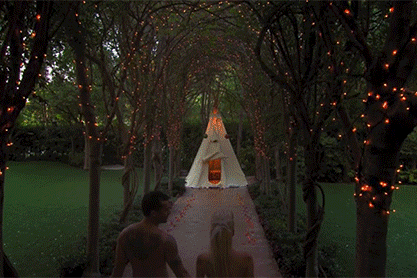 Namaste.

So, did Dating Naked change anyone's life? Mine. It changed mine. I am now so sick of naked body parts I dress in the dark and have covered my mirror in a shroud. But really, it's been a season, huh? We had ups and downs, raging boners, and some really unfortunate blurring mishaps, and someone got engaged — are you guys getting a little choked up? Don't worry, because Dating Naked has been renewed for a second season. Oh, are you now crying tears of joy? Yeah, me neither.

Most awkward naked activity of the episode: Shaman dancing. I'm not really sure what this guy's spirit animal is. An earthworm, maybe?