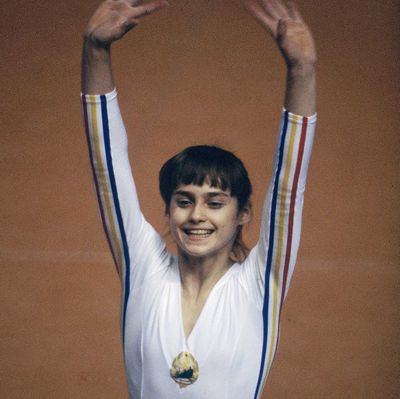 Photo: Walter Iooss Jr./Sports Illustrated via Getty Images, Splash News/Corbis
Gymnastics is one of the most-watched sports of the Summer Olympics — between Games, however, it tends to disappear, its stars retiring often in their teens or retreating to the chalky semi-obscurity of training.
Yet there's some sense that's changing. Today's pop-culture churn, after all, demands endless new celebrities, and gymnasts — young, competitive, and photogenic — are perfect candidates. They've become memes (McKayla Maroney, of "not impressed" fame), reality-TV competitors (Shawn Johnson and Aly Raisman, on Dancing With the Stars), and victims of privacy violations (Maroney again, whose pictures surfaced in the recent iCloud hack). Now the iconic Nadia Comaneci is head judge on a celebrity reality show about gymnastics: Tumble, which concludes its first season on the BBC this weekend. And Comaneci's trajectory as a pop-culture figure reflects the changing status of her fellow gymnasts in general. Where once they were portrayed as fragile little girls, they're increasingly calling the shots themselves, and, maybe unsurprisingly, they seem increasingly adult.
Nadia Comaneci was the first gymnast to score a perfect 10 at the Olympics, during the 1976 games in Montreal. But her global fame nearly four decades after her win is a testament to something beyond that achievement. She's more than a gold medalist; she's a brand, and her brand is "perfection." At 52, Comaneci seems to exhibit the same control in her public presentation that she did on an apparatus at 14. Today she appears on TV in tailored designer clothes that accentuate the same leg lines she exhibited in leaps across the beam, and her hair is perfectly coiffed in loose brown waves. Back then, she rarely made mistakes and her routines were breathtaking in their precision. Her performances never exhibited the screwball energy of live athletic competition. They were scripted through hours of training — more scripted, even, than the reality-TV format she now inhabits.
Now she's the judge instead of the judged: She speaks carefully and deliberately as she critiques the celebrities' performances. And that sense of public control is hard-won (even aside from strictures imposed by growing up in communist Romania). Five years before Comaneci defected to the U.S., the Nadia TV movie aired on network television. In the film, she's depicted as something of a codependent brat equipped with the trifecta of teenage-gymnast clichés — draconian coaching, eating disorders, and stage parents. "I was not consulted for the screenplay," Comaneci said in an email. "The first time I saw it, I thought, 'Oh my goodness — so much of it isn't even true.'" At least Gabby Douglas — a more recent star — got to produce her own cheesy Lifetime movie.
The control that Douglas exerts over her career and public presentation is a departure from how things were done during Comaneci's time and for years beyond. Back in the mid-'90s, NBC and other networks often infantilized female gymnasts in puff pieces that aired during competitions. For one particularly egregious segment, 1996 Olympic gold medalist Dominique Moceanu was seated on a seesaw, at age 13. Gymnasts tended to get asked about their "favorites" — color, food, subject in school — as though they were kindergartners instead of adolescents.
Presenting female gymnasts as children younger than their already-young actual ages was a common practice, and the athletes and coaches were sometimes complicit. Back in the '70s, 17-year-old Belarusian Olga Korbut wore pigtails when she competed at the 1972 Olympics — and again in 1976. Cathy Rigby, the first American woman to win a World Championship medal (in 1970, at age 17), also wore her hair in that style when she competed. After Rigby retired from gymnastics, she began a 30-year stint of playing Peter Pan onstage. It's almost too perfect: a former gymnast as the boy who didn't want to grow up.
Nowadays, gymnasts are still young, but they aren't nearly as infantilized in pop culture — largely because, like most teens, they're heavy users of social media. Gymnasts at the elite level have been cultivating online personas for years that directly contradict the simplistic "little girl" narratives that NBC trafficked in during the '80s and '90s. Maroney is one such social-media master. After the "McKayla Is Not Impressed" meme went viral, she got in on the joke, Instagramming a photo of herself and her teammates making the disgruntled face, captioning it with "The pool is closed. #notimpressed." Maroney rode this meme all the way to the top, pulling the face in the Oval Office with President Obama. And in 2013, Maroney was voted the Best Athlete on Social Media by USA Today, beating out the likes of Kobe Bryant for the honor.
Gymnasts have also increasingly continued to compete into their late teens and in some cases, their 20s, which has allowed for rebranding themselves later in their careers. Alicia Sacramone started off as a spunky 16-year-old powerhouse, but she remained competitive into her early 20s — and that was when she was photographed naked on a balance beam for ESPN's 2011 Body Issue. Former Russian superstar Svetlana Khorkina posed for Russian Playboy. Like Sacramone, she was older than the average teenage sprite when she appeared in the magazine in 1997 while still at the height of her competitive powers.
Those sexualized depictions of gymnasts would've been hard to imagine back when Mary Lou Retton exploded onto the scene with her exuberance, powerful vaults, and pixie hair. Retton was the first female athlete to appear on a Wheaties box, an achievement in keeping with her breakfast-cereal wholesome image. In 2014, Retton showed up in a Radio Shack commercial for the Super Bowl playing her 16-year-old self, wearing a short wig and an American-flag leotard just like the one she wore to win the 1984 Olympic title. Though she has aged in the three decades since her win, not much about her image has changed — but as Comaneci's transformation shows, a lot had changed around her.