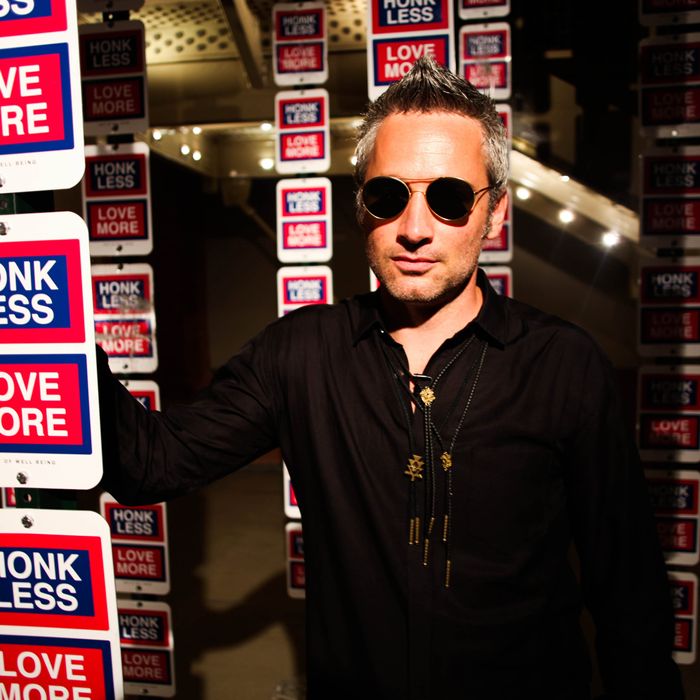 With his harsh English accent, penetratingly confident speaking style, and perpetual aura of cigarette odor, artist Killy Kilford doesn't give off a warm-and-fuzzy vibe. But get him talking about "Love Up Guns Down," his unusual partnership with the city government of Newark, and his phraseology gets downright touchy-feely.
"My own view is that the world gets more human if we get more interested in happiness and well-being, and governments should be involved in that," Kilford told me. "Governments should have wellness ministers and happiness ministers."
"Love Up Guns Down" won't install a deputy mayor for cheerfulness in Newark. But starting this fall, the project will install metal street signs — hundreds of them, all paid for by an anonymous art collector that Kilford knows — throughout the city. Instead of declaring traffic instructions or ordinance notifications, each sign will contain one of ten inspirational phrases coined by teenagers during workshops Kilford held in Newark schools and detention centers in the past few months.
"There's 'Less Drugs, More Hugs,' there's 'Follow Dreams, Not Crowds,' 'Make God Big Homie,'" the silver-haired 38-year-old said, counting off the slogans on his fingers. "I didn't want to be the English guy that jumps in there and says, 'Let's be happy and put signs up,' so the workshops were about making sure you're engaged with the right tone and real Newarkers to come up with these phrases."
The project is set to launch on October 15, when Newark mayor Ras Baraka will install the first of the signs himself. The Newark Anti-Violence Coalition — a coalition of community activists whose members helped Kilford get the project off the ground — will install 100 more later that day. In the remaining months of 2014, the city will put up another 100, meaning happy street signs will soon be a near-ubiquitous fixture in Newark, no doubt inducing some head-scratching from outsiders who are unfamiliar with the project.
Kilford has one goal above all others for the signage: reducing crime in a long-suffering city. But, ironically, the project has illegal origins. In January of 2013, Kilford — a painter by trade — moved from the U.K. to New York City and found himself fixated on New York's metal street signs. "They were burned into my brain," he said. "So in my head, I started changing the words to what I wanted them to say." He made paintings of street signs with positive messages, but soon decided he wanted to try a new and risky medium.
And so, in November of last year, Kilford undertook a guerrilla installation campaign he dubbed "The Department of Well Being." He designed, manufactured, and screwed in authentic-looking metal signs in downtown Manhattan and Brooklyn. They featured up-with-people slogans like "Do Great Things Today" and "Honk Less, Love More," and garnered some minor press before the Bloomberg administration's Department of Transportation, apparently unamused, had them taken down.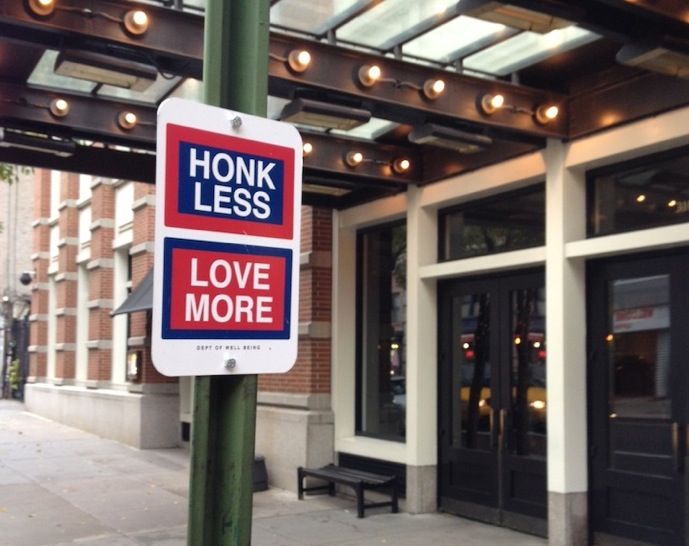 But Kilford couldn't get the idea out of his head, largely because he thought it presented the opportunity for a fascinating, large-scale experiment in social engineering. He's a rarity among painters, in that he's spent nearly a decade also doing work as a government consultant, and one of his specialties is measuring and increasing happiness through state-led initiatives. Trained in systems design, he's the co-author of a book (under his legal name, Craig Kilford) published by the British government with the decidedly non-artsy title Management of Portfolios. According to the back cover, it provides instructions on "how to identify the right programmes and projects to deliver and, in the portfolio delivery cycle, how to make sure they continue to meet the organization's strategic needs and provide the benefits they promised." (In plain English: It taught administrators how to juggle multiple projects within large bureaucracies.)
Dull as the tome may have been, it snagged the attention of the U.K.'s Office of National Statistics and its director general, Glen Watson. Kilford brought his expertise on portfolio management to Watson's office in 2012, while the agency was hard at work on David Cameron's push to measure and increase the country's social well-being (a push initially derided in the British press as the "happiness index").
"If you think about the statistics that a given country has, there's always this intense focus on GDP," Watson told me. "But if you want long-term strategies, you need to take account of the stock of natural, social, and human capital that a country has. You want to exploit that capital and not run it down for the sake of economic growth."
Kilford was a quick convert to that idea. This spring, he tried to convert someone else: Ras Baraka, then a candidate for Newark mayor, and today the holder of that office.
***
Kilford has no family in Newark. He has no professional history there. Until a few months ago, he had never set foot in the city. Indeed, his interest in Newark is somewhat arbitrary. Last December, he says he came across a news story about the Christmas shooting death of a 13-year-old girl and a 14-year-old boy in Newark. The city's crime rate was already double the national average, and that double homicide had pushed the year's murder total into triple digits for the first time in nearly a decade. The shooting spurred Kilford into action. "I thought happy street signs and creativity could help prevent it happening again," he said.
So, uninvited by anyone, he decided to cross the Hudson and get to know the city. He says he sought phone numbers for high schools and youth detention centers in Newark and cold-called them to arrange workshops where he could encourage teens to create designs for their own happy street signs. But he also had his eye on bigger fish. In the spring, he started attending election events to see how the candidates vying to replace Cory Booker were going to tackle the crime epidemic. At one such event, he first saw Baraka.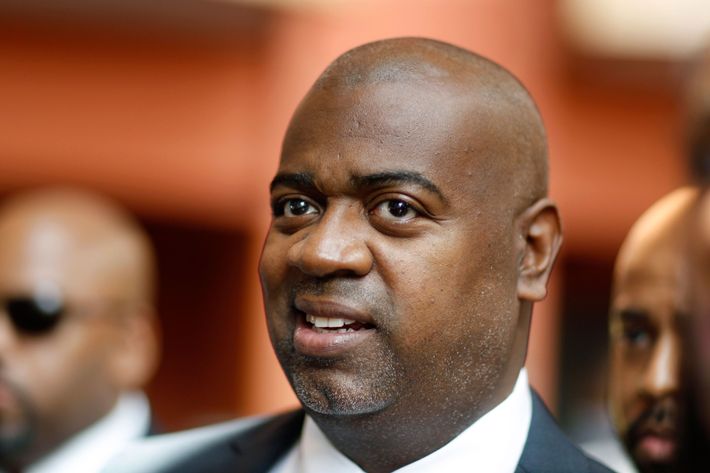 "I chose Ras three months before he won the election because he was a poet," Kilford said, referring to the incoming mayor's long career in spoken-word performance (he even appears as the narrator on The Miseducation of Lauryn Hill). Kilford says he cornered Baraka after a speech. "I showed him my photos with the New York happy street signs, and he said, 'This is amazing, we have to get this everywhere. Here's my cell number. Call me.'" (Baraka couldn't be reached for comment, but his press office forwarded a statement saying the mayor is "really looking forward to working with Killy Kilford to bring Happy Street signs [sic] to Newark.")
Meanwhile, Kilford was still setting up sign-designing workshops, and around that time he met Eleanor Elcock, a substance-abuse counselor who's spent 16 years working at Sojourn, a high school attached to the Essex County Juvenile Detention Center.
"I didn't know how [the students] would respond to this gentleman with an English accent who was an artist, but I knew he was different and at Sojourn, we do different," Elcock told me. She brought Kilford in for a workshop in March with roughly 90 teens and said she was astounded to find that "they put up no resistance, whatsoever."
"These were children who, before their cases hit the newspaper, they were not heard," Elcock said. "Sometimes, when they get involved in criminal activity, it's because they're trying to have a voice."
And now, teens from Sojourn and elsewhere will have their voices printed on signage throughout Newark. But can words you might see on a greeting card or a refrigerator magnet actually reform a violent city? That's where expert opinion sharply splits. Kilford has entered a vicious debate about so-called "Social Practice," a field of public policy that often uses large-scale art projects to revitalize suffering communities.
Aurash Khawarzad, an urban studies researcher at the New School, is deeply skeptical about Kilford's project. "The reason there's crime in Newark is there's a broad set of systemic political and social problems, and to the extent that crime can be reduced, those issues need to be addressed," he said. "Project fatigue ends up happening in communities like Newark. You have people coming into a community and saying, 'We're here to help you, this is our process,' and then nothing happens. And next year someone else comes in with another plan, and next year someone else, and eventually it all becomes harmful."
Anne Pasternak, the president of public-arts organization Creative Time, wholeheartedly rejects that skepticism. "I think I have project fatigue fatigue," she told me with a laugh. "Anything that contributes to people coming together, having a positive experience, and shaping their city is an extraordinarily positive thing."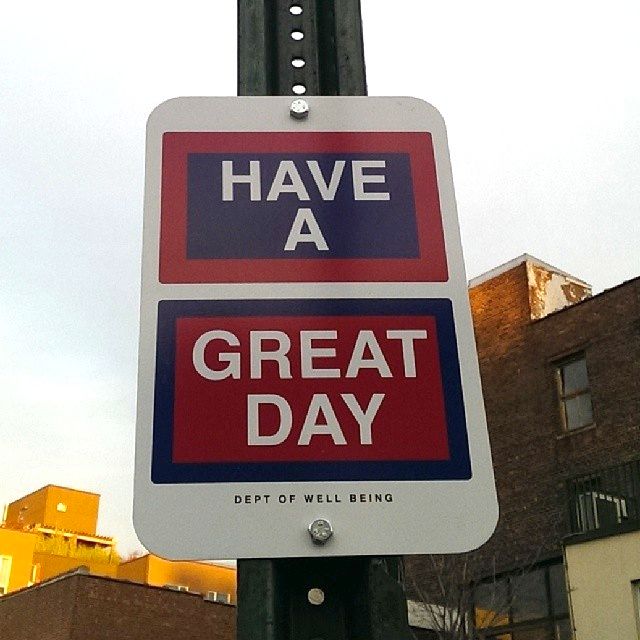 Pasternak and others point to a well-publicized success in the Social Practice movement, a Houston-based initiative called Project Row Houses. Led by artist-activist Rick Lowe, Project Row Houses has worked for more than 20 years to invite local African-American artists to turn abandoned houses in the impoverished Third Ward into art spaces. It's received critical acclaim, become a model for Social Practice projects throughout the country, and made Lowe a trusted partner of the Houston city government.
Pasternak drew a direct parallel between Project Row Houses and Love Up Guns Down's anti-crime goals. "Did Project Row Houses have a profound impact on the children of the community? No question. Can I tell you that they didn't end up in crime directly because of Project Row Houses? No, you can't know that for sure," she said. "But the alternative is to do nothing and be part of the systemic disinvestment from these communities."
***
Kilford expresses zero doubt that Love Up Guns Down will make a major impact, although he's not totally sure how he's going to measure that impact. For some qualitative measurements, he'll rely on help from the Newark Anti-Violence Coalition, whose members will travel the city and take periodic well-being surveys — a tactic Kilford learned during his time with the Office of National Statistics. The questions will be about how the street signs make respondents feel, and how they feel about crime in general. Kilford and the mayor's office will also keep their eyes on the crime rate (though Kilford hastens to add that he's not expecting a massive drop in crime right away).
Even though Love Up Guns Down doesn't launch for another month, Kilford is already envisioning aggressive expansion.
"I'm looking at Detroit," he told me. But as he said those words, he was sitting next to a PowerPoint slide that betrayed his true ambitions. On it was a world map with nearly 100 red dots scattered across it, from Russia to Sudan to Cuba to Yemen — one dot for each city he thinks could use some happy street signs.
Video courtesy of filmmakers Sean Flax and Omar Kasrawi, who are making a film about the project.