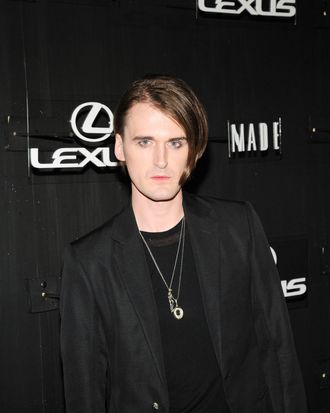 Photo: DAVID CROTTY/Patrick McMullan
After weeks of speculation as to just what craaaazy disruption Gareth Pugh had in store for Fashion Week, last night everyone found out. The Lexus Design Disrupted featured designer transformed Pier 36 into a multi-chamber "immersive" experience that drew everyone from Sarah Jessica Parker to Tyson Beckford to Maggie Gyllenhaal. The large space featured three separate scenarios that happened simultaneously. There was an eight-panel installation featuring interactive movies while an area was roped off for modern dancers to writhe against a movie backdrop. The centerpiece, and highlight of the venue, was a surreal indoor tornado set against a haunting film. Sarah Jessica Parker was quick to call it "amazing," while Amber Valletta told the Cut it inspired her to take a dance class just before she jetted off to give the man of the hour a congratulatory kiss. We caught up Pugh to find out more about the process behind the entire event and how British folklore played a role.
What did you think of the presentation?
I watched it from the wings and it went up well. I've always wanted to do something on this scale that felt quite immersive. When Lexus asked me to be part of their event, it was kind of a no-brainer. We had to cancel my show in Paris, which I guess is quite a big deal. But to be able to now do something like this is dream come true.
Lexus told me that you did this in two months.
The collection obviously was in my head, and we were working on it a lot before. But then when this came up, it basically just freed [me] — to do a collection that goes down a runway is very different than doing a collection that works on film. It enabled us to do a lot more interesting things than we would have normally been able to do. 
You've done video presentations before. How is this one special?
We've never mixed — we've never had more than one video and we have three. We've never mixed live performance. It's all based on British folklore. The first installation is very ordered and structured, like a strong circle. All of characters that inhabit are characters from [fables and legends]. It's very much about the seasons, paganism, and referencing gods of the harvest and gods of the sea. So you've got that, and then it moves on to this chaotic elemental, visceral thing.
Tell me about the tornado.
It's an idea of building something up and tearing it down again, which then leads to the end thing. She's down on the ground like a maple with all these fabric strips, which then raise up and form this image like a phoenix. It's birth, renewal, death, and rebirth. When something ends, something new begins. It's kind of, for me, an optimistic message. And then at 10:30, we run the whole thing again. It instills the idea of something cyclical — like fashion, I guess. It's what creative people do. They do something, they move on. You grow from it. It's an evolution.
In past interviews, you mentioned that this was among your more expensive shows.
We would have never been able to do this on our own. Lexus has been great. They've kind of just given me free rein to do whatever. 
Did you choreograph the show as well?
Wayne McGregor came over. We shot everything in New York in the middle of August for the films. He came over to direct the models and dancers that we had onscreen. And then he came over again with his dance troupe.
Can you tell me about the second act more? I've seen those tornadoes at science museums.
There's a guy Daniel Wurtzel, who's an artist who creates all these amazing installations with air. I've always wanted to work with him. I discovered his work about four years ago. He's always been in my bookmarks bar on my computer. Luckily, he lives in Brooklyn. I got asked to do this project, and I was like, "We have to work with guy." He creates this magical thing that appears from nowhere and then disappears.