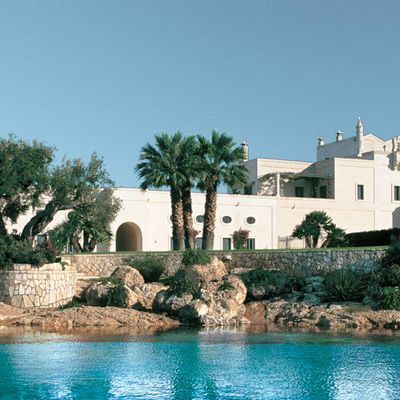 Photo: Courtesy of Masseria San Domenico
If you've been regularly devouring our Italy blog, by now you might be a little pasta'd and negroni'd out. And if carbs and empty calories really aren't your thing, and, say, fitness and wellness (zzzz) are, we want you to feel included too. So here are five options for health-conscious, touchy-feely, and probably-slightly-body-dysmorphic Italian escapists. We'll wave "Ciao Bella!" from our rooftop aperitivos…
1. Look Younger in Padua at Abano Grand Hotel
First of all, this is the only five-star deluxe hotel in Padua, a delightful, art-history-rich region super-easy to piggyback onto a trip to Venice. Abano was just revived in a major way, and now boasts 72 treatment rooms, three large thermal pools (filled with healing water from underground springs), and a "medically sanctioned" spa mud farm. The spa menu includes services like hormone rebalancing and stress reduction. There's also a grotto, Roman baths, and a plethora of saunas and showers that, well, promise miracles. Everything is designed in classic Venetian style, reminiscent of the Italian Baroque era. 
2. Go Glamping Near Venice at Canonici di San Marco
Also near Venice, the first Italian glamping site, Canonici di San Marco Glamping Tents, sits on four acres of a magical meadow, with a just-installed 17th-century barchessa filled with Murano crystal and Italian antiques. This is a seriously pure and soulful place — which will no doubt come in handy after all those bellinis at Harry's Bar in Veneto.
3. Do Yoga Under Fig Trees in Umbria With Paraiso Adventures
Paraiso Adventures, the travel company that offers earthy retreats all over the world, has a cool opportunity for a last-minute yoga retreat in breathtakingly bucolic Umbria. Renowned yoga teacher Michelle Barge will host the seven-day trip early next year. Zen-istas will join together in an authentic Umbrian Villa, with yoga all morning and all night, and castles, hot springs, and … wait …wine-tasting (?) all day. 
4. Get Your Thalassotherapy On in Puglia at Masseria San Domenico
First of all, what is Thalssotherapy? Basically, it's natural healing via sea water. And there's no warmer, kinder, more karmically blessed sea water than what's in Puglia. San Domenico — an Italian mansion turned Über-elegant resort — has thalassotherapy packages to cure any need, from serious medical conditions to divorce-induced imbalances. This, paired with their Mediterranean Diet program, smack in the middle of olive-oil-glistening Puglia, is pretty much a godsend for those feeling a bit beat up by life. Packages can be customized, but best to go for a six-night stay, which includes a private room, a personalized Mediterranean Diet (devised by the Med-diet guru, Dr Grassi), customized thalassotherapy treatments, and unlimited access to the thermal pools and aromatic showers.
5. Go on an "Alkalizing Ph Diet" in Tuscany at FonteVerde Spa
This place has everything you want from Tuscany, plus half a dozen diet and detox programs to choose from. Built amid thermal springs discovered by the ancient Etruscans, their award-winning spa, a favorite of the Vogue Italia set, features more than 100 stellar treatments. For a hardcore weight-loss program, stylistas are abuzz about their Alkalizing Ph Diet program, which includes a a weeklong stay with weird and highly researched food, medical consults, ancient-sounding gym classes, lymphatic drainage facials, and hydro-massages.