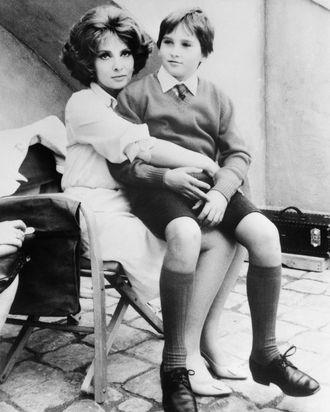 I was riding the bus to Via del Corso when I noticed a smoldering-hot Italian guy checking out my legs. Sure, I had a boyfriend, but everyone wants to feel wanted and plus this guy had that particular Christopher Moltisanti sweet/dirtbag swagger that I've never been able to resist. (Get a therapist; I know, I know.) Anyway, before I could do anything about it, there he was, kissing another woman. O mio dio! We hadn't even hit Piazza Venezia yet, and I was suffering already. At least she was older than me. In fact, much older. Wait, was that his mother?! Yep. There he was, giving big, impassioned pecks to this maternal figure — who was 100 percent his mother — on her head, her cheeks, up and down her arms; unapologetically lavishing her with love and affection. The mother was, to say the very least, eating it the f*ck up. And so began my introduction to the Italian mammone (translation: mama's boy, times one million).
Sure, I'd heard about it, but I didn't realize just how outwardly, over-the-top doting these guys were; Jews, Greeks, Indians — those boys usually have short umbilical cords, too. They also like to have their laundry done and underwear bought and spaghetti spoon-fed, but they're at least sort of embarrassed by it. And at least they don't have their marriages annulled on the grounds of "too much maternal dependence." But of course the flip side of that attachment is devotion of the highest order: pure, loyal, and completely endearing (in moderation). Now back from my year in Rome, I've even become a bit nostalgic for it. (That, and all the Negronis, pasta, and sun-dappled villas.) We checked in with six of our favorite Italian men around town — most of whom were volunteering at the annual Charity Day hosted by Cantor Fitzgerald and BGC Partners — for their best tips on varsity mother-loving you can use on this side of the Atlantic.
1. Let her think you're Jesus … like, the Jesus.
"Italian mothers think their boys are God. It's like they are the Prince. If you think about why: They grow up and they don't leave home 'til they're 33, just like Jesus. They hang out with the same 12 guys, and their mother thinks they're God. Look, I'm sure all people from all ethnicities think they treasure their sons. But Italian mothers — it's something special.

"Growing up, my father would say, 'I really don't feel like eating fish today.' She would say, 'That's what we have. You gotta eat it.' I would say, 'Ma, I don't wanna eat fish.' She would go, 'What do you want, honey? I'll make you something else.' And she's still like that. My mother's 94 now, and she's still like that."
 —Chazz Palminteri
 2. Refer to her only as "Ma" (or just be Danny Castellano).
"Italian boys, they love their mothers. But, oh, she gave me beatings. She taught me everything. I mean, the best love of my life was my Ma. She put me in my place, and any time that I was in trouble I'd look for Ma. It was all about Ma for me." —Tony Sirico
3. Protect her and tell her she's pretty.
"My mother was one of my best friends. Here's how to love your mother like an Italian: Don't argue with your mother. Don't disagree with your mother. (Because she's usually right.) And always protect your mother.
"When I moved to Rosedale … there was a Mother's Day contest where you had to draw your mother. I was 5 years old. I used to draw gladiators. She said, 'Why don't you try to draw me?' I tried, but it was coming out like a muscle man, like a monster, like Hercules. I was crying while I was making it. I said, 'Mom, this is terrible. You're so pretty, but you look so terrible in my drawing.' It was like this crazy red-headed woman. She looked at it and said, 'You know, it's interesting. Don't worry about it.' She submitted it. I was in tears. I was humiliated. They called me up on Mother's Day, and I won the contest. I won this huge box of candy. So that says a lot about my relationship with my mother. That was a true story." —John Turturro
4. Let her schlep you wherever she wants.
"My mother, I loved her dearly, she left us way too soon. And she was my life. I was the youngest of four, so I really got spoiled. I was so close to her. Every weekend, we would either go to the park for a picnic or to Coney Island — and then we'd stop at Nathan's for a hot dog and French fries. They didn't drive, so we took the bus and the D train. I remember it like it was yesterday. Those were great moments — life was simple." —FDNY Commissioner Salvatore Cassano
5. Give her (more) stuff to pray for.
"I'm a second-generation American, so my mother was born here. But my grandmother would pray for me. She would actually anoint my head with oil and pray to God in beautiful Italian words because I was her first son. She would just stare back at me, anoint my head in oil, and pray for me in Italian. It made me feel good because she believed in God very strongly. She had a lot of faith, and that's important." —Dominic Chianese
Bonus: Love your nonna as much as your mama.
"When you're Italian, the mother is the center of your universe. You'll never find another woman to replace her, and if she can cook, forget it. Italian men are very practical — we want to be loved and fed. Nothing brings my mother and grandmother more joy than cooking for me and doing my laundry. Even now. Here's a perfect example of my grandmother: I used to have a paper route, and I'd have to wake up at the crack up dawn. But my grandmother would wake up even before me to prepare the papers and put them in the basket of my bike, just so I could sleep five minutes more." —Joe Bastianich
With additional reporting by Sean Fitz-Gerald and Trupti Rami.