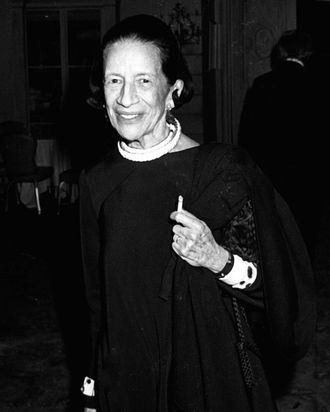 Photo: Ron Galella, Ltd./WireImage/Getty Images
Diana Vreeland may be remembered most for her work as the editor-in-chief of Vogue and legendary sense of style, but now her grandson, Alexander Vreeland, is bringing other senses into the equation. He's launched Diana Vreeland Parfums, a five-scent collection that goes on sale at Bergdorf Goodman and Colette this week. It features bottles named after her favorite exclamations, like Absolutely Vital, Perfectly Marvelous, and Simply Divine.
And that's completely fitting: During her tenure as a special consultant to the Costume Institute at the Met, Vreeland was known to pump fragrances in the air-conditioning ducts of her exhibitions, as well as for perfuming her furniture. Alexander spoke to the Cut about modernizing his grandmother's legacy and storytelling in scent form.
How did the idea [for the perfume collection] come about?
There's a huge following of my grandmother for her points of view, her ideas, her free spirit. [We wanted] to tap into that kind of empowerment, in a wonderful, quirky, intelligent way.
But why a fragrance? 
She had a huge passion for fragrance. She would put them in the air-conditioning ducts at the Metropolitan Museum for her exhibits. It was truly emblematic. Also I think great fragrances tell a story and she was a great storyteller — and people want to feel part of her tales. One of the interesting challenges in developing this brand was to figure out the voice between historical accuracy and modern relevance. We wanted to tie into my grandmother's story, but create fragrances that she would wear today if she were alive. And not at all to seem like some guy's grandmother came up with this. It has to speak to a younger generation — it has to have that vitality for people in fashion.
What were the historical elements that you decided to modernize?
People would say all you have to do is re-create her living room, but it was more like a museum. Bruce Weber took these pictures of it (in a very modern way) and he gave us permission to blow them up. We realized we didn't really want them. We didn't use any images of her or her home — we just concentrated on her words. It was a process of discovering how much of her to bring in. And when people came in, they said, "This is wonderful! I was so scared you were going to get all nostalgic." That's the balance that we're talking about.
Did you have particular memories of how it smelled when you saw her or went to her home, or what she used at the Met? Were there any particularly evocative scents you associated with her?
We created an olfactory brief. I spent many hours with the perfumers and with my wife about where our passions were. We didn't go out saying, "We want a rose fragrance"; we just started with different ideas. We finished up with five fragrances that we really love that are the beginning of a collection. We want to expand from there.
Expand into … ?
I think we can go into all areas of the beauty world, like scented candles and home products. We could get into wonderful red lipsticks and nail polishes, body creams, and body-cleansing products. It's a beauty line, so we [will] just broaden it. She really had authenticity and a point of view in those areas.
So have you asked [Costume Institute curator] Harold Koda if you can spritz these fragrances in the vents of the Met?
I haven't yet, but it's a good thought. It would be totally appropriate.