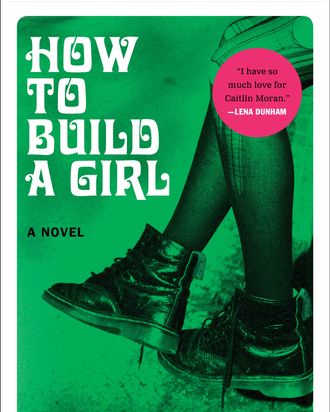 (Excerpted from Caitlin Moran's new YA novel, How to Build a Girl.)
A party is definitely a collaborative effort, I observe, looking at all the other people having conversations, and dancing together, and in the corner, kissing. Oh, kissing. I watch the kissing until it's obvious I'm watching the kissing, and then I walk away, quickly. It's bad to be seen watching kissing.
By now, my unkissed kiss feels like gunpowder on my lips — if anyone comes near me with even the vague heat of attraction, I will go up in a sheet of flame — mouth first. I feel a sexual fury for a moment. Oh, God — why won't you let me fuck you! All of you! Everyone in this room. I have a feeling I'll only ever properly make sense in bed, on my back. You would understand what I meant if we were there.
Anyway. Over the next ninety minutes, I try a variety of different tactics to make it look like I'm not lonely at this party. My findings on how to "party on your own" are as follows:
1.        The buffet. There is a fabulous spread here, and no girl can truly say she is alone if she is standing next to a plate of honey-glazed miniature chipolatas! I eat six, thoughtfully — then worry that I simply look like an abandoned girl eating a lot of small sausages. Under the common teenage misapprehension that anyone is (a) ob- serving and (b) gives any kind of a fuck what I'm doing, I then take two paper plates and load them up — as if getting food for a friend, who is over the other side of the room. I give this scenario all I've got — deliberating over slices of miniature quiche, and then rejecting them, because my friend — "Claire" — does not like quiche, "remembering" that, unlike me, what "Claire" really likes are Scotch eggs — then walk across the dance floor, "looking" for my "friend" "Claire," until me and my two loaded plates reach …