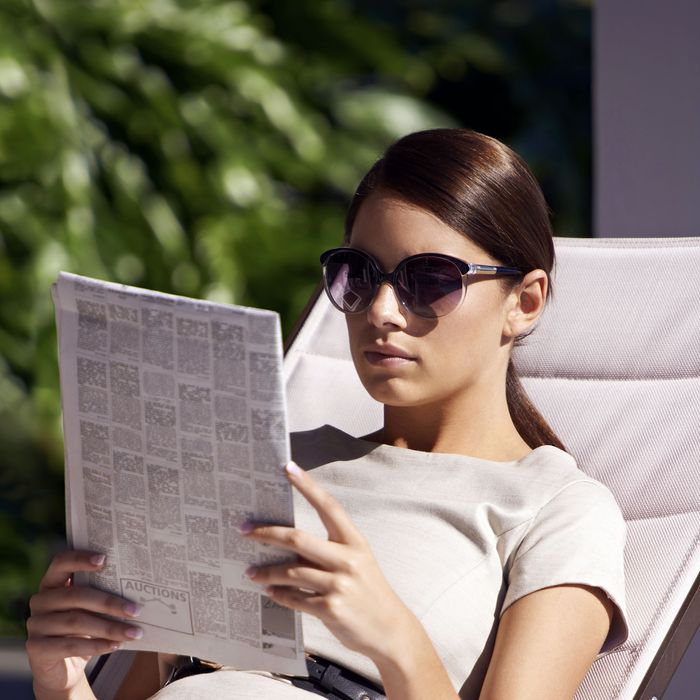 Like a new language, mastering Fashion Week requires total immersion. If you're not totally cut off from family and friends, dreaming in Cara Delevingne Instagram-isms and waking up with Champagne tongue,  you're not doing it right. For seven to ten days, one glimpses the real world only if she accidentally open a news app while staring at her phone outside Lincoln Center, waiting for someone to take her picture. So it can be hard to remember that all around you — indeed, in this very city — the rest of humanity soldiers unfashionably on. Here's how to talk to them, if you must.
Topic: Politics
What you need to know: This one is important, which is to say potentially embarrassing. In addition to being Fashion Week, yesterday was also the gubernatorial primary in New York. (As if dueling Wang and Prabal parties weren't enough of a scheduling headache.) When people talk about Zephyr Teachout, they're not talking about the latest whimsically named socialite-model-DJ. Teachout is a Fordham law professor and anti-corruption expert who is running a long-shot campaign against Governor Andrew Cuomo for the Democratic nomination. Her running mate, Tim Wu, coined the term net neutrality.
How to bring it back to Fashion Week: Teachout was awkwardly snubbed by Mayor Bill de Blasio at the Labor Day parade. Maybe he picked up the cold shoulder skills from his new fashion besties?
Topic: Business
What you need to know: Today, Apple announced a new iPhone, a big iPhone, and its first wearable device, the Apple Watch.
How to bring it back to Fashion Week: It was announced by a dude wearing an infinity scarf and a man-bob. The new man-bun?
Topic: Sports
What you need to know: Football is happening again already, minus Ray Rice. The Baltimore Ravens running back was fired and suspended indefinitely after a longer and less ambiguous video depicting his physical abuse of then-fiancée Janay was released by TMZ yesterday. Marin Cilic won the U.S. Open, but don't even fake knowing who that is. The 23-year-old Croat defeated the also-unknown Kei Nishikori for his first-ever Grand Slam win.
How to bring it back to Fashion Week: Serena Williams, on the other hand, found time to win the U.S. Open and present her first fashion collection for HSN.
Topic: World Affairs
What you need to know: Depressingly little. They are exactly as bleak as they were before we voluntarily detached with reality. The Islamic State continues to surge through Iraq and Syria; President Obama will deliver his "game plan" today. Ebola is still ravaging West Africa (Liberia in particular) and a fourth infected American patient has been brought home for treatment. One month after fatally shooting an unarmed teenager, Ferguson police officer Darren Wilson continues to walk free and enjoy the support of an ongoing rally.
How to bring it back to Fashion Week: At your own peril.