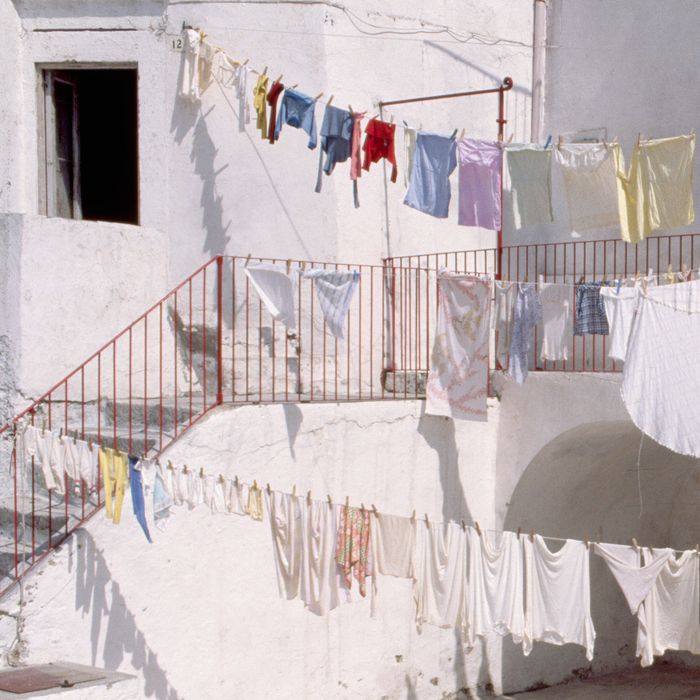 Photo: Mimmo Jodice/Corbis
I had just arrived in Rome alone to write about food and travel and collect some life when we met. Somewhere under the Colosseum, jet-lagged and disoriented, I randomly asked him for directions to my Airbnb. As he pointed to the street and I rubbed my bleary eyes, it was impossible not to notice that he was tall, scruffy, messy-haired, thirtysomething, and exactly my type. He was the first person I spoke to in Italy, and by the end of the week we were inseparable. 
Six weeks later he suggested that I not return to New York, and instead, stay in his tiny, terrace-filled apartment … indefinitely. My only condition was "You promise to get WiFi?" Ma, va! Living in Italy, long term, with him — a sexy mysterious beast who swept me away the moment I laid eyes on him — was a no-brainer. Sure, I'm kind of a wild-hearted wanderer to begin with, but … who could think twice about that?
I had it all sorted out: my Brooklyn apartment was rented; those checks would supplement all the work I'd sacrifice (no more in-person interviews with Matt Damon or Courtney Love, no scandalized chefs or financial dominatrixes — a big pill to swallow, though nothing a Negroni couldn't wash away), and my supportive family would get to enjoy Roma, in the era of the cool pope and Bonci pizza. How they'd love visiting my 36-year-old self, all fresh-faced and European, with a potential son-in-law who, yeah, was a bit of a tortured soul, but was so interesting, elegant, and devoted to their daughter.  
I bought a vintage bike at Porta Portese, flunked an Italian class (but in a perfectly charming way), painted watercolors in Tuscan barns, couldn't button my Genetic Denims and didn't even care, and celebrated the "best birthday of my life" in Venice.
He was good to me. He felt familiar enough that I melted into his strong arms exactly as myself, yet foreign enough that he enthralled my mind and body nonstop. Sure, he smoked, struggled with the economy, and was as stubborn and difficult as Italians are stereotyped to be. But he also made me laugh, made me quiver, and made me … pasta.
Essentially, I worshipped him and was radically happy. I would sail into churches (I'm Jewish) and thank God (it's all the same) for being so kind and generous in giving me Italy. I'd stare dreamily at the midnight-blue sky, naming our imaginary, unmade children: Luna (moon) and Stella (star). The only thing we ever fought about was cleaning. Italians are fastidious, and he was a real jerk about my inadequacies in — uh — housekeeping. (Shout out to Joan Rivers, who once said: "I hate housework. You make the beds, you wash the dishes, and six months later you have to start all over again.")
Even my Italian girlfriends had his back with this chained-to-the-vacuum crap. I was always amazed at how the Roman women — though strong, intelligent, and outspoken — were expected to (and seemed to sincerely enjoy) housework. My New York girlfriends take fine care of their homes, but cleaning is not something we talk about, or give a shit about; we just deal with it when we're too bored/hungover to do anything else. In Rome, especially because I wrote from home, I was supposed to, at the very least, have the dishes and wine glasses sparkly and streak-free, and the laundry washed and pinned neatly onto the clothesline, every day. He hated when I was sloppy with the clothespins and tried to teach me "the right way" to dry his shirts. "If any of my American girlfriends were instructed WHEN to clean, or HOW to clean, they would literally chop their boyfriends' dicks off," I'd bark.
I tried to embrace my inner balaboosta, but it wasn't natural. His friend once came over for dinner and jokingly called me "lazy" for not scrubbing a pan properly. This was the same day I submitted three magazine features under tough deadlines (stuff I never bothered explaining to anyone), edited an ultrapersonal book proposal about the biological clock, and found out a relative had died in a New England car crash. I wasn't looking for sympathy, but I also wasn't in the mood for the "My Pariiis Heelton …" wisecrack that was inevitably coming (Italians love comparing Americans to Paris Hilton). As the guys rolled cigarettes on the balcony, I took a long bath, missing New York with every "lazy" bone in my body.
Eventually, I learned to see that our ongoing cleaning saga was just a reflection of how Italians take meticulous care of everything they love and treasure — from their motorbikes, to their tomato plants, to their mamas, to their casas. This attentiveness to the things that matter (God help the rest) runs deep, and is a wonderful quality that I admire, even if it meant some afternoon mopping. And the real silver lining? This hopefully meant he'd take such extreme care of … me.

Hopefully.
Almost a year into the relationship, when it was time to approach some serious-slash-exciting life decisions, my romantic Romano, who once had an opinion on everything, did not want to talk about anything. I was stunned by his near-disgust when confronted with anything related to marriage or children. Wasn't he molding me from a whimsical New York writer into a happy, underwear-washing, Roman housewife anyway? I never would have imagined that something so innocent as talking about our long-term future could have triggered such an ugly tailspin, but very quickly, he lost all his brightness, all his poise. It is a fact that Italians do not like rules — and, somehow, any dialogue about permanent love unleashed his deepest do-not-tell-me-what-to-do dark passenger.
Following a few sexless (him) and sleepless (me) nights, we went to a wine bar near the Spanish Steps to — I thought, I hoped — "get back on track." In hindsight, he was dead-eyed and detached, but I think women see what we want to see. I saw a complicated European who needed to know that I accepted him for exactly who he was, even when things got weird; that I was born a love-conquers-all kind of girl, and wasn't afraid of some jagged edges. Soon after our rosé arrived, we stepped outside on the cobblestone street so that he could smoke. It was the first day of spring … and the last day of us. This is where, I guess you could say, he cracked. He wept about wanting to be alone; declaring, hysterically, that solitude was his true destiny. And he didn't love me anymore. Those were his exact words. With the Vatican peering over the lilac sky, he made his confession: The love had run out.
Stabbed through the heart, there was nothing more I could say or do to change his mind. The only thing Italians cling to more than love and affection is despair and disappointment. Alla fine, ogni fiore perde il suo profumo (In the end, every flower loses its scent). He was already long gone, deep in the throngs of his new relationship with isolation (or another woman, who knows).
I booked a one-way flight to New York the next day, packing all that I could humanly carry, my bike locked to a dusty pipe in his building's basement, my paintings and writings torn up in the trash. He sobbed, but deliberately did not beg me to stay.
Back home in Brooklyn, I recoiled from the world for a while. I'd had heartbreaks before, but never one so excruciating. How could the universe give me such great love and great beauty only to burn it all down? It made me angry. But mostly, our break-up — fast, ferocious, emotional, poetic, extreme, and yeah, totally Italian in every way — frightened me to the core. In less than 24-hours I lost him, the moon, the stars, and saddest of all, Rome.