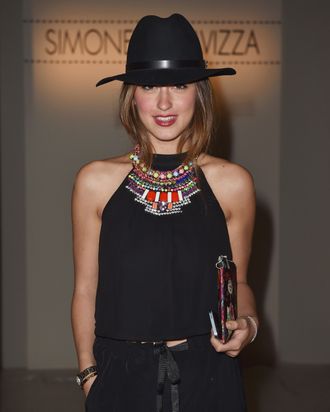 Photo: Tullio M. Puglia/Getty Images
Continuing on from our chat with Alessia Rosso, for this week's edition of Life Alla Moda we sat down with Milan-based fashion blogger Gresy Daniilidis of Corriere Della Moda, a site she started when she was just 17. Click ahead for her thoughts on Italian accessories, American confidence, and why wearing head-to-toe black will never go out of style.
Italian women seem very into the minimal-makeup trend …
That's true, but I actually love makeup. I normally keep things natural during the day, so just a little bit of foundation and mascara. My everyday  must-haves include Clarins BB cream and Labello Fruity Shine. But when I attend parties or go out with friends I like smoky eyes; for that, the perfect products are Dior and MAC, and always a touch of Dior Prestige Creme first.
How would you describe your personal style?
The life of a fashion blogger is pretty unpredictable, but I try to maintain a sort of routine. During the day, due to my divided-in-two life (I'm also a student), I go casual-chic. I prefer oversize clothes, like a pair of soft, high-waisted pants matched with a crop top and an extra-long coat. The most important thing about my outfits are always the accessories, though: a beautiful Borsalino hat, my beloved Chanel bag, or an old pair of Porselli ballerina flats. In terms of evening, I have only one answer: totally black outfits. It could be a little back dress, a pair of black leather skinnies,  or a chic black cape by Sandro, perhaps. But the secret again is to choose the right accessories: Rene Caovilla heels, a Prada clutch, or a Missoni scarf. In my opinion, at night "chic-ness" is all about the shoes. If your feet are inside a pair of Sergio Rossi heels, you can't go wrong.
What's your approach to food and drink?
I don't particularly like drinking, and I've never gotten drunk. I love pasta like every good Italian woman. I'm actually half Italian and half Greek, so I really, really love food. It's quite difficult for me to say no to a slice of good pizza or to dessert. I'm not obsessed about weight or calories, and I'm not into the gym at all.
Favorite Italian destinations?
I'm crazy in love with Venice, probably the most beautiful city in the world, but Rome, Florence, and Capri are also really beautiful. Sardinia has breathtaking spots and in Sicily there are some villages that make you feel like being in an old movie. Oh, and Tuscany! Okay, I have to stop — I'm feeling lustful.
How are Italian and American women similar or different?
American women are more open-minded and self-confident. They don't pay too much attention to being judged and express themselves without fear. This is probably what I admire the most about them. Italy, on the other hand, is a small country and people here care a lot about others' opinions.